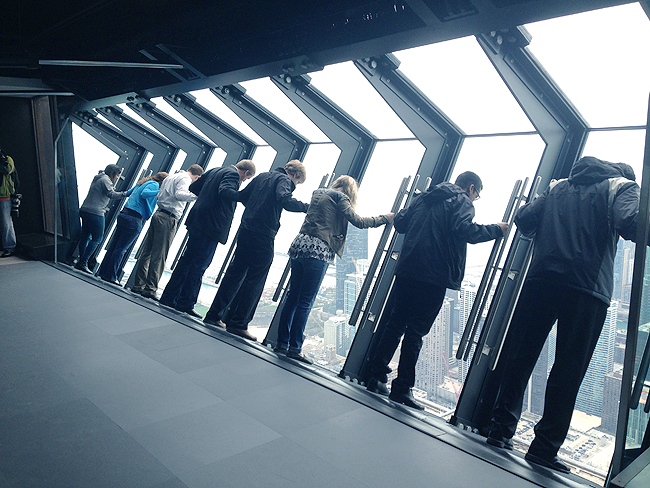 Thornton Tomasetti employees riding Tilt. From left, Aishwarya Puranam, Cassandra Lutz, Anthony Alessi, Neal Benish, Jordan Komp, Julia Seitchik, Saul Moreno, and Abhiram Tammana.
You may have seen or heard about the Thornton Tomasetti-designed movable structure Tilt in the news this week.
Located on the 94th floor of the John Hancock Center, the steel and glass structure on the south side of the building allows patrons to hover 1,000 feet over the city. Tilt's mechanism is a two-part system composed of a stationary base structure and a movable viewing platform constructed of standard and custom built-up steel sections. The stationary base is supported and directly connected to the existing steel structure while three overhead hydraulic actuators extend to rotate the platform 30 degrees beyond the face of the building.
Check out some of the media coverage below, including interviews with Senior Associate John Peronto and Project Engineer Christian DeFazio.
A number of online publications covered the platform's unveiling:
» Hancock's new 'Tilt!' puts you over the edge
» New Tilt ride in Hancock Tower
» John Hancock's 'Tilt' Will Tip You Toward the Ground, 94 Floors Up
(Note: The Tribune images and video are all Thornton Tomasetti engineers riding the Tilt prior to the public opening)
There are also a few online photo galleries of Tilt's opening day:
» Photos: 'Tilt!' at the John Hancock Center
» Graphic: How Tilt's mechanism works
If you'd like additional background information on Tilt, please visit out our project page, the 360Chicago Tilt page and an April interview that Peronto gave to the ASCE.
Follow these topics: