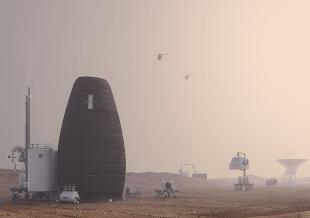 Courtesy AI SpaceFactory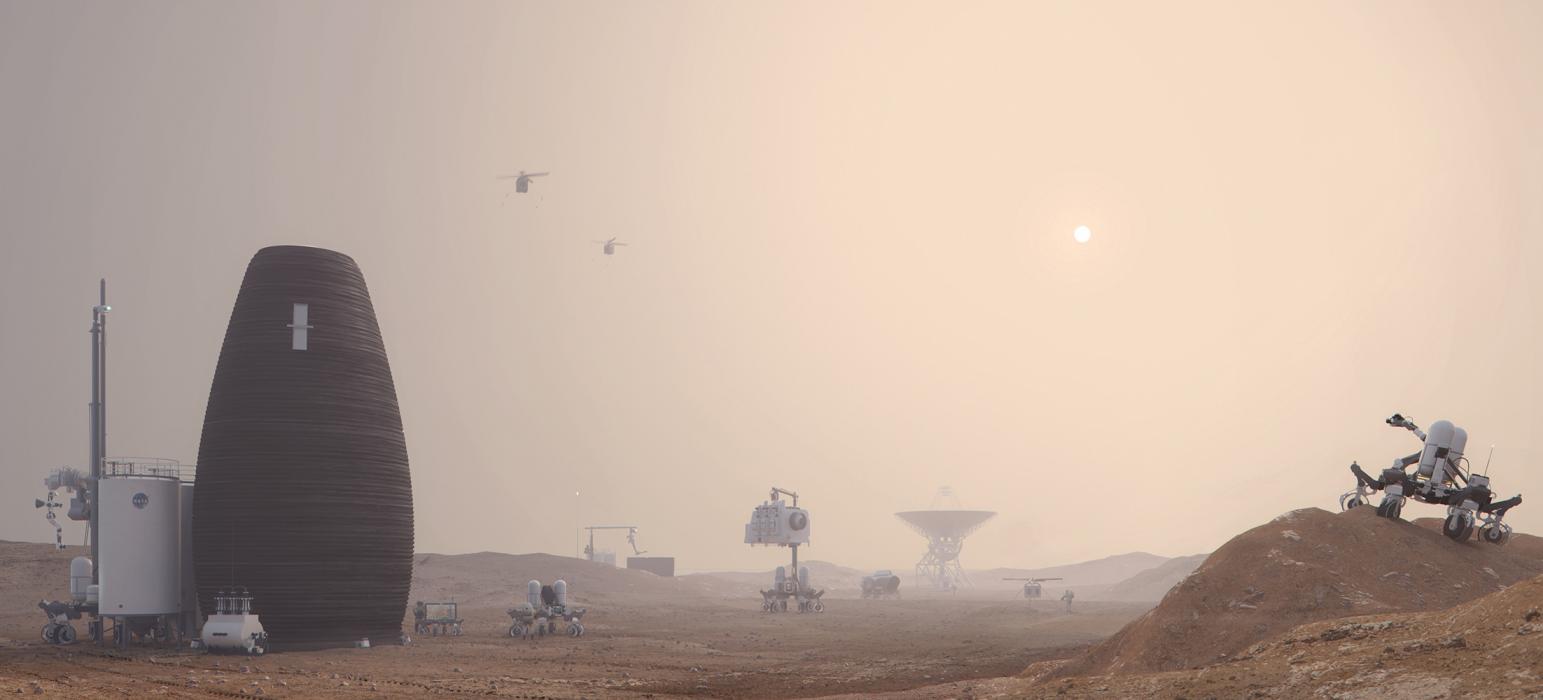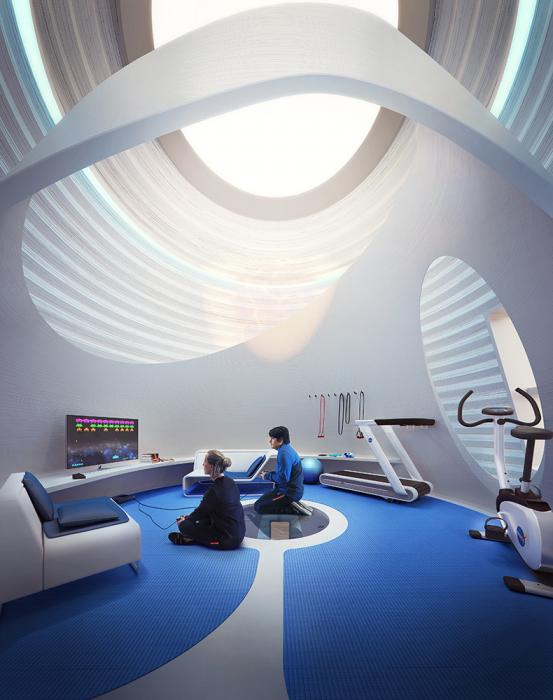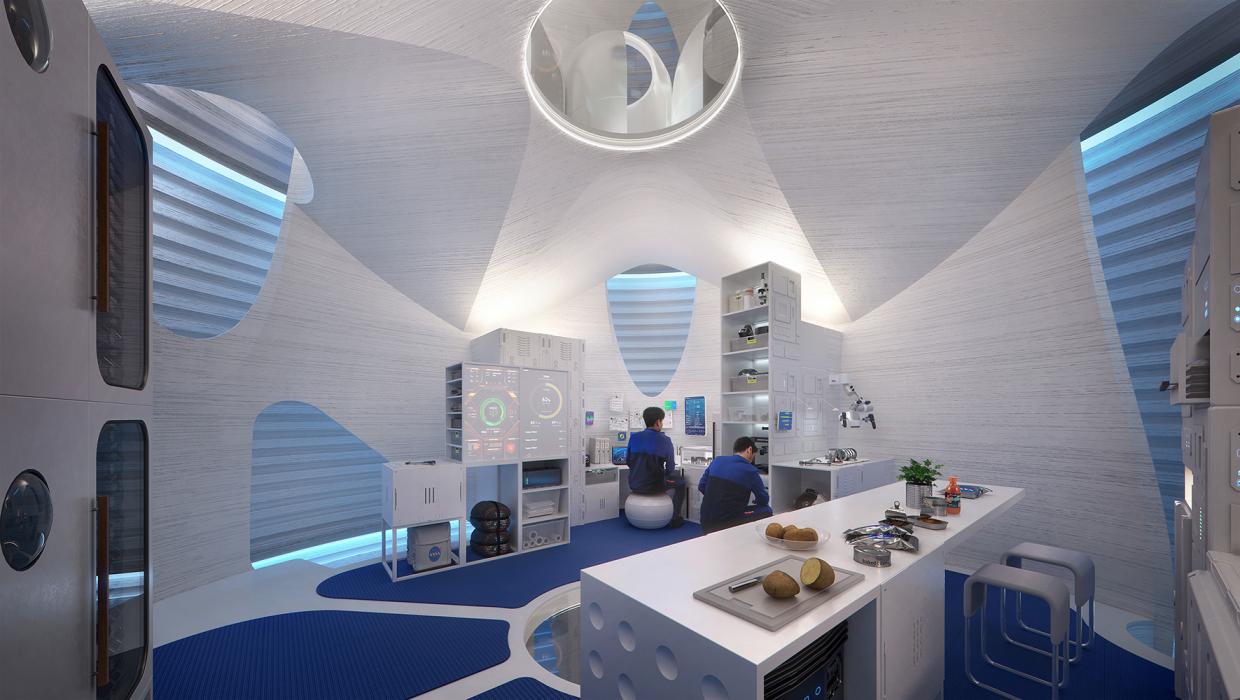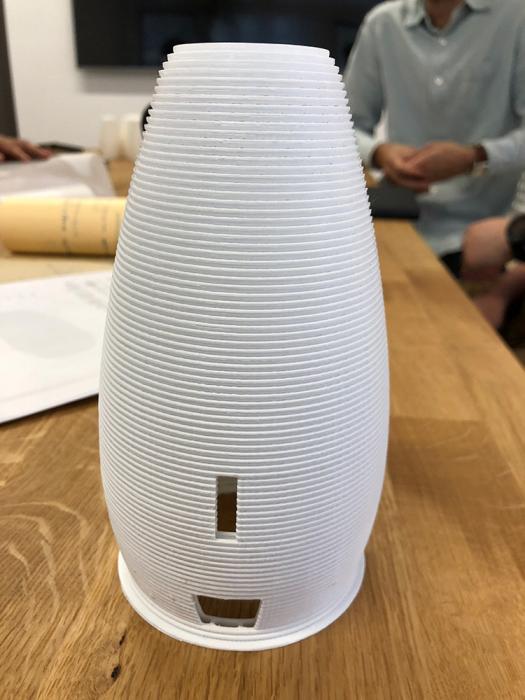 ---
"Thornton Tomasetti's big goal is to drive change and innovation. It's projects like this that really show how we are achieving it."
Thornton Tomasetti has designed a number of innovative buildings around the globe, but there's a project on the boards that could boldly take us where no other engineer has gone before. We are on one of five teams selected by NASA to move forward with a prototype for a 3-D printed habitat for deep space exploration, including a mission to Mars.
Vice Chairman Dennis Poon, Associate Principal Billy Tse, Senior Associate Saravanan Panchacharam and Engineer Hao Chen in collaboration with AI SpaceFactory, a New York City-based architectural firm headed up by David Malott, Jeffrey Montes and David Riedel, recently placed second in the design development phase of NASA's 3-D Printed Habitat Challenge. We are providing structural engineering and analysis for the project.
The multi-phase, multi-year design competition seeks to foster the development of new technologies for creating sustainable housing in space and on Earth. Participants must design a structure for human habitation in space made up of local materials, such as rock, minerals, metal or gas, or in combination with recycled waste from the mission, like nylon and aluminum. The structure must also provide protection against the Martian atmosphere and will be built using construction equipment and methods that require minimal human involvement. "Bringing in materials or construction crews to Mars isn't an option, so we were challenged to come up with alternatives," Billy said.
The team's MARSHA / prototype is a vertical cylinder made up of a 3-D printable mix of basalt fiber extracted from rocks and renewable bioplastic derived from plants grown on Mars. The four-story building features lab and living space as well as an atrium where the crew can exercise and socialize. "You can say we are working on the first tall building on Mars," Dennis said.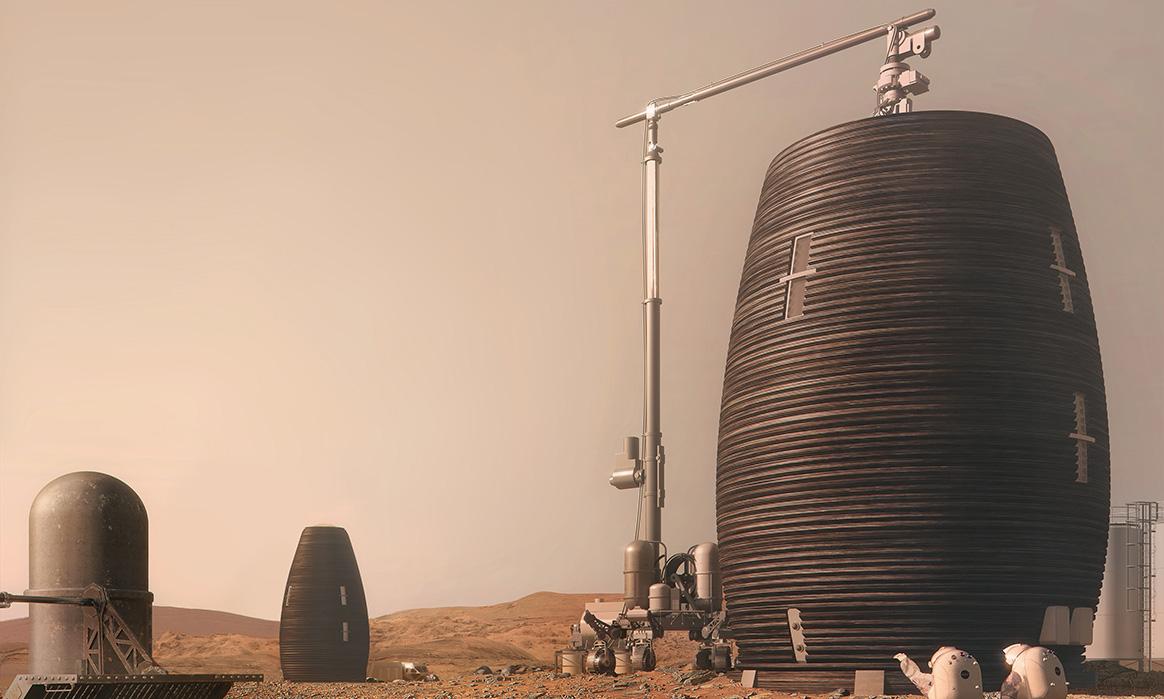 Courtesy AI SpaceFactory
Our Vertical Martian Future
Our involvement in the project began in February, when Dennis received a call from David Malott. The two worked together on Ping An Finance Center in Shenzhen, China, back when David was with Kohn Pedersen Fox, and both currently serve on the Council of Tall Buildings and Urban Habitat's board of trustees. "David and I are always talking about creative design," Dennis said. "He asked us to team up with him on this competition, which gives us a chance to really think outside of the box."
As with any creative design project, this one has its fair share of challenges. "We are dealing with a totally different environment," Billy said. "The gravitational force of Mars is about a third that of Earth's and there are extreme temperature shifts. We had to design a structure that could minimize those stresses and be comfortable for humans."
The atmospheric pressure on Mars averages 600 pascals (0.087 psi), which is equivalent to 0.6 percent of the Earth's atmosphere at sea level (101,325 pascals or 14.7 psi). "Even the greatest dust storm on Mars would produce far less pressure than the internal pressure needed in the Martian habitat to sustain human life," Billy said.
Mars experiences daily temperature variations of approximately 180 degrees Fahrenheit. "We needed to come up with a structural system that allowed for the expansion and contraction caused by the temperature fluctuations without impacting the occupied space," Hao said.
Part of the solution was the building's vertical shape and small footprint. A system of slide bearings at its base would allow the structure to adapt to temperature shifts, while tie-down anchors and a keeper plate assembly would keep the superstructure from lifting up from the internal atmospheric pressure needed for human occupancy.
"The shape of the shell structure was iterated multiple times as we looked to reduce the stresses due to internal pressure, self-weight and temperature variations. Because of the reduced gravitational pull, uplift due to the internal pressures is substantially larger compared to the weight of the fiber composite shell," Saravanan said. "We came up with a frustum, or egg-shaped, shell to sustain and provide high internal pressure and minimize uplift."
The outer shell will provide the necessary protection from the extreme temperature variations, while the insulated inner shell is pressurized to create an inhabitable interior space. The vertical shape also minimizes the structure's footprint, making construction easier and more efficient.
The $3.15-million Mars habitat competition began in 2014 and is sponsored in conjunction with Bradley University of Peoria, Illinois. It is part of NASA's Centennial Challenge, which invites businesses, academia and individuals to help develop creative solutions to technical problems that are of interest to the space agency and the U.S.
The team now advances to Phase 3, which consists of five levels including the development of a BIM model and the on-site construction of a 1:3 scale 3D-printed model. A panel of experts from NASA, academia and the construction industry will judge the entries on such criteria as innovation, functionality, constructability and habitability. The on-site competition will take place from April 29 to May 4, 2019. This final phase has a $2-million prize pool.
"This project has been both challenging and a lot of fun," Dennis said. "And I am looking forward to making a few site visits."