News
Thornton Tomasetti Principal Chukwuma Ekwueme Presented with The Masonry Society's 2017 Haller Award
January 23, 2018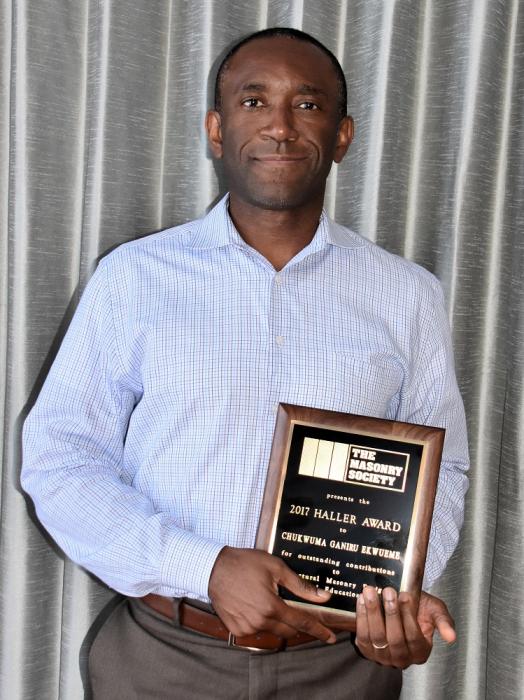 Thornton Tomasetti, the international engineering firm, announces that Principal Chukwuma Ekwueme, Ph.D., P.E., S.E., LEED AP of the Los Angeles office, has been presented with The Masonry Society's (TMS) 2017 Paul Haller Structural Design Award. Ekwueme was selected by the organization's Design Practices Committee for his outstanding contributions to structural masonry design and education. He accepted the award during a ceremony at the society's annual meeting in La Jolla, California.
The Masonry Society is a nonprofit, membership-driven organization dedicated to the advancement of scientific, engineering, architectural and construction knowledge of masonry. The Haller Award is named after Professor Paul Haller of the Swiss Federal Institute of Technology in Zurich, who helped revolutionize the design of structural masonry. The award is given to an individual engineer or engineering firm that has enhanced the knowledge of masonry in practice and recognizes the beauty, elegance and economy of structural masonry projects.
With more than 25 years of professional experience, Ekwueme has extensive experience in structural design and is a recognized expert in earthquake engineering. His wide-ranging project portfolio includes the new air traffic control tower at McCarran International Airport in Las Vegas, the One Santa Fe mixed-use development in Los Angeles and providing failure analysis and expert-witness support for various projects, including the World Trade Center collapse in New York City.
Ekwueme is an active contributor to the TMS 402/602 Building Code Requirements and Specification for Masonry Structures, to which he applies his structural design experience to make the standard both more practical and accurate. He has also authored several masonry books and guides.
Ekwueme has received various professional awards for his excellence in the field. In 2009 and 2014, two of his projects in California were presented with the Preservation Award by the Los Angeles Conservancy. Likewise, Ekwueme's projects have been recognized by the Structural Engineers Association of California in 2005, 2007 and 2008 for Excellence in Structural Engineering. He was also part of a team that was awarded the 2004 Grand Conceptor Award by the American Council of Engineering Companies for the World Trade Center Forensic Study.
Ekwueme holds a doctoral degree in structural engineering, an engineer's degree, and a master's degree in earthquake and structural engineering, all from the University of California, Los Angeles as well as a bachelor's degree in civil engineering from the University of Nigeria.
About Thornton Tomasetti
Thornton Tomasetti applies engineering and scientific principles to solve the world's challenges – starting with yours. An independent organization of creative thinkers and innovative doers collaborating from offices worldwide, our mission is to bring our clients' ideas to life and, in the process, lay the groundwork for a better, more resilient future. For more information visit www.ThorntonTomasetti.com or connect with us on LinkedIn, Twitter, Instagram, Facebook, Vimeo or YouTube.
Contact
Great Ink Communications - Eric Gerard / Lindsay Church / Francisco Miranda - 212.741.2977
Thornton Tomasetti - James Kent - 917.661.7800