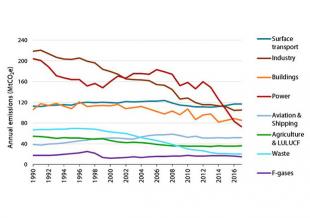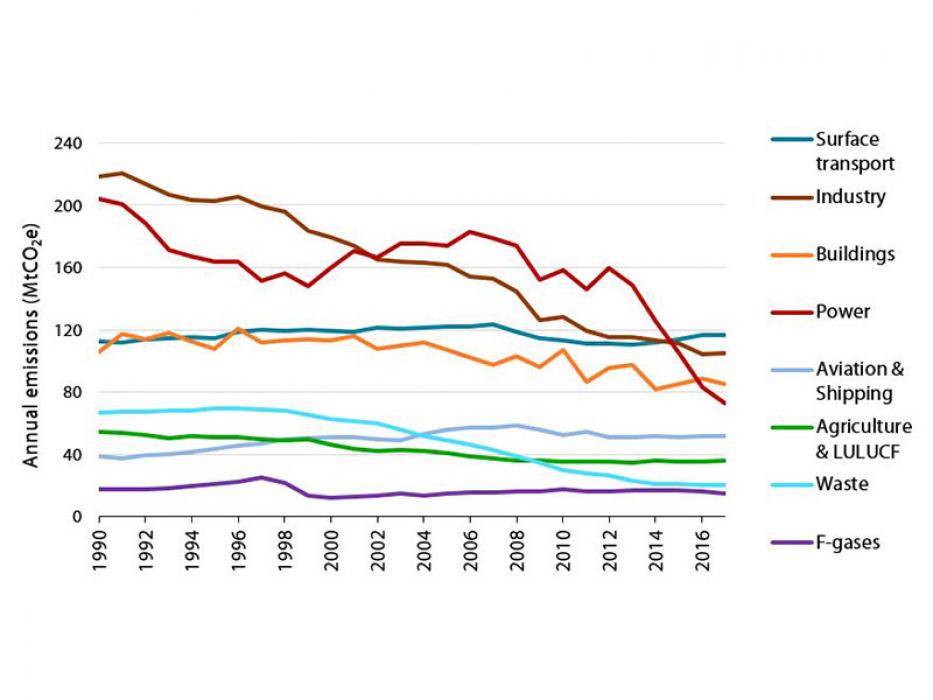 The Committee on Climate Change's recommendation today that the UK government should commit to a net-zero greenhouse gas target for 2050 is a challenging but necessary target given the realities of climate change. We have reached a call to arms point in professional work, and in the decisions that we make in our personal lives. With the building sector accounting for approximately 40% of global C02 emissions through building materials, construction and operations, there is a huge responsibility for our industry to adopt the framework recently released by the UK Green Building Council (UKGBC), which can help guide us to transition new and existing buildings to net zero.
The past 30 years have seen an increase in sustainability strategies employed in the built environment, with green rating systems, planning requirements, tenant demands and good corporate social responsibility (CSR). However, too often sustainability measures are the first to face the chop when the project is value engineered. It is imperative that sustainability moves from "a nice thing to have" to central to how we design, build, operate and re-purpose.
In some instances, sustainability is still seen as just dealing with environmental issues that provide no financial benefit. In reality, its true meaning is the balance of the environment, economy and society – surely core drivers for any successful building, city and country. Whilst the targets issued today look challenging, it is time that we recognise that we already have established, intelligent and robust methodologies that can assist in reducing emissions.
A strong building envelope design can lead to efficiencies in reducing operational loads whilst also paying close attention to the carbon emissions embodied within the material production. A structural frame can be utilised to help serve passive design strategies through thermal mass and structural shading. Slim structural decks can enhance natural daylight and at the same time reduce the volume of material necessary for the construction.
When we design, it is necessary that we take a whole-building life cycle approach, balancing both the capital and operational carbon within the project, and plan beyond its functional lifespan. As our buildings become more operationally efficient, we need to ensure that we also focus on the capital carbon in our building stock; the carbon emitted from the excavation and production of materials, transportation to site, energy expended during construction, maintenance and the deconstruction/re-use. With better design, we can reduce the demands from industry on the volume of materials we require to build.
We have the capability to design building elements with multiple use. Our current stock is littered with HVAC plant, which have the potential to be designed out through passive measures at a cost saving to both carbon and finances. We have the capability to build with resilience to withstand the ills and shocks that climate change will bring. We can design for future change of use, beyond our traditional service life and the one-function building. However, this alone will not get us to zero.
What will take us to the next step? We need strict regulation, and an assessment of current building design codes – are we overdesigning? We need to de-carbonise our industrial grid, and where we can't, we should research and develop new low-carbon materials. Pressure should be put on the building materials sector to offer us far more carbon-neutral products, and new technology and products need to be made available in the marketplace more quickly. We should research more ways to use our building stock as a carbon sink. Additionally, by overhauling our recycling strategy, we can find more opportunities to re-use waste in the built environment and embrace the circular economy. We need a shift from focusing on short time-frame budgets to looking at the whole life-cycle cost. To do all of this, we need buy-in from government, local authorities, clients, design teams and end-users. It is imperative that the AEC industry recognises the great impact that it is making today on our future. Instead of working inwardly, now is a time to work transparently and collaboratively to tackle these challenges together and make some lasting and meaningful contributions.