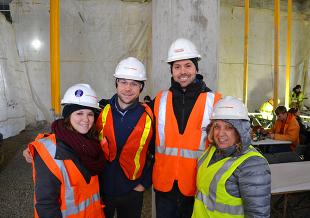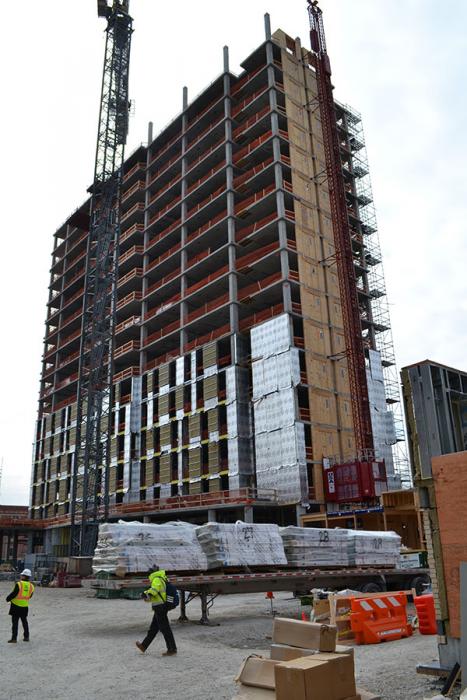 The Woodlawn Residential Commons, a four-building development at the University of Chicago, has topped out at 16 stories. Joining the celebration to mark the milestone on the city's South Side on March 6 were the project's structural engineers from Thornton Tomasetti's Chicago office. The development, designed by Elkus Manfredi Architects, is the last major step in the university's plan to move most of its undergraduate students out of neighborhood apartment buildings and into on-campus housing.
This milestone is particularly noteworthy, as the project had to be completely re-designed just after completion of schematic design due to a request to change its location. To meet this unanticipated change and stay on schedule, the design team worked closely with Turner Construction Company to develop the most cost-effective and easily constructible scheme. Further headway was made during the structural construction administration phase, thanks to expedited shop drawings made possible by close collaboration between Thornton Tomasetti's Chicago and Mumbai offices. This resulted in a quicker completion of the structural engineering scope.
In addition to the 16-story building, the project includes three seven-story buildings. The four reinforced concrete buildings all rise from a single podium, which will house a 30,000-square-foot dining hall. The development will feature 891 units, with approximately 1,300 beds in a variety of configurations, including single and double rooms. With amenities such as lounges, study rooms and outdoor spaces shared by 11 houses/residential communities, the commons is designed to foster academic collaboration and social interaction. Completion is scheduled for the 2020-21 academic year.