News
Flood Resilience Planning Strategies for Hurricanes
July 10, 2023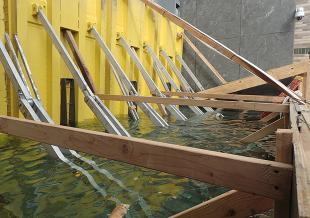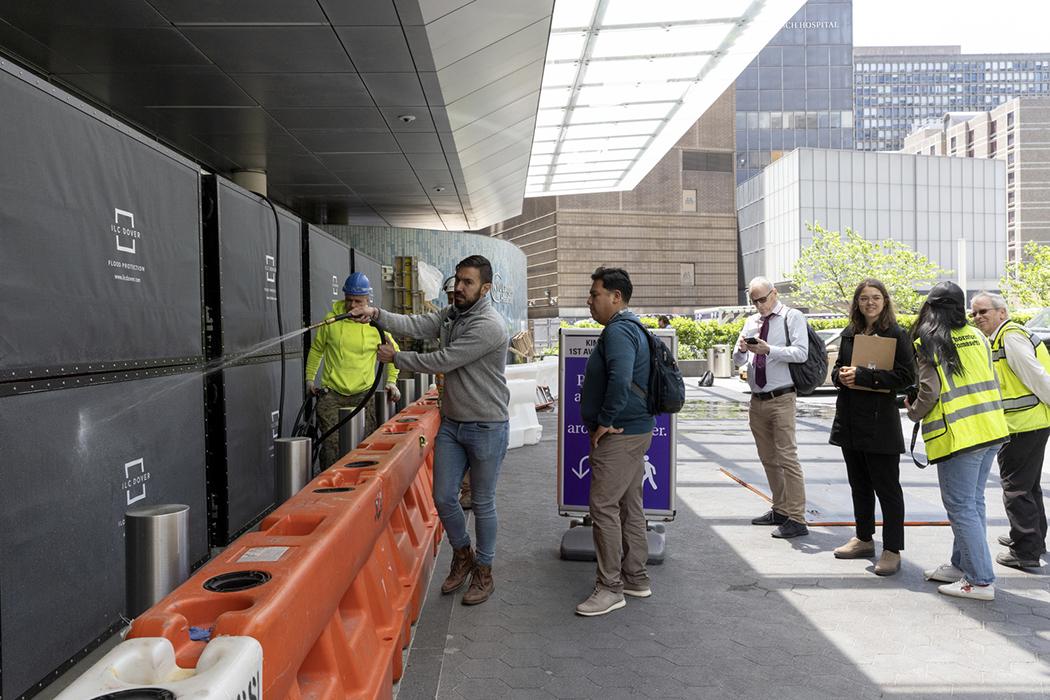 Climate change brings rising water levels, rendering many structures vulnerable to potential flooding. In fact, scientists have predicted that global sea levels could rise by as much as 12 inches by 2050. Add hurricanes to the mix, and it's more important than ever for owners to establish flood resilience strategies ahead of a storm.
We advocate for a two-part approach: first, having solid assessment and planning strategies in place, and second, undertaking implementation and preparedness action. We'll highlight the importance of each and then examine them through the lens of a case study of our work with NYU Langone Health in New York.
assessment & Planning strategies
As a building owner, you need to take a holistic view of your assets and determine what's most vulnerable to potential flooding from hurricanes. While complying with objectives set forth by building codes – federal, state and local regulations that specify minimum standards for flood mitigation - is a necessary and important first step, this marks only the minimum level of protection. It's essential to go above and beyond by putting in place a performance-based flood resilience plan that takes climate-change projections into account.
A comprehensive flood resilience strategy not only protects occupants from harm, but also focuses on a quick recovery with the potential for maintaining operations during and immediately after a hurricane-induced flood. Site-specific, integrated flood resilience strategies for new and existing buildings and infrastructure may include:
Passive and deployable flood barriers
Water-damage resistant materials
Flood walls and pressure slabs with continuous waterproofing
Placement of critical equipment on upper floors
Elevating portions of the building above the floodplain
Utility sealing and backflow prevention
Water management systems
Emergency preparedness and response planning, including training and annual reviews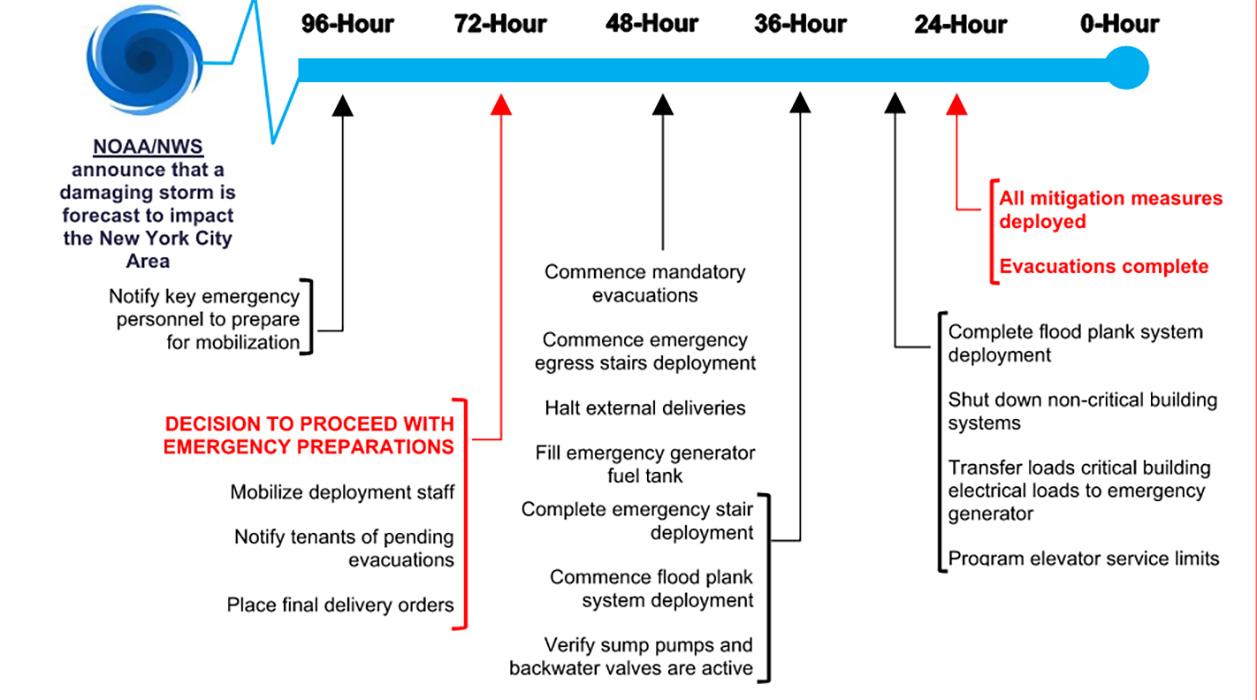 Implementation & preparedness action
The next step in the flood resilience planning process is to devise an actionable roadmap and be prepared to implement it when a hurricane is imminent. Mitigation measures protect the perimeter of your property as well as key interior spaces that are necessary to keep your business up and running. Therefore, the operations and maintenance of these components is critical. A preparedness plan contains information on all of the components of the flood resilience strategy including:
Emergency personnel organizational charts
Deployment timelines
Deployable barrier storage locations
Methods of barrier installation and/or activation
Conditions activating installation and removal
Testing procedures for barrier, sump pumps and other drainage measures
Flood barrier maintenance instructions
Temporary stairs/ramps required to maintain egress and/or ingress during a flood event
Elevator service limits
Management coordination of emergency resources (i.e., generators, utilities, deliveries, supply chain resilience)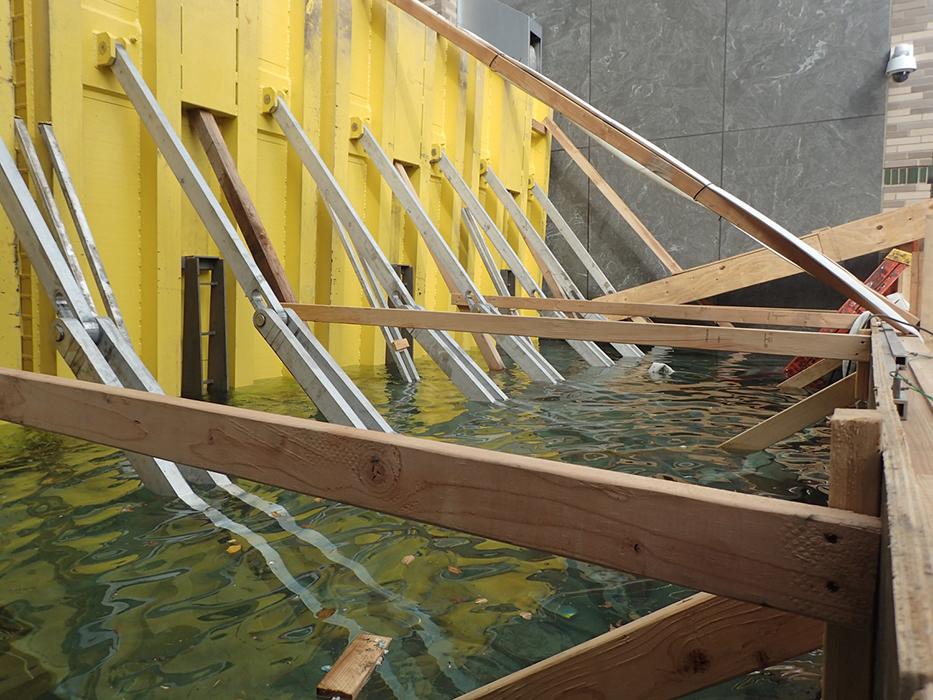 Case Study: NYU Langone Health
Since Superstorm Sandy in 2012, Thornton Tomasetti has been providing ongoing emergency preparedness services to the campus of NYU Langone Health in New York. We performed an initial multihazard risk and climate resilience assessment and developed an integrated campus climate resilience adaptation strategy.
As part of that study, we also performed an initial threat, vulnerability and risk assessment for site-specific flooding, sea level rise and storm surge as well as seismic, wind and snow hazards at the campus across a variety of return periods. We then evaluated the capacity of the campus structures and infrastructure systems to withstand the loads associated with each hazard, both today and in the future, considering climate-change projections. Services included a vulnerability assessment of structural, architectural, mechanical, electrical, plumbing and other infrastructure components, in addition to a review of specialized programmatic medical equipment vulnerabilities and potential downtime.
This study was followed by an evaluation of risk reduction, mitigation, adaptation and resilience options, along with an analysis of the cost-benefit ratio for each identified option. The scope of work included further development of comprehensive flood mitigation strategies for successive hurricane seasons, prior to completion and implementation of long-term strategies to protect the facility. We also provided collaborative design and construction services, in liaison and coordination with the university's building consultants, contractors and FEMA.
Long-term energy resilience was a focus of the campus-wide resilience strategy. As a result of this study, the campus invested in development of co-gen infrastructure, elevated critical infrastructure out of lower levels where current and future flooding pose a risk, and provided additional protection for any critical infrastructure that could not be elevated. This included a robust interior compartmentalization plan at the ground and cellar levels to ensure that redundancy was inherent in the energy master plan and design.
As part of this project, we provided research and evaluation services on the vast quantity and variety of flood mitigation products on the market to identify the most appropriate ones for each condition. We also performed a cost-benefit analysis and provided recommendations, allowing the owner to select the most appropriate systems in each unique mitigation location as part of a wider emergency flood action plan, which was developed in collaboration with NYU's operations and emergency management team.
As a building owner, you can't manage what you haven't measured. Thornton Tomasetti is adept at assessing, analyzing and forecasting potential risks to help you better prepare for a hurricane. Our pre-loss support services include Multihazard Risk assessments, Probable Maximum Loss Studies and comprehensive resilience solutions. Contact us to learn more. 
Contact Us
When something goes wrong, you need to know why. We partner with property and installation owners and managers, design professionals, contractors, attorneys, insurers, manufacturers, and civilian and military government agencies and to resolve issues in buildings, infrastructure, industrial installations and more. When you work with Thornton Tomasetti, you'll always have an expert you can trust to find the answer and explain it clearly. Contact us immediately with the form below.