News
2018 Carbon Footprint
July 01, 2019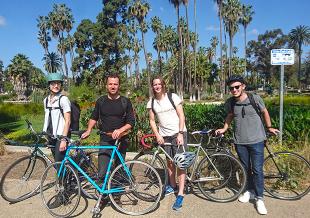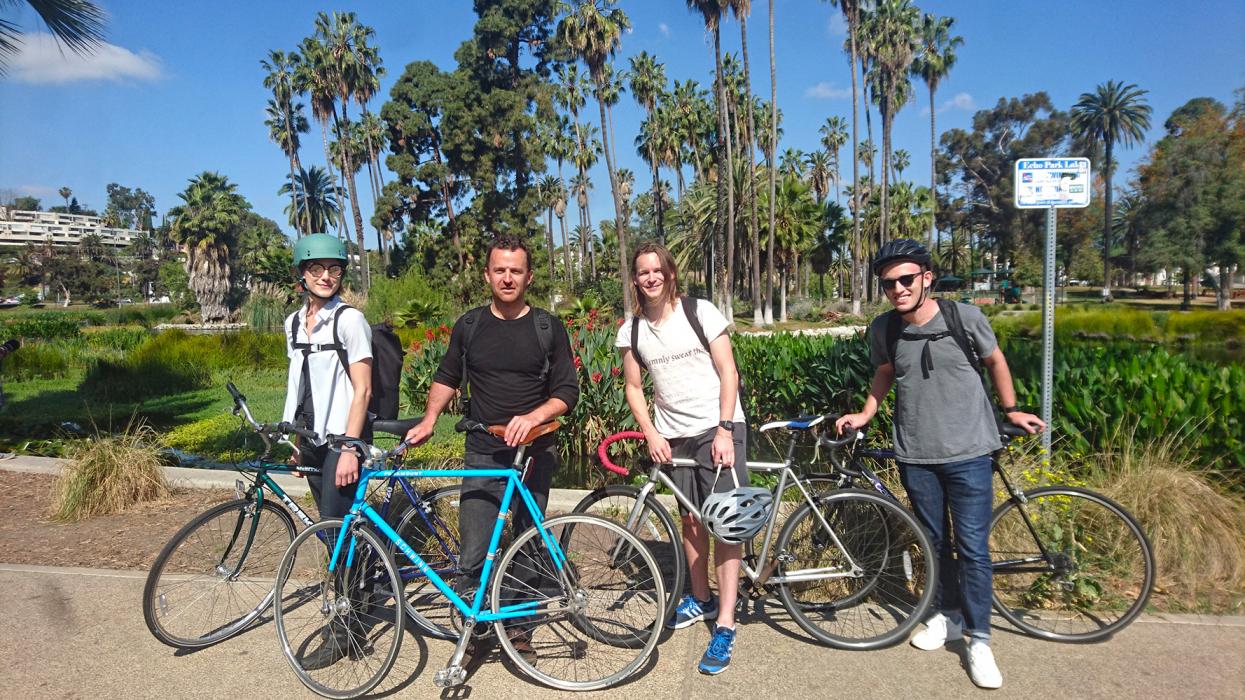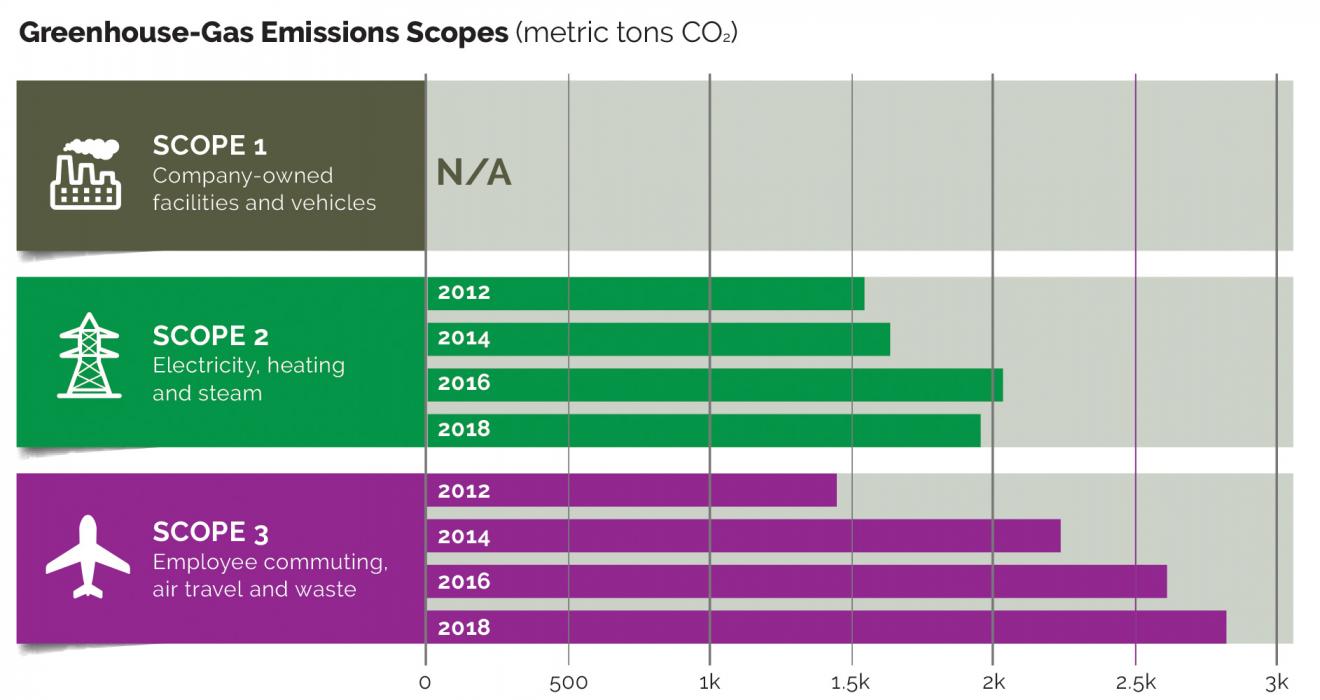 Five years ago, we established a strategic goal of achieving carbon-neutral business operations by 2030 through a combination of reduced energy use and carbon offsets. As an adopter of the Architecture 2030 Challenge, we also committed to the vision of climate-neutral buildings by 2030. Our internal operations goal was set to align with our external commitment, and our five-year target for progress toward this ambitious goal was to bring our 2012 annual per capita carbon footprint of 5.75 metric tons of CO2 down to 4.0 metric tons by 2018.
By 2016, we had reduced our per capita carbon footprint to below 4.0 metric tons of CO2, achieving our 2018 target two years early. Since then, our footprint has remained below 4.0 metric tons; in 2018, our average per capita carbon footprint was 3.09 metric tons of CO2 (with offsets). Taking into account energy-use reductions alone – not counting offsets – we achieved a per-person carbon footprint of 4.3 metric tons of CO2 for 2018. Our total carbon footprint for 2018 was 4,817 metric tons of CO2, the equivalent of the emissions from 1,047 cars in one year. This is just 38 percent higher than our first recorded carbon footprint in 2012, despite a steep rise of 72 percent in our employee numbers during the same period. By offsetting emissions in areas where reductions aren't feasible, our firm has managed to grow while keeping our total carbon footprint (with offsets) consistent since the first count in 2012, with only a 6 percent rise.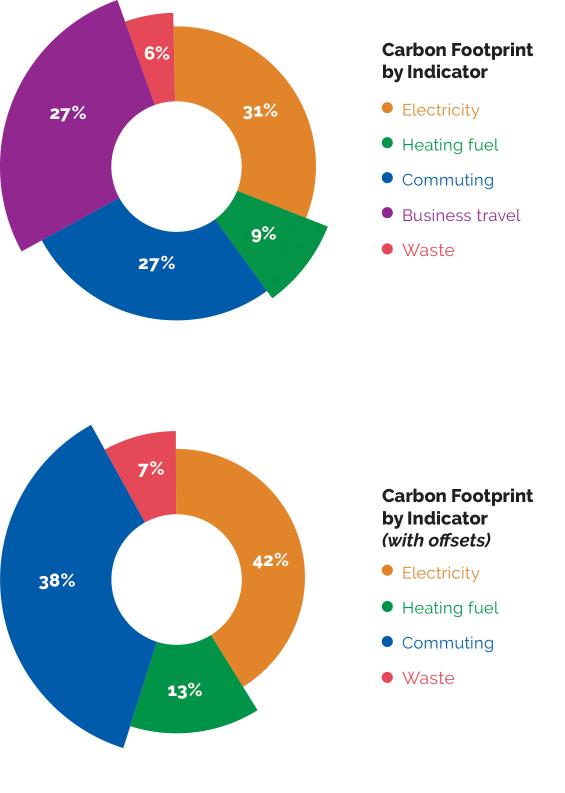 To measure and verify progress toward our carbon-footprint goals, every two years we conduct a carbon-footprint analysis of every sizable office with more than eight employees. We use our own carbon-footprint calculator – reviewed by external consultants – to analyze electricity use, office waste, heating fuel, employee commuting and air travel. Our air-travel analysis has historically accounted for every flight expensed by employees, but in mid-2018 we adopted a new accounting method that estimates air travel by total cost of flights. This more efficient method has been tested against a count of each flight and found to be accurate.
By offsetting all our air travel and by purchasing Renewable Energy Certificates (RECs) or using green power in some offices, we can realistically expect to meet our targets and goal of climate neutrality by 2030. Since we began purchasing carbon offsets in 2014 through Carbonfund.org (as donations to support renewable-energy and energy-efficiency projects), we have spent over $55,000 on offsets and neutralized all our CO2 emissions from air travel – a total reduction of 5,720 metric tons of CO2. Without carbon offsets, our air-travel emissions would be 27 percent of our total carbon footprint. With offsets, this figure is brought to zero.
After business travel is removed from the calculations through offsets, our electricity use contributes 42 percent of our total carbon footprint. We purchase RECs and green power as a way of reducing the electricity we must use, while continuing to implement energy-conservation measures and efficiency improvements.
In 2018, five of our offices purchased enough RECs to offset 27 percent of our total U.S. electricity use in 2017. Our 2018 carbon-footprint analysis shows that our total electricity consumption, even without adjusting for green power, has fallen since our last analysis in 2016, despite an increase in our number of employees and offices.