News
2021 Progress Report: Financial Vitality
June 20, 2022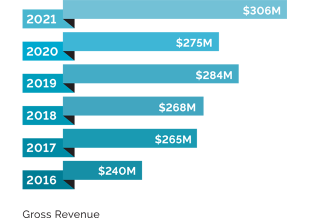 Each year, we report on several indicators (in U.S. dollars) that show progress toward achieving our financial-vitality goals. The trends this reveals can show how our corporate responsibility programs contribute to our vitality over time.
Gross revenue is our total income for services, including TTWiiN, the independently operated innovation accelerator created by Thornton Tomasetti.
Net revenue is billings excluding reimbursable and non-reimbursable expenses and bad debt allowances.
Net project starts indicates the total revenue expected from projects started in the reported year.
Employee retention, while not a direct financial indicator, is associated with financial vitality. Our retention rate is high, but experienced a dip during the second year of the pandemic, when the Great Resignation began affecting many industries. We are focused on multiple cultural and development initiatives to keep our retention strong.