News
Corporate Responsibility Goals
May 09, 2021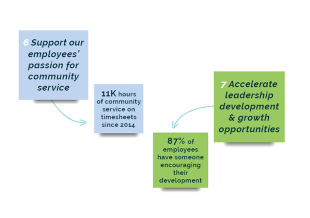 At the end of 2019, Thornton Tomasetti's corporate responsibility steering committee began a strategic planning process for the next five years – an effort that mirrored firm-wide five-year planning for the firm's practices and offices. We committed to seven big goals. Some were carried forward from our previous midrange plan from 2016, and others are new to the mix.
Demonstrate Positive Environmental & Social Impact Across All Practices
Designing for a better world is the future of our industry. To be the global driver of change and innovation in our industry, we must demonstrate that design professionals can solve the most challenging social and environmental problems through our work. We have the expertise and cross-practice opportunities to be a leader in this area. This path will result in an enduring organization.
Lead the Industry in the Reduction of Embodied Carbon in Structures
Our best opportunity to demonstrate positive environmental and social impact lies in areas where we can have the greatest contribution, based on our knowledge and talent, and where we can apply our ingenuity. Embodied carbon is a rapidly emerging area in which we, as a multipractice firm with a strong grounding in structural engineering and expertise in sustainability, can be a driver and hold a unique position in the AEC industry.
Achieve Carbon-Neutral Business Operations by 2030
Through our Sustainability practice and our adoption of the Architecture 2030 Challenge, Thornton Tomasetti is an active participant in reducing climate change.
We engage our employees in the global effort to mitigate and adapt to climate change by practicing what we preach through our internal policies and behaviors.
---
Our Environmental Statement

We make lasting contributions to our environment and our communities by:

• Promoting and applying creative means to reduce carbon in our projects

• Committing to achieve carbon-neutral business operations

• Influencing policies and practices for sustainability and resilience in our industry and communities
Promote an Inclusive & Diverse Community
Everyone at Thornton Tomasetti is empowered to change our industry. We know diversity drives innovation, so we will set and achieve targeted data-driven goals to increase inclusion and diversity among our staff, leaders, owners and board of directors. We will cultivate a welcoming and rewarding environment where everyone can achieve their full potential throughout their career journey here. We will increase our investment in continuous learning to expand and nurture our staff and future leaders. And we will support opportunities for everyone at our firm to give back to their communities.
Support a Healthy & Lifestyle-Friendly Workplace
Caring about our employees is part of our culture of respect. We want a healthy and lifestyle-friendly workplace because we care about our people, but also because we want to attract and retain the best talent and reduce healthcare costs.
Support Our Employees' Passion for Community Service
Our employees have unique capabilities that can add value to their communities, and they want to share their skills with others in need. Community service allows us to challenge people to grow and build relationships in the communities where we live and work.
Accelerate Leadership Development & Professional Growth Opportunities
Our firm encourages professional development at all levels. We are committed to creating a pipeline of world-class and diverse leaders. Our growth opportunities increase employee retention and lead to better work outcomes, innovation and leadership in the industry.
2020 Corporate Responsibility Targets
May 09, 2021
In last year's report, we announced measurable short-term targets for 2020 that support our overall corporate responsibility goals in three areas. Here's our progress.