News
Building Bridges: Jen Greenawalt Shapes the Coolest Projects
June 17, 2021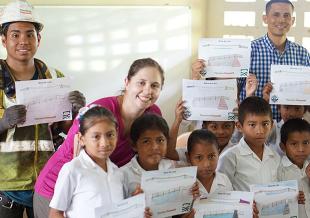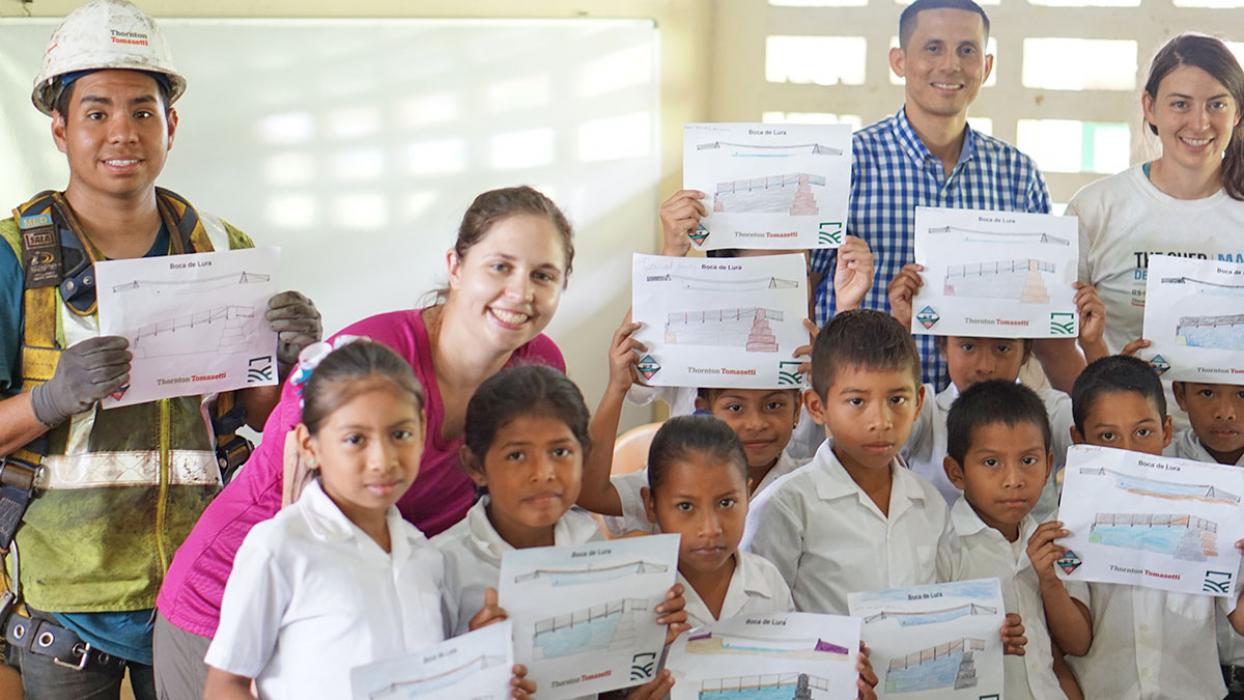 Sometimes getting to shape the coolest projects is itself a cool project, as Washington, D.C., Project Engineer Jennifer Greenawalt learned at an early age.
For Jen, who grew up in the small town of York, Pennsylvania, ninth grade was a turning point. "I didn't know anything about architecture or engineering, but I was really good at math and knew I liked physics," she said. A guidance counselor idly mentioned that, with math as a strength, maybe she should think about a career in architecture or engineering. So in the summer before ninth grade, Jen started cold-calling every engineering and architectural firm in and around York. "I would just ask, hey, can I come in? Can I shadow?" Some people agreed to let Jen come in for an hour or a day. "I learned so much from that. Like, nope, not architecture. Not artistic. That is not for me," she says with a laugh. "But this engineering thing seemed pretty cool." And so her course was set: Drafting in ninth grade it was! "I was the only girl in the room, which was a preview of what it would be like to be a female structural engineer."
During her junior year, Jen was one of four students at her high school to join the ACE mentor program. Halfway through the first year, a guest speaker came in to talk about structural engineering and starting his own firm in York. "I just remember thinking, 'Wow, that's what I want to do. That's it!' Since that day, I have been pursuing structural engineering and loving it."
For her senior project the following year, she designed a beach house, drafted the plans and built a model, working closely with the very same drafting teacher she started with in ninth grade. It was Jen's first cool project – totally worth her whole summer vacation.
Build the Model and Scale It
It has been a few summers since then, and Jen has worked in our Structural Engineering practice for six years. And the models? They've gotten bigger.
One example is 1900 Reston Metro Plaza, a transit-oriented, mixed-use building in Northern Virginia, a little way outside D.C. "It's so cool!" Jen says. Featuring a concrete exoskeleton that crisscrosses the exterior, the project gave Jen plenty of opportunity to go out in the field to resolve the complex challenges the unusual system presented throughout construction administration. And the challenges continue, even after it's built. "There's been a lot of redesign. They recently put a terrace on the roof, and we're still doing minor things for the newer tenants." Jen appreciates the opportunity to work on an iconic building. "Anyone who goes from D.C. to Dulles Airport notices that building. It's impressive when lit up at night."
She is not kidding.
Delivering Cool
Another little project Jen is working on is Metropolitan Park – otherwise known as Amazon's HQ2. Its two 22-story towers take up a whole city block in Arlington, Virginia. Unlike many of her projects, it isn't limited by D.C.'s height restrictions. "And the thing is, it's just big. A big floor plate."
And it's not just structure with this one. "The client is interested in so much – from sustainability to resilience – they like to touch on a lot of things. We're now pouring concrete for level four. It really is cool to see it come to life." Jen and her husband (a construction engineer) make regular pilgrimages to see the site on weekends. That's one of the nice things about her buildings being a part of her community. "I like that this impacts where I live."
Homecoming
But Jen's engineering efforts extend far beyond the places where she's lived. As a sophomore at Penn State, she heard about Bridges to Prosperity (B2P) and immediately founded a chapter on campus. The chapter endures to this day as Engineers in Action's Bridge Program after B2P's university operations were acquired by Engineers in Action.
Jen organized the fundraising to build a bridge abroad and went on a survey trip to Panama with two other students to visit a village often cut off from the rest of the country by a river prone to flooding. She then designed a 76-meter pedestrian bridge and led a team of 10 students who went to Panama to build it. "Definitely a life-changing experience," Jen says of the five weeks she spent on the project. "I learned so much and worked harder, physically, than I probably have in my entire life."
Years later, Jen did it all again. And we really mean all of it.
"After I came to Thornton Tomasetti, I said, 'Hey, this is an awesome program and they have a corporate program. Why aren't we involved?'" It turns out our London office was involved, so Jen worked with Amy Hattan to get it off the ground in the U.S. Next thing she knew, Jen was headed back to Panama to build another bridge with an awesome team of colleagues from several offices.
While in Panama, Jen and some teammates drove a couple hours into the local provincial capital for water and provisions. That's when she realized the village where she built her first bridge was only an hour or so in the other direction. Despite her middling Spanish, Jen managed to hire a taxi for a whole day and went on an adventure. The trip involved getting lots of on-the-fly directions from locals ("yeah, just make a left at the basketball hoop"), and she arrived to find a community meeting going on at the local church. "So I just walked up and they all recognized me," Jen says. "It was the biggest, best reunion – I walked across the bridge with all of the people I had lived with for five weeks before."
Even better was to see how her work had changed other people's lives. "In the four years since I'd been there, they had gotten electricity – by having a bridge they could get into the local capital to petition for that. The kids can go to university because they can actually get there and they don't have to miss class when the river floods. It's amazing to see how one bridge can have such an impact."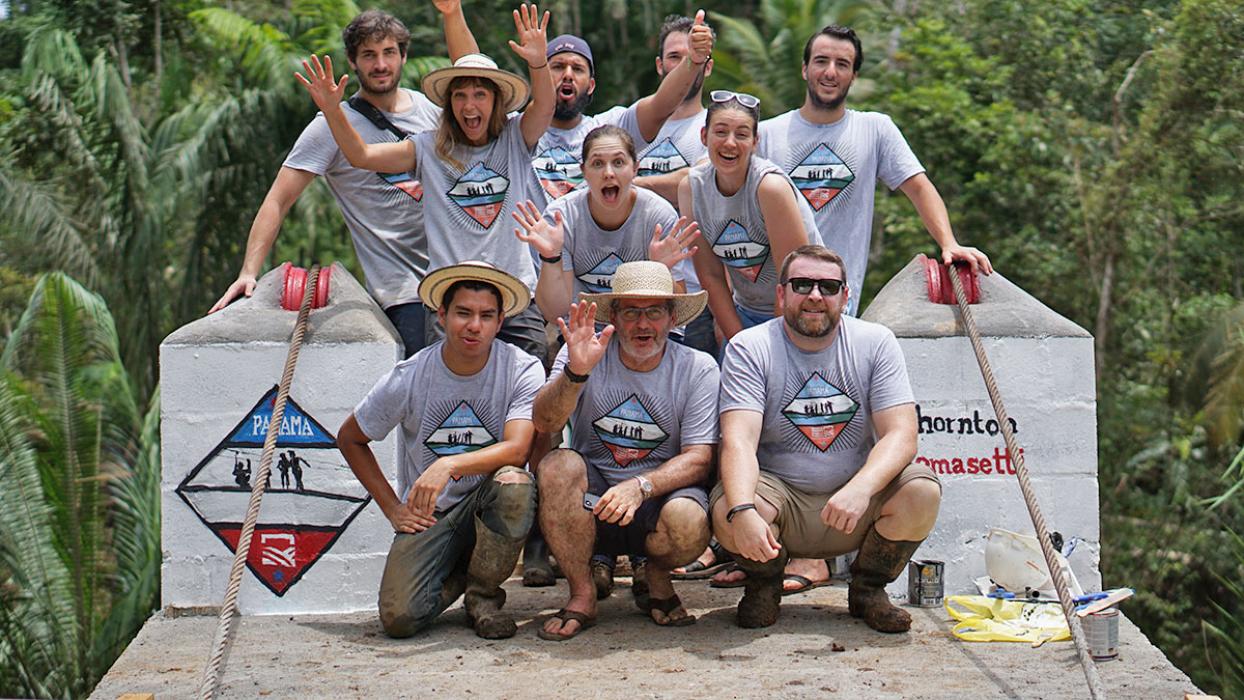 Think Globally, Act Locally
The idea of community is clearly never far from Jen's mind, and few at Thornton Tomasetti have worked as hard as she has to build it – both abroad and very close to home.
At Penn State, where she earned bachelor's and master's degrees in civil engineering, Jen found a strong sense of community by leading the women in engineering program. When she discussed that experience during her job interview, Principal Zach Kates mentioned Women@TT to her. "That Thornton Tomasetti had Women@TT definitely differentiated it from some of its competitors. And that was the icing on the cake that decided me to join the D.C. office."
When she first joined the firm in 2015, she enjoyed chatting about Penn State football with her mostly male colleagues, but she noticed something. "I started to realize that I didn't really talk to the other women in the office and it felt kind of weird. The guys were chatting at each other's desks, just talking. They were doing it naturally, but women weren't." But why? "There were not that many of us and we tend to be busy and get involved in a lot of things. So I thought we needed to be intentional about forming a community and really connecting."
Looking to strengthen bonds between herself and other women in the office, Jen remembered her conversation with Zach. And – as she tends to do when inspired – she made some calls. The result? The launch of the D.C. office's Women@TT chapter in January 2016, led by Jen and colleague Amber Shoals. Jen eventually became the president of the entire organization and helped it chart a vibrant path into the future. She handed off that leadership position to Natalia Zawisny this past January.
"I had the ability to see when something was missing," Jen says. "I am very detail-oriented. When I understand the mission, and the purpose is clear, then executing on that is something I think I have done well – with Penn State's Bridges to Prosperity and then with Women @TT. Building that framework and setting us on the track that we are on is something that I am very proud of. And to now see all the new directions that Natalia and the other members of the board are taking it, it's really rewarding to see how it's now going to grow exponentially."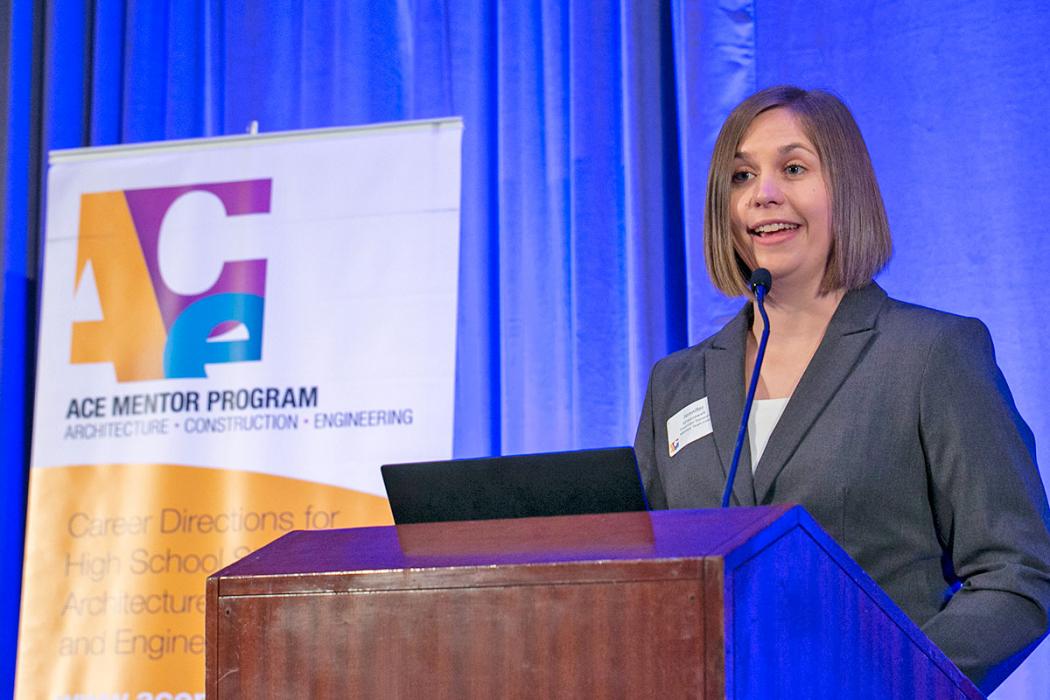 An ACE Up Her Sleeve
You'd think Jen's plate was full, but she is also active in ACE, mentoring young people so similar to the person she was back in York. It makes sense, sure, but mentoring students on top of everything else? Jen just laughs. "Some people say, 'Oh, ACE, it's so much time, how can you do it?' And for me that's what gives me energy to keep going! The students give me much more energy and that's what inspires me and affects my work." Her 2020 group made it all the way to ACE's national competition, placing first in their category and third overall. Now many of the students she's worked with since they were freshman are graduating seniors. Jen is happy to see some of the younger students filling the gap created by departing seniors. "There is a group of juniors," she says, "who have been stepping up and starting to lead projects. All of them women, actually."
Isn't that cool?
- Ted Brengle, receptionist, Chicago