News
Looking Ahead: 2019 Corporate Responsibility Targets
July 01, 2019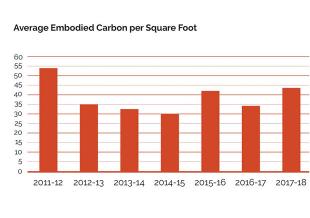 Looking ahead to the close of 2019, we expect to achieve measurable short-term progress toward our corporate responsibility goals in these areas.
Reduce our use of electricity by 5 percent and increase our purchases of green power to 25 percent of U.S. electricity use
Our employee numbers grew by 16 percent between 2017 and 2018. During the same period, we saw a 5 percent reduction in our total electricity use. We hope to continue this positive trend, achieving another 5 percent reduction in electricity use by the end of 2019. We can accomplish this goal by continuing to conserve energy and by implementing efficiency measures in our offices, with assistance from local green champions. Introduction of new computer technology, changes to our server systems and the resulting reductions in air conditioning will contribute to these energy savings. Where we can't reduce electricity use, we often purchase green power or Renewable Energy Certificates (RECs). For four years, we have been in good standing as a U.S. Environmental Protection Agency Green Power Partner, having met the green power threshold for a company of our size. The EPA recently raised the threshold from 10 to 25 percent of use, a goal we intend to meet by the agency's May 2020 deadline.
Move from embodied carbon R&D to implementation; apply embodied carbon services in at least 30 projects
For seven years, Thornton Tomasetti has been a leader in research on embodied carbon benchmarks and has amassed a large database of embodied carbon in our own projects. Over this time, we have witnessed a growing interest in embodied carbon and more requests for embodied carbon assessments. Our end goal has been to apply our knowledge to projects to reduce their embodied carbon footprint. We offer services in embodied carbon calculations and material efficiency assessment for global-warming potential. In 2018, policies and certifications began driving our clients to seek embodied carbon reduction calculations and strategies. In 2019, we expect to see steady growth in this awareness lead to more opportunities for our engineers to contribute to the reduction of greenhouse-gas emissions. Our target is application of our embodied carbon services in at least 30 projects in 2019.
Increase employee awareness of corporate responsibility programs to 90 percent through the rebranding of our department.
With employee awareness of our corporate responsibility programs now at 84 percent, we can get close to our goal of 100 percent awareness by improving communication about our goals and initiatives. A rebranding initiative begun in early 2019 will be fully launched by the end of the year. After seven years of "corporate sustainability," we've given our department a new name: "corporate responsibility." We've learned that "corporate sustainability" can be confused with our Sustainability practice – our green building consultants. Also, "sustainability" can sometimes be construed to specifically mean "environmental protection," while our initiative looks across a wider view – the triple bottom line of people, planet and profit. The new wording should help raise awareness of the full range of topics and programs that make up our corporate responsibility approach, and the rebranding will communicate internally to every office, practice and department what corporate responsibility means at Thornton Tomasetti.