News
Preparing for Hurricane Season 2023: Patterns to Watch For
June 01, 2023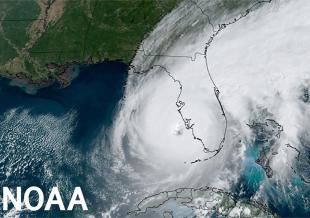 Courtesy NOAA
As we approach the start of the 2023 Atlantic hurricane season, let's take a look back at the 2022 season, as well as the developing El Niño, and learn what this means for the season to come. We'll conclude with some tips on evaluating your building's safety should disaster strike.
See More Hurricane Season Insights & Advice
---
According to the National Oceanic and Atmospheric Administration (NOAA), an average hurricane season has 14 named storms, seven hurricanes and three major hurricanes, so based on those numbers, 2022 was an average season. The most significant hurricane in 2022 was Hurricane Ian, which made landfall first as a Category 4 storm in Cayo Costa, Florida, and again as a Category 1 in Georgetown, South Carolina. Hurricane Ian tied for the fifth-strongest hurricane ever to make landfall in the U.S. and caused 161 fatalities in the U.S. and Cuba and approximately $131 billion in damages.
Other significant 2022 storms included Hurricane Nicole, which made landfall as a Category 1 in North Hutchinson Island, Florida, and Hurricane Fiona, which made landfall outside the U.S. mainland as a Category 1 near Punta Tocon, Puerto Rico. Thornton Tomasetti experts in coastal offices from Texas, Florida and North Carolina to Washington, D.C., worked on many projects related to the damages from Ian and Nicole. In total, we contributed to 157 insurance projects for a variety of building types and 49 rapid assessments for residences and condominiums.
Impact of El Niño
Over the past few years, La Niña has been the persistent pattern in the Pacific, bringing cooler temperatures, but El Niño is coming, and with it, warmer seas. What does this mean for hurricane season? Typically, El Niño results in a calmer hurricane season in the Atlantic and more activity in the Pacific, while La Niña brings the opposite. According to NOAA, there's a 62% chance of El Niño through July. And the probability increases to more than 80% through the fall.
NOAA 2023 Season Predictions
NOAA just released its predictions for the season, and it anticipates near-normal hurricane activity in the Atlantic:
"NOAA is forecasting a range of 12 to 17 total named storms (winds of 39 mph or higher). Of those, five to nine could become hurricanes (winds of 74 mph or higher), including one to four major hurricanes (Category 3, 4 or 5; with winds of 111 mph or higher). NOAA has a 70% confidence in these ranges."
These predictions take into account the likely development of El Niño, which will soon supersede La Niña. The contrasting conditions will balance one another out, resulting in a near-average season.
In the Pacific, Super Typhoon Mawar passed over Guam with strength equivalent to a Category 4 hurricane. The Western Pacific is influenced by strong El Niño conditions, and some agencies predict that a storm of hurricane (typhoon) intensity will materialize in the Pacific this season rather than the Atlantic.
After the storm: Is my building safe to enter?
If your property has been affected by a hurricane, the first thing you'll want to do is get in and survey the damage. But how do you know if it's structurally safe? Here are a few things to look for to determine if your building is dangerous, has an undermined foundation or is otherwise structurally compromised:
Bulging concrete block foundations
Doors and windows unable to open
Failed connections (nails, screws, bolts)
Floodwater
Live or wet electrical wiring
Natural gas leaks or broken lines
Sagging drywall or cracked plaster
Shifting in primary columns
Stair-shaped cracks
Contact Us
When in doubt, call a professional engineer to survey your property for you. Thornton Tomasetti has performed rapid assessments for a variety of clients on a range of building types across the coasts and is adept at building safety inspections.