This 103-story mixed-use tower utilizes innovative structural systems and analysis techniques to create an efficient and economical design.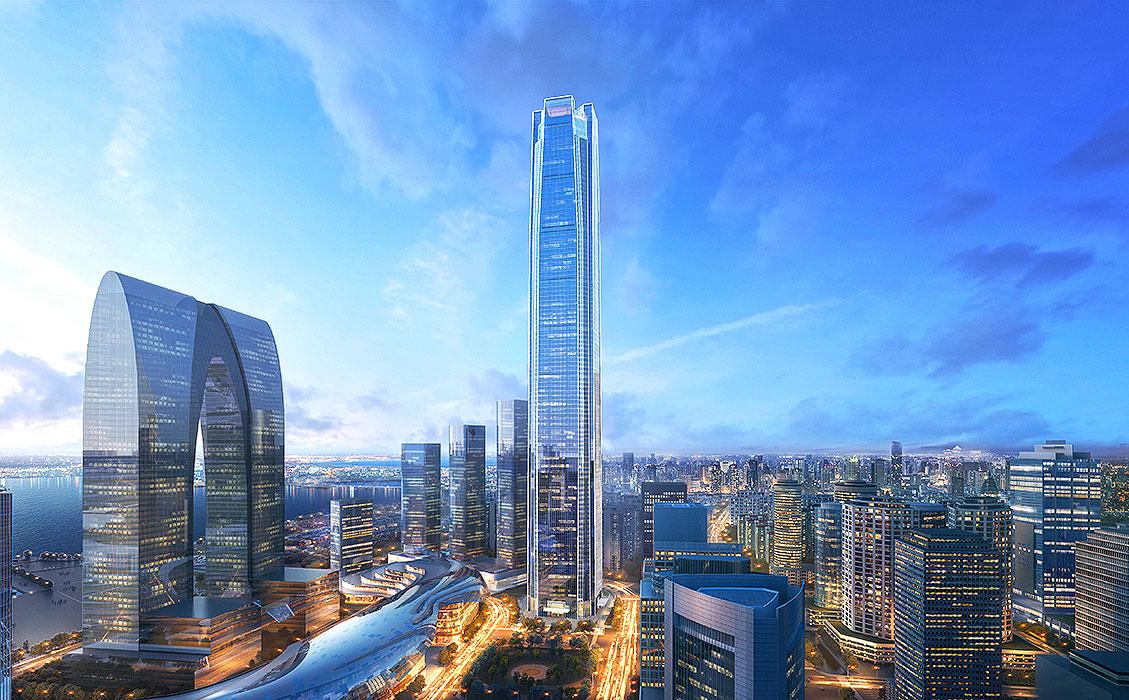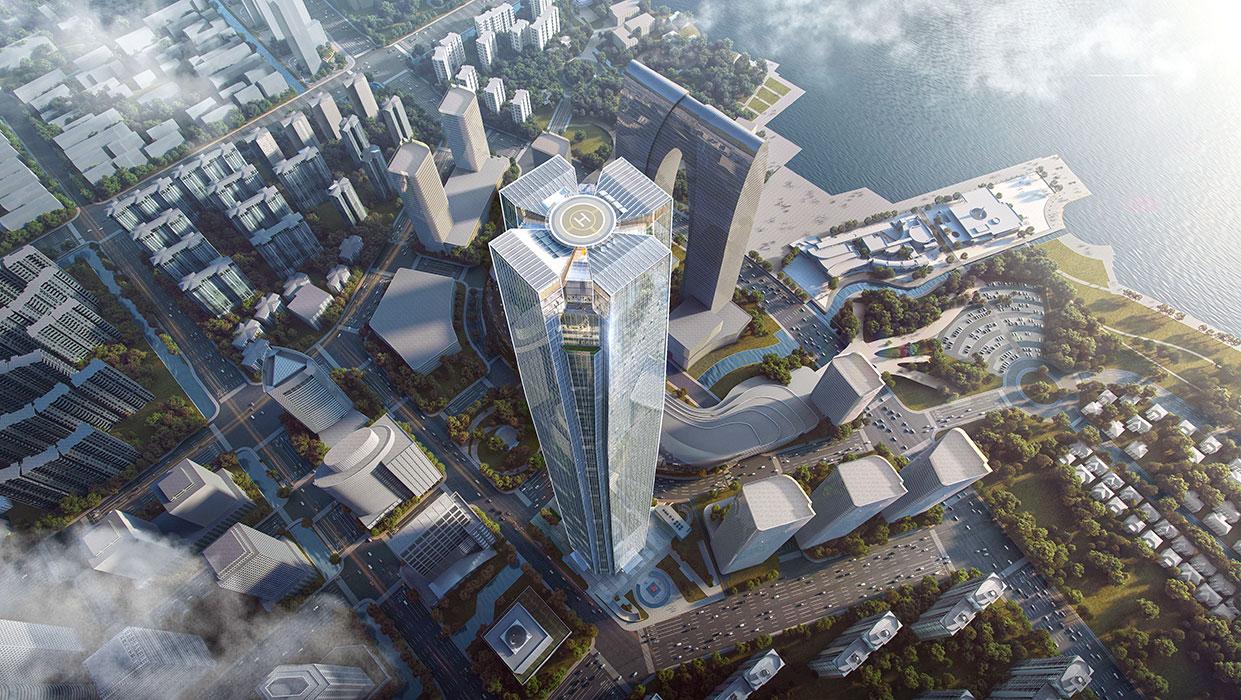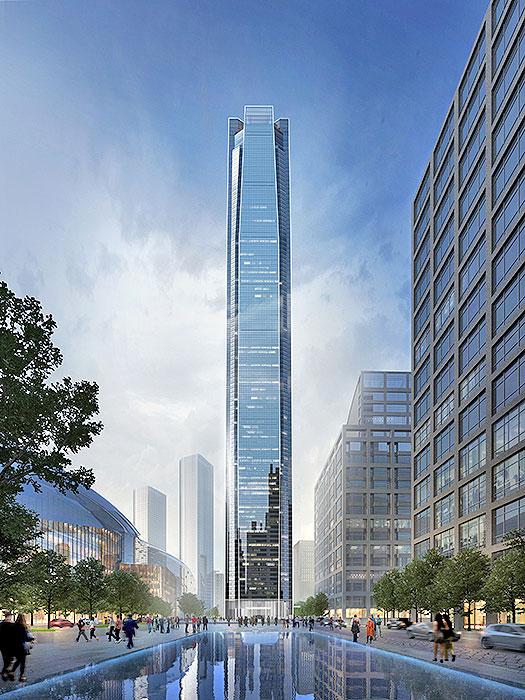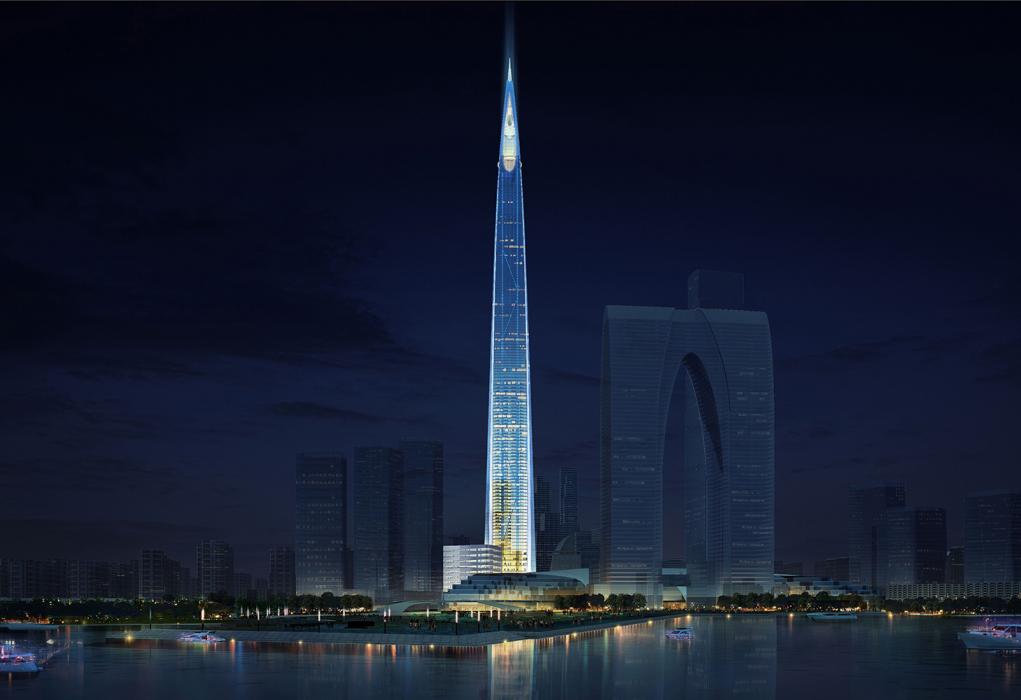 Overview
As the second largest city in the Jiangsu province, Suzhou is an important economic hub in East China. Reshaping its skyline is the Suzhou Zhongnan Tower, a 103-story tower with office, residences and a hotel. The tower has five stories below grade and an eight-story, long-span podium with ballroom and conference facilities. The top of the tower features a two-story observation deck.
Our team completed the structural design of the original 729-meter-tall Zhongnan Tower in 2014, and the construction stopped after the concrete piles were finished. The tower design was revised in 2019 with the height reduced to 499 meters.
We are providing structural design services to Gensler for the new tower and previously had for the original one.
Highlights
The pile foundation built for the original tower is fully utilized by the new one.
The structural system for the new tower includes a concrete core, a mega frame composed of SRC mega columns and belt trusses and outrigger trusses linking the core and mega columns.
A hollow core with the cross-web walls removed realizes the architect's vision of providing seven large atriums. Thickened solid slabs, working as rigid diaphragms, are provided at refuge levels to ensure the stability of the core.
A key design challenge originated from the substantial gravity and lateral loads—including wind and seismic—inherent in many supertall buildings. The sturdy foundation system, relying on concrete bored piles with post grouting, can support substantial gravity loads. The core-outrigger-mega frame system provides sufficient lateral stiffness and strength to resist significant lateral loads and satisfies the strict story drift ratio.
The tower features a unique crystal crown that resembles a four-petal yellow Osmanthus flower. The crown structure consists of eight mega columns at perimeter and the flange walls at center, supporting a helipad and a hanging structure for the tuned mass damper (TMD).
The top of the tower is designed to meet the H10 requirements of Japanese standards, which means only 10% of people can feel building motion during a 10-year wind event. Our creative solution combines two damping systems, a 300-ton TMD and a tuned sloshing damper (TSD) based on the 1000-ton water tank. This marks the first time this approach has been adopted for a supertall building.
The TMD is suspended by a unique structural device with multiple hanging masses that can swing in opposite directions, making it more efficient than a traditional single mass damper.