News
2019 Progress Report: Financial Vitality
July 27, 2020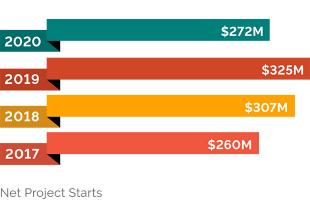 Each year, we report on several indicators that show progress toward achieving our financial-vitality goals. The trends this reveals can show how our corporate responsibility programs contribute to our vitality over time.
Gross revenue is our total income for services, including TTWiiN, the independently operated innovation accelerator created by Thornton Tomasetti.
Net revenue is earnings from our financial statements, including acquisitions.
Net project starts indicates the total revenue expected from projects started in the reported year.
High employee retention, while not a direct financial indicator, is associated with better financial vitality. According to the Work Institute's Retention Report, it costs employers 33 percent of a worker's annual salary to hire a replacement if that worker leaves. Employee retention is tracked and reported by our Human Resources department. We have industry-leading retention and are focused on multiple culture and development initiatives to keep our retention as strong as possible.