News
Climate Action: Corporate Climate Action
September 26, 2023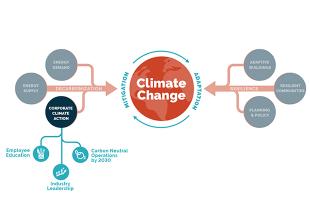 This week in our continuing series showcasing how engineers and scientists can play a key role in addressing the short- and long-term challenges of climate change, we look in the mirror at our firm's operations and how we can empower each other to meet the challenges ahead. Whether it's providing educational opportunities on how to be more sustainable to staff and clients, aiming to achieve carbon-neutral business operations or moving the industry forward with innovative carbon reduction policies and practices, here's how we are tackling the climate crisis at our 45+ offices around the world.
---
We aspire to be one of the most sustainable firms, both in the way we design our projects and in how we operate as a responsible business.
We introduced this message soon after we acquired a sustainability practice in 2012. As we've grown over the years, our core ideology and envisioned future have supported this objective. These are not empty words or "greenwashing" - we back it up with shared values and action. Our corporate environmental statement outlines how we are making lasting contributions to the environment and our industry:
Applying creative means to reduce carbon in our projects.
Committing to achieve carbon neutral business operations.
Influencing policies and practices for sustainability and resilience in our industry and communities.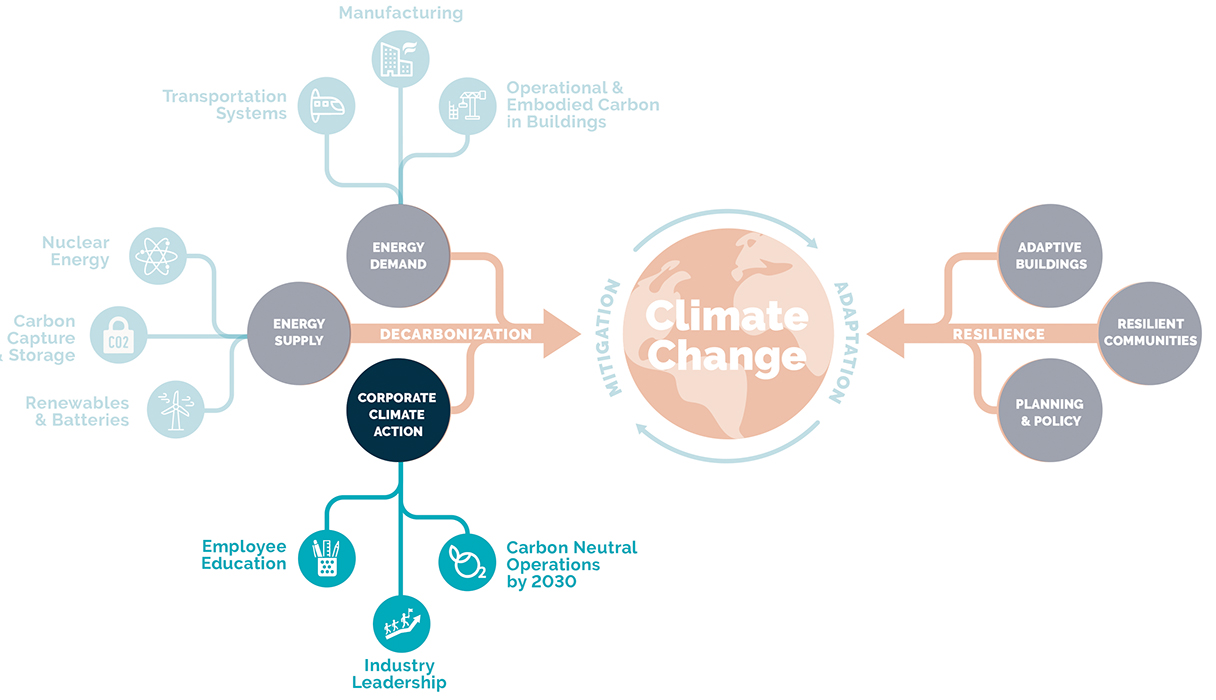 How are we influencing policies and practices in our industry and communities?
By being an industry leader
One example of how we strive to be an industry leader is in the area of embodied carbon. Before most other firms were taking a serious look at embodied carbon, we were engaged in years of embodied carbon-related R&D. Early on, we collaborated with the Carbon Leadership Forum and a few of its members to conceive and develop the Structural Engineers 2050 Challenge, which calls on structural engineers to "understand, reduce and ultimately eliminate embodied carbon in their projects by 2050." As an inaugural member and advisor to the Structural Engineers 2050 Commitment, which meets the call of the challenge, we have continued to contribute a large body of data on embodied carbon in structures towards achieving industry baselines and embodied carbon reduction.
Our persistence and drive for innovation in this area has led us to many viable partnerships and industry breakthroughs in both the United Kingdom and the United States. Most recently in 2022, we became an early signatory of ConcreteZero, an initiative that looks to revolutionize the concrete industry.
By committing to carbon neutral operations
Our commitment to cutting carbon starts at home – in this way, "We practice what we preach." In 2012, we established our goal to reach carbon neutral business operations by 2030, and since then we've been reaching our targets by reducing energy use wherever possible and offsetting emissions for business-critical activities. We track and measure each office's progress towards sustainable business operations and environmental management targets (see image below for emissions reduction targets and progress).
We make progress toward these targets by:
Designing new offices to high-performance standards and reducing energy use in existing offices.
Using renewable energy.
Flying less, offsetting the rest.
Enabling flexible work.
In recent years, "ESG" (Environmental, Social, Governance) has become a must-have for any business beholden to investors, and firms in our industry have sought out our experience with planning for carbon neutrality, a central concept in the "E" of ESG.
By educating our employees, who educate our clients and collaborators
Thornton Tomasetti's people regularly engage in education and training to advance their knowledge and contribute to innovations in sustainability. Here's how we are giving and receiving education and training on climate change:
Educating our engineers on our embodied carbon capabilities and how to deliver them to clients.
Encouraging employees to obtain a USGBC LEED credential through credentialing support.
Offering a myriad of opportunities to share in-house knowledge on climate change and related services.
Engaging the passion of our employees for sustainability to inspire and educate co-workers through our green champion program.
Targeting an increase in our R&D projects specifically focused on environmental innovations.
Educating our clients and partners every chance we get.
Collaborating with others in our industry to put climate change front and center.
For more information, please visit our Corporate Responsibility Report, the vehicle we use to share our progress transparently with our stakeholders – this is another important piece of our corporate climate action.
---
Climate change is one of the biggest challenges facing our society. And because it affects everyone, it demands our creativity, passion and collaboration to build a better, more enduring world. See how Thornton Tomasetti is one of the only firms with the expertise to help you think holistically about a range of steps to address climate change.