News
Climate Action – Engineers and Scientists Have the Solution
September 20, 2023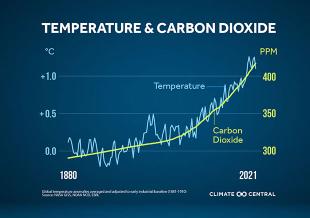 In coordination with the opening of Climate Week NYC, we're launching a blog series, with an entry each Wednesday, showcasing how engineers and scientists can play a key role in addressing the short- and long-term challenges of climate change. Co-CEO Pete DiMaggio opens our series today. A version of this blog is also published in the Commercial Observer.
---
As thousands of business leaders, political change makers and civil society representatives gather for the 400+ events of Climate Week NYC 2023, there's no question that climate change and its impacts have been on everyone's mind for months. We've just come out of a record-breaking summer of devastating fires, heat waves, floods, tornadoes and drought, along with rising ocean temperatures and sea level. Many people fear that we won't be able to stop the effects of climate change before it is too late. But this is a misperception. We have the solutions to adapt to climate change already underway and the ability to reduce future climate change – right here, right now and within our reach.
What Does a Solution Look Like?
While much of the world has been waiting for governments and NGOs to solve the climate change crisis, engineers and scientists have been developing solutions, and private industry is taking responsibility to address the crisis. The solution is a two-pronged approach to energy supply and demand: producing energy more sustainably and using it more efficiently (decarbonization), coupled with designing and building to withstand and recover from natural disasters more effectively (resilience). We begin by decarbonizing energy generation to reduce greenhouse gas emissions and keep global temperatures from rising more than 1.5°C above preindustrial levels (thereby mitigating global warming and its devastating effects), while simultaneously designing and building infrastructure that can withstand and recover from climate shocks more effectively. Think of decarbonization as the long-term solution to our planet's health crisis, while resilience is the immediate response to the conditions our planet is facing.
This strategy is clear, simple and measurable. What many people don't realize is that the tactics to execute this strategy are here and available today.
On the decarbonization side, not only have we been able to generate renewable energy efficiently (wind, solar, hydro), but we now can scale this technology by addressing the intermittency issues. Specifically, our understanding of the root causes of battery failure, as well as the ability to predict off-gassing, combustion and heat transfer, allows improving and scaling our energy storage capabilities. This, along with advances in long-distance power transfer, unlocks the potential of renewable resources.
New Power, More Resilience
Conversely, while we're plowing ahead with investments in renewable energy, we know that to power the world, we'll be somewhat reliant on fossil fuels for the near future – we need to power our hospitals, transportation systems and critical infrastructure today and tomorrow while we transition to other energy sources. One way to make this far more sustainable is to use technologies such as carbon capture and storage, in which we reduce the CO2 emitted into the atmosphere during energy and materials production: Think putting a "cap" on a smokestack to capture harmful pollutants. This same approach can be used to improve our industrial processes and make them more sustainable (e.g., cement and steel production): Think about using legacy manufacturing processes, but capturing and storing the harmful pollutants during the process so that the end product is significantly greener.
On the resilience side, we're designing everything we build to be able to adapt to the shocks and changes we're seeing. This includes starting the adaptation at a project's inception. For example, we evaluate big-picture ideas such as locating projects outside flood zones or above flood elevations, situating buildings to make the best use of solar power and energy, designing to resist wave-borne debris, and looking at new and ingenious ways to resist the applied loads during fires, hurricanes and tornadoes.
On an even larger scale, we're helping renew and modernize entire communities to take advantage of emerging technologies, modernizing energy grids, transferring hydropower over long distances, planning for future sea-level rise, mitigating the effects of wildfires and repositioning older buildings to avoid the carbon cost of demolition, disposal and reconstruction. We're also discussing using micro nuclear reactors to power large areas and significantly reduce our reliance on fossil fuels.
These are only a few examples of specific solutions we have in our toolbox to address the devastating effects of climate change. The overall idea is to use a combination of resilience and decarbonization strategies that will, in the case of the first, enable us to cope with changes that will be slow to correct, and in the case of the second, help reduce the extent of global warming, stabilize the earth's climate and keep it within the Intergovernmental Panel on Climate Change target of 1.5°C above preindustrial levels.
Government is not set up to get this done quickly enough alone. It will fall to private enterprise to simultaneously run businesses effectively while partnering with clients, peers, industry leaders and others to address this problem within their spheres of influence. By leading while also collaborating with our colleagues in government and NGOs, private industry must show "here's how" we can address this problem – together and before it's too late.
---
Join us to share your thoughts on next week's blog on our corporate climate action policies.