The 1,840-seat theater is styled after a traditional opera house and features one of the largest proscenium stages in North America
Lead Contact
Project Details
Project Partners
Pelli Clarke Pelli & HKS
Location
Las Vegas, Nevada
Project Awards
AISC, IDEAS2 National Certificates of Recognition, 2011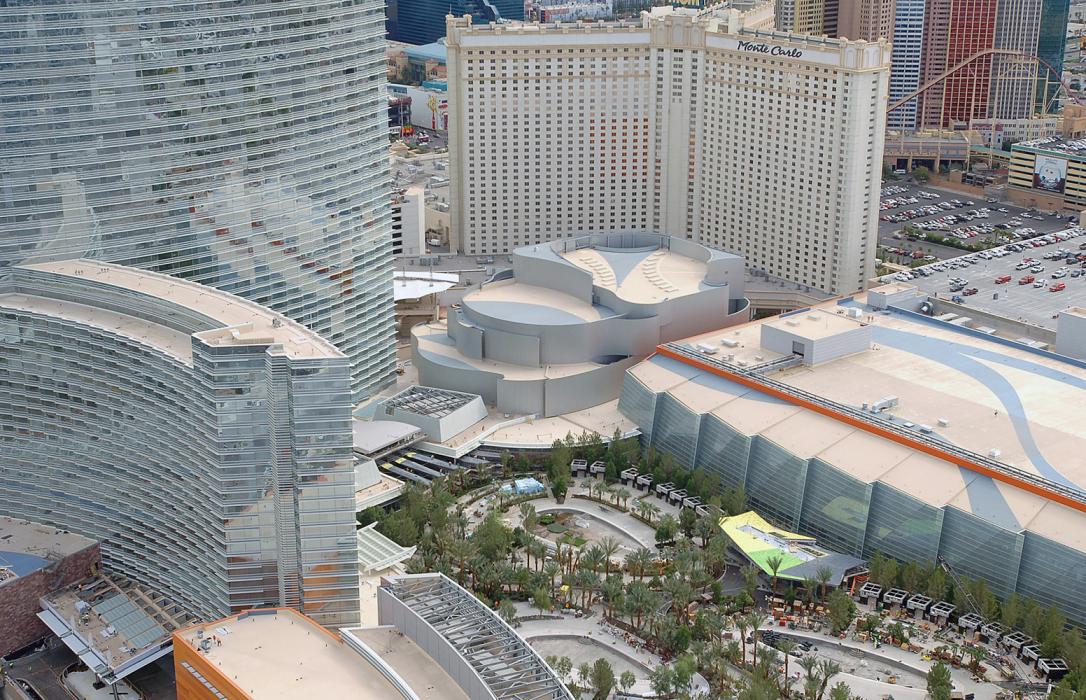 Overview
Custom built for Cirque Du Soleil's Viva ELVIS show, the award-winning Viva ELVIS Theater at ARIA Resort is the seventh permanent venue in Las Vegas for Cirque du Soleil. The 1,840-seat, 165,000-gross-square-foot theater is styled after a traditional opera house featuring one of the largest proscenium stages in North America, measuring 20,000 square feet and reaching a height of more than 100 feet.
We provided structural design services to Pelli Clarke Pelli and HKS for the theater, which was completed in 2009.
Highlights
Within the all-steel structure, a technically advanced theatrical system exists. The two-seating-level auditorium features 28-foot-long cantilever balcony trusses designed to a stringent vibration criteria, while remaining shallow enough to maximize headroom for the lower seating area.
A façade portraying undulating ribbons and gills was formed by curved structural steel supporting metal deck cladding; a system that provides visual appeal while remaining cost effective. Curved steel members included both wide flange and hollow structural sections with differing radii of curvature, the tightest measuring nine feet.
Completely designed and constructed in less than three years, the entire structural package for the fast-track project was drawn in Revit from schematic design through construction administration.