An office building built with a unique, top-down construction system which resulted in a 13 month construction and fit-out schedule.
Lead Contact
Project Details
Project Partners
Thomas Associates, Shapoorji Pallonji and Company & Lift Group, LLC
Location
Bangalore, India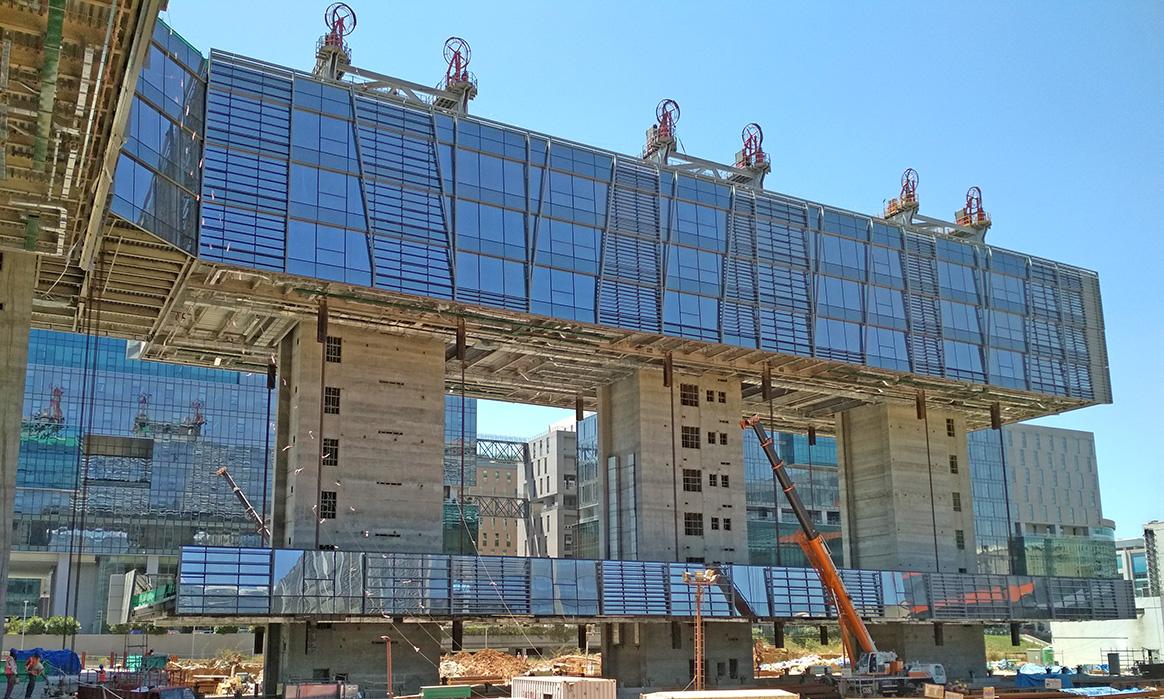 Office Floor Lift Construction
Overview
The SRR4 office building in Bangalore, India provides 630,000-square-feet of laboratory and office space for a corporate client. The building is a top-down structure; all ten of its steel-framed floors were assembled on the ground, then lifted and locked into place. This design build construction approach resulted in a 13 month total construction and fit-out schedule, an improvement of more than 50% when compared to conventional construction methods.
We provided structural design services to Thomas Associates for the complex, which opened in 2018.
Highlights
To facilitate the ultra-fast-track schedule, seven concrete cores were initially slip-formed and capped with steel hat trusses. Cables from jacks atop the trusses supported temporary lift platforms below each floor's steel framing. When assembled, floors were lifted to the correct height and connected to steel hangers that are supported from the roof trusses, providing permanent support points. Interior work then began immediately and the lift-platforms were lowered for the next floor's assembly.
In order to achieve an acceptable levelness of lifted floors with respect to concrete cores and across expansion joints, the project required a custom made Grasshopper routine within Rhino3D.
Floor deflection data was used to develop a three-dimensional parametric model which was used to automate the creation of camber diagrams for each steel member on a given floor for use by the steel fabricator and erector so the required two-dimensional camber profile could be achieved.
The top-down system allowed each floor to be assembled on lift-platforms at ground level. Erection of steel framing, installation of deck, pouring of concrete slabs, installation of curtain wall, and placement of MEP fixtures below the framing were performed on the ground, where the work could be completed quickly, easily and safely.
Construction materials and finishes for the interior work were pre-placed on the slab for installation once the floor was lifted into position. Each floor was effectively dried-in and enclosed when lifted and locked.