University of Notre Dame, Jenkins and Nanovic Halls
Totaling 185,000 square feet, Jenkins and Nanovic Halls at the University of Notre Dame are interconnected to form a figure-eight shape.
Lead Contact
Project Details
Project Partners
HBRA Architects
Owner
University of Notre Dame
Location
South Bend, Indiana
Project Awards
AIA Design Excellence Awards, Distinguished Building Awards - Special Recognition, 2018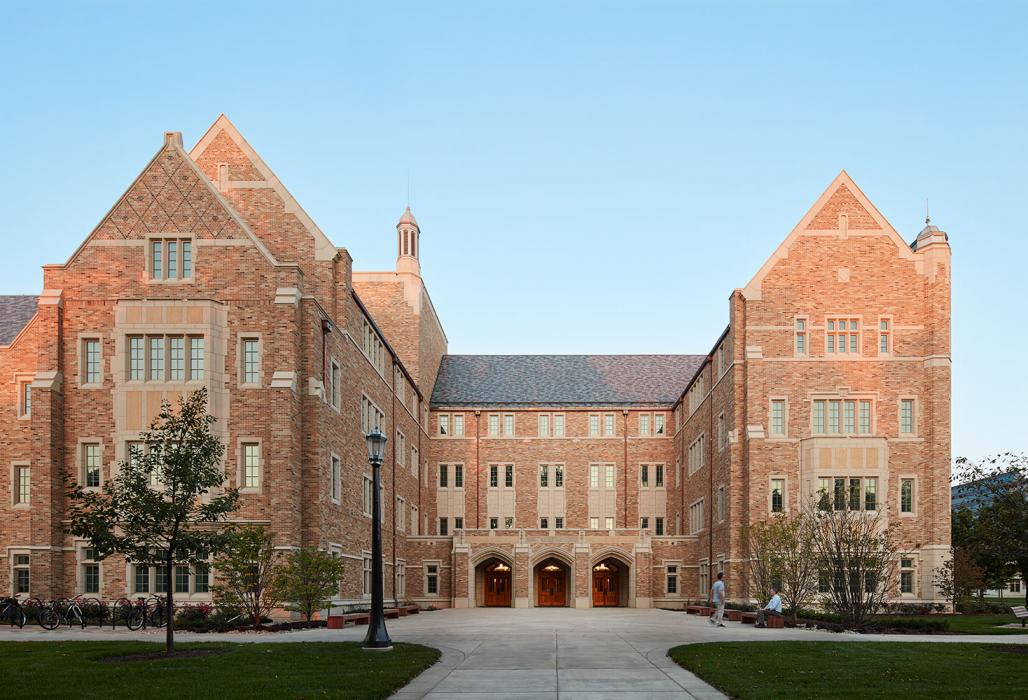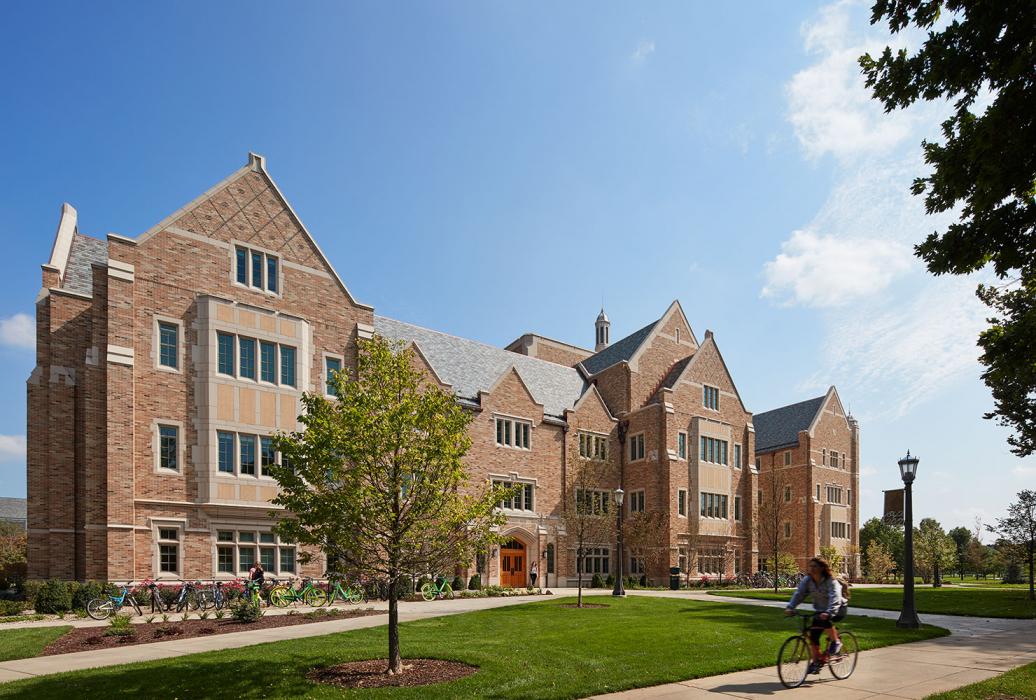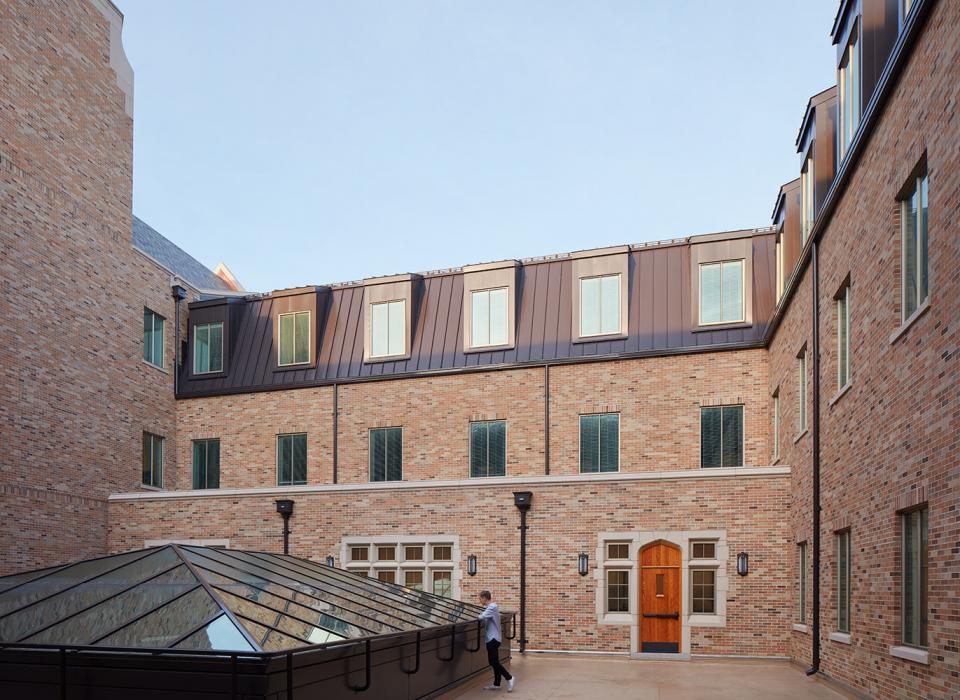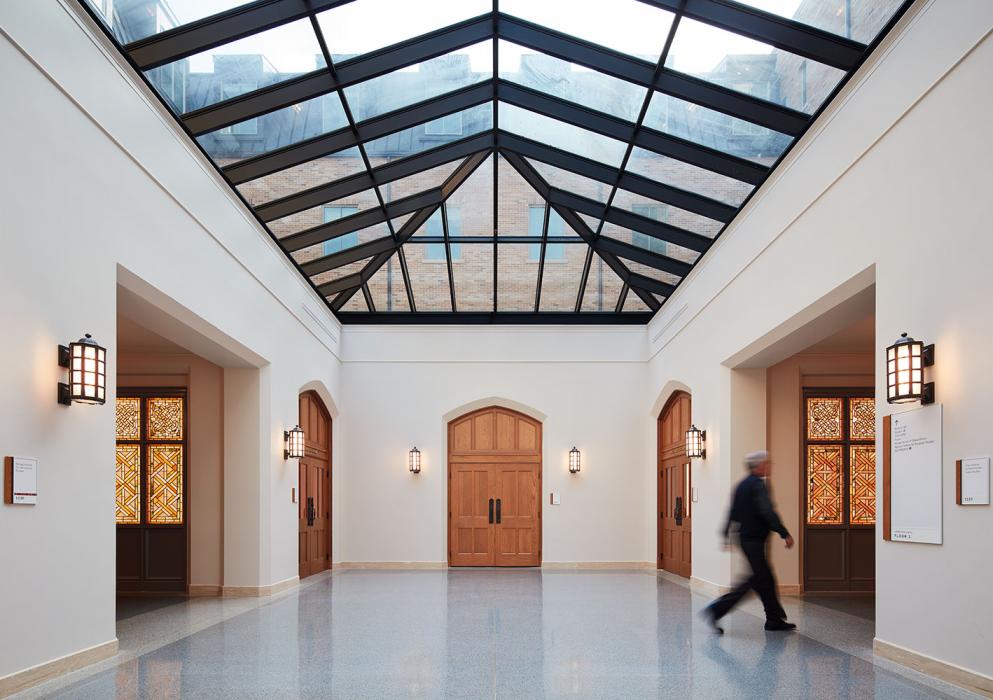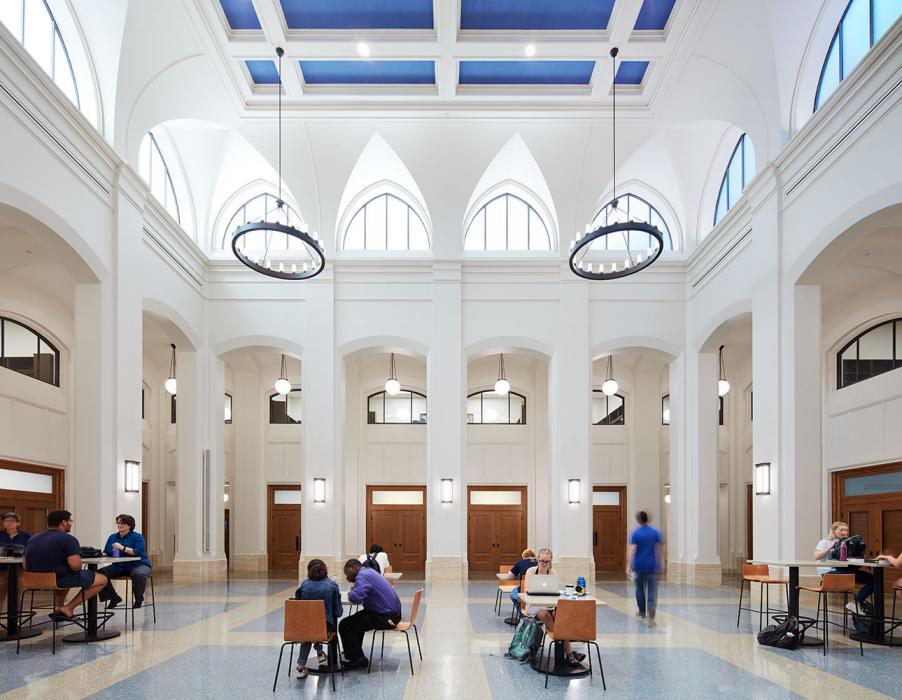 Overview
Totaling 185,000 square feet, Jenkins and Nanovic Halls at the University of Notre Dame are interconnected to form a figure-eight shape. In addition to classroom and office space, the buildings feature a two-story forum, mediation room, and outdoor courtyard with an over 700-square-foot skylight. Jenkins Hall houses the colleges of global affairs, international studies, civil and human rights, international peace, global development and administration. Nanovic Hall houses the colleges of European studies, economics, political science and sociology departments as well as the Keough School of Global Affairs, Notre Dame's first new college in nearly a century.
We provided structural design services to HBRA Architects for the academic buildings, which opened in 2017.
Highlights
These four-story buildings have a steel superstructure with a one-story basement. The fourth floor of the Jenkins building is located directly under the sloping steel roof. Between the two buildings is a five-story tower with a spire at the top. The lateral system of the building is a combination of braced frames and moment frames with cantilevered columns supporting the roof of Nanovic Hall.
The public face of the buildings is a gable roof with slate shingles. Intermediate dormers along the gable roof were framed out with steel.
The courtyard-side roof of Jenkins Hall is a mansard frame with dormers to provide light into the occupied interior spaces under the roof. The differing roof elevations of the two buildings, roof types and the sloping roofs create seven unique roof intersections, which were framed out in steel. The gable roof spring point and dormers created numerous unique conditions that required several different details for the interface of the CMU, brick, and roof steel.
The exteriors of the buildings are composed of a combination of Notre Dame's iconic Belden Brick with cast stone features. The brick is supported by continuous horizontal shelf angles anchored to the back-up CMU. The CMU is supported by the slab at each floor. The sloped roof with slate shingles and brick façade of these buildings exemplify the campus' distinct collegiate Gothic architecture.
The buildings' exteriors feature ten gable faces, three bay windows, five oriel windows, a turret, and numerous buttresses and arches, all requiring meticulous detailing.
A new underground utility tunnel at the Nanovic basement level provides the building access into the campus' existing utility tunnel.