News
2020 Carbon Footprint Update
May 09, 2021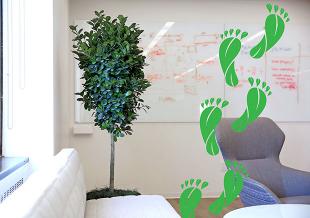 Thornton Tomasetti
One of our first sustainable operations goals, set in 2014, was to achieve carbon-neutral business operations by 2030. Data showed us where to start and keeps us informed about our business-related emissions (2020 figures in parentheses).
Each year, we conduct a commuting survey (1,458 metric tons of carbon-dioxide equivalent), gather data on business travel (239 MT CO2e) and heating (401 MT CO2e), and work with operations staff to capture electricity data (1,147 MT CO2e with renewable energy credits).
And our green champions conduct waste audits (10 MT CO2e). These data fuel a biennial analysis that calculates our total carbon footprint (2.73 MT CO2e per capita).
This analysis tells us whether or not our carbon footprint is shrinking. In fact, it is: we've achieved a 32 percent reduction in total emissions and a 33 percent reduction in per capita emissions since 2018. To meet our 2030 goal, we've been working to reduce our per capita emissions since 2014 and by 10 percent every two years since 2018. In 2030, we'll offset what little is left.
Here's how we'll get there:
Sustainable fit-outs and high-performance offices
Renewable energy purchases
Fly less, offset the rest
Flexible work, less commuting
When we first set our 2030 goal, we didn't just purchase offsets for all emissions and declare instant carbon neutrality.
Instead, we invested in a Corporate Responsibility department, began designing new offices and major renovations for LEED certification, and established grants for energy-efficiency improvements in our offices. Since air travel is business-critical, for the past seven years, we've purchased offsets to compensate for related emissions. We've also been a member of the U.S. Environmental Protection Agency's Green Power Partner Program for eight years. And in 2020, we used green power for 25 percent of our total U.S. electricity use. We know we'll reach our goals by 2030, because we're constantly checking our progress.
2020 Green Offices Update
May 09, 2021
By applying sustainable design strategies to our new offices and renovations and through our efforts to increase energy efficiency in our existing offices, we're taking incremental steps towards meeting our goal to achieve climate neutral business operations by 2030.