News
2021 Green Offices Update
June 20, 2022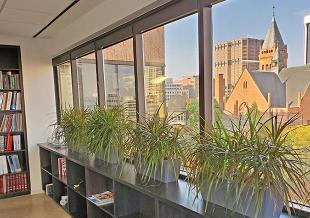 As part of our commitment to achieving carbon-neutral operations, we design our new offices and major renovations according to green-building principles and implement energy-efficiency upgrades to existing offices. Ten office projects have received a green-building certification, and one is registered for certification. In 2021, our New York office became our first to receive a WELL Health-Safety Rating. And in 2022, we expect to earn our first Living Building Challenge petal certification, for our Denver office.
Our office fit-out policy prescribes best practices in high-performance design for office moves and major renovations, helping create workspaces that are healthy, sustainable and inspiring.
---
Our offices with green building certification:

Chicago: LEED Gold & LEED Platinum renovation

Denver (former location): LEED Gold

Denver: Living Building Challenge Petals (pending)

San Francisco (former location): LEED Platinum

Philadelphia: LEED Gold

Kansas City: LEED Gold

Los Angeles: LEED Gold

New York: LEED Gold and WELL Health-Safety

Washington, D.C.: LEED Gold

Fort Lauderdale: LEED Gold
Our 60 green champions help local offices meet energy-efficiency and emissions-reduction goals and other environmental and social objectives. They are guided by a firm-wide program that includes regular meetings, grants and our "TTTRAX" guide, which defines best practices for sustainable offices. In 2021, we awarded 28 grants to support the work of these local corporate-responsibility champions in 25 locations. Since 2013, the firm has given $282,000 to offices for socially and environmentally friendly initiatives – including composting and waste recycling, energy-efficient office equipment, wellness programs and funding to support volunteer days.