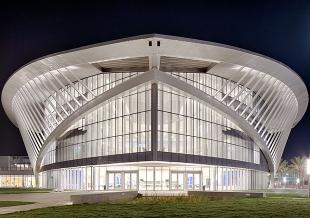 © Chad Baumer Photography
Students at Embry-Riddle Aeronautical University (ERAU) now have a stylish social hub with the addition of a distinct new student union building at the center of its Daytona Beach, Florida, campus. Named after notable alumnus and chair of ERAU's board of trustees, Mori Hosseini, the four-story, 178,000-square-foot building was officially dedicated in October 2018. Thornton Tomasetti provided structural engineering services to ikon.5 Architects for the project.
Under its curved steel arch roof, the building brings together a range of amenities and services for the campus' 5,000-plus students. It contains learning and social areas, an event space that can accommodate up to 900 people, student resource offices, dining facility and the university library. A soaring four-story commons is capped by a 300-foot-long, 50-foot-wide arching skylight.
The building's complex geometry was made possible by the innovative modeling and analysis techniques employed by CORE studio, Thornton Tomasetti's research and development incubator. The team used 3D Tekla modeling to map out the complicated steel connections and the curvature of the building materials in the roof. Structural design was carried out by Thornton Tomasetti's Newark office, while a construction engineering team made up of staff from our New York, Madison Avenue and Kansas City offices provided targeted Tekla and connection engineering for the architecturally exposed roof elements. The Mumbai office performed a peer review of the steel structure, and designed/detailed the curved steel monumental staircases, which connect the first two levels.