News
INWED 2022 – A Conversation with Athina Spyridaki
August 10, 2022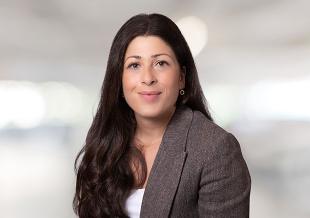 To honor women engineers at Thornton Tomasetti, Women@TT's Global Programming Committee is sharing stories about remarkable women. Athina Spyridaki is a Senior Project Engineer in our New York office and has been with Thornton Tomasetti for more than 2 years. Ali Ashrafi, Principal, conducted the interview.
---
Ali  What has been your most rewarding project or initiative?
Athina  I find mentorship very rewarding, especially working with the ACE Mentor program. The program engages many underprivileged people and many women, which is promising for our industry. Forty percent of the students are female. A quarter of the seniors from the program entering college are first generation students. Through the program, we introduce them to something that they might not have been aware of, attract them to engineering, and provide continuous support. We engage with the students though the fundamentals of engineering in a fun way. It makes a huge impact in these people's lives. You can feel the impact. A majority of the students are minorities. As an immigrant myself, I advocate for inclusion and representation of minorities in the industry, and I believe the industry benefits from it too.
Ali  What are the toughest challenges you've faced at work and how did you overcome them?
Athina  I love controlling the process and the product. As a young engineer, you get assigned work and just do it. But as we advance in our careers, we are expected to have management skills, manage multiple projects, and have the social skills to interact with our counterparts. That leaves no time to do the work. For me it was a challenge to learn to trust people in my team and develop my coordination and management skills to collaborate without full control of the result. I learned to relinquish some of the responsibilities, train the team, and trust them. Then I realized the benefit of having the time to develop the skills that I need for my career such as business development. Everyone has limited time. You need to work collaboratively and learn to delegate. I pushed myself to the limit and when I hit the limit, I realized that it was not doable anymore. We do need to learn how to explain to others and oversee and manage different parts of a project. As we work on it, it becomes more effortless and becomes the first choice.
Ali  Can you share an interesting experience about a job you worked on?
Athina  I have worked in very different projects, but I got many useful lessons from my long-term site work for the UBS Arena. I saw construction from the beginning to the end and how the pieces came together. I got a deeper understanding of constructability and the interactions between different trades. It also helped me learn ways to communicate in the context of the politics of the site. Especially for a person my age and a woman, it is a challenge to be heard and seen as an equal and an expert. Often, we have to announce bad news to other trades who are there representing the interests of their companies. I had to come up with solutions on the spot and get everybody on board. So, developing the daily relationships in the middle of the everyday frictions and having to establish myself as a young person and a woman was an interesting challenge. It was a great lesson in self-confidence and communication.
---
Developing the daily relationships in the middle of the everyday frictions and having to establish myself as a young person and a woman was an interesting challenge. It was a great lesson in self-confidence and communication.
Ali  Can you expand on the challenge of establishing yourself as a young and female engineer? How did you overcome it?
Athina  One thing that helped me was to build alliances with people of my age who would then have my back. When there is an issue on site, let's say there is a truck full of concrete ready to pour, and you find a problem and need to stop the whole process, some people might try to pressure you, for example by saying that you are causing a huge delay, your decisions cost a lot of money, that you are very young and might not know what the best solution is. You need to assess the impact of your decision on the spot. At that moment, it helps to have someone on the other side that will say "let's give her some time". It can be the general contractor who wants a fair and safe resolution of the problem who provides you the space to assess the condition. Having regular social interactions with the GC counterparts of my age helped. Finding the best solution comes down to flexibility. We are the engineers and know the calculations, but the person across from you might have more experience on other aspects. One also realizes that we are on the same team as the people we work with on site. Sometimes we need to show some flexibility while making sure that everything is per code and safe. Accommodating other people's legitimate needs is a great tool. Making friends on a good day is another good tool. I also realized that sometimes people are tense on site because of the pressure and time-sensitive nature of the process, not necessarily directed to you being young or a woman. I think every engineer should experience being on site for a couple of months to observe the constructability of their design, the sequence of installation, the interactions between trades; it is a great school.
Ali  What advice do you have for women who are just starting a career in the AEC industry?
Athina  My advice is to have a diverse portfolio of experiences and projects. Our field offers ample areas to develop different expertise. But for a young engineer, I suggest trying different things, pursuing multidisciplinary projects, seeing different angles of how the project comes together and gaining a deeper understanding of the process. The collaboration of the different disciplines and expertise creates a holistic design and having that holistic view is invaluable. In this process you will learn what you are good at and what you enjoy doing. You will have plenty of opportunities to specialize in something that you enjoy in the end.
Related INWED 2022 Profiles