News
Rapid Assessment Approach: Strengthening Hurricane Response and Emergency Preparedness
August 16, 2023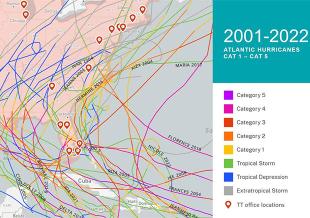 The 2023 hurricane season is ramping up, with potential disturbances in the Atlantic and Gulf of Mexico and Tropical Storm Hilary forming in the Pacific. For specific geographic locations, hurricanes are a near certainty—it's a matter of when, not if. That's why a two-part approach is critical: Owners should have an emergency preparedness plan in place in advance and also identify a team that can rapidly assess damage following a hurricane and quickly formulate a response to get a home or business in functional condition as soon as possible.
Thornton Tomasetti has extensive experience helping clients both plan for the inevitable and execute a rapid assessment approach in the aftermath of a storm. Our many office locations in close proximity to high-risk hurricane areas, coupled with our large number of highly specialized forensics staff, allow us to mobilize and get to a site quickly, providing triage-level response.
See More Hurricane Season Insights & Advice
---
Prioritizing preparedness
Hurricanes are unpredictable, and we can help clients develop comprehensive disaster response plans that address a wide range of possible scenarios. Understanding the potential impact of a hurricane on day-to-day operations of a business as well as the broader context of infrastructure and the local community is crucial in formulating a preparedness plan.
We organize pre-loss meetings with clients to streamline logistics and intake, develop consultant teams and define scope of work, roles and responsibilities. Having a plan in place helps expedite response and remedy when disaster strikes.
Location, location
Thornton Tomasetti has offices around the globe as well as many clustered in hurricane-prone regions of the United States. We have five offices in Florida, three in Texas, as well as office locations along the eastern seaboard in Georgia, North Carolina, Washington, D.C. and throughout the Mid-Atlantic and New England.
Our ability to respond quickly and with large forensics teams allows us to provide clients with accurate post-loss data and assessments, oftentimes before or while restoration companies are on site. We have multi-disciplinary teams that can deliver a full-building assessment for the client covering structural, building envelope, roofing, interiors, and mechanical, electrical, plumbing and fire protection systems.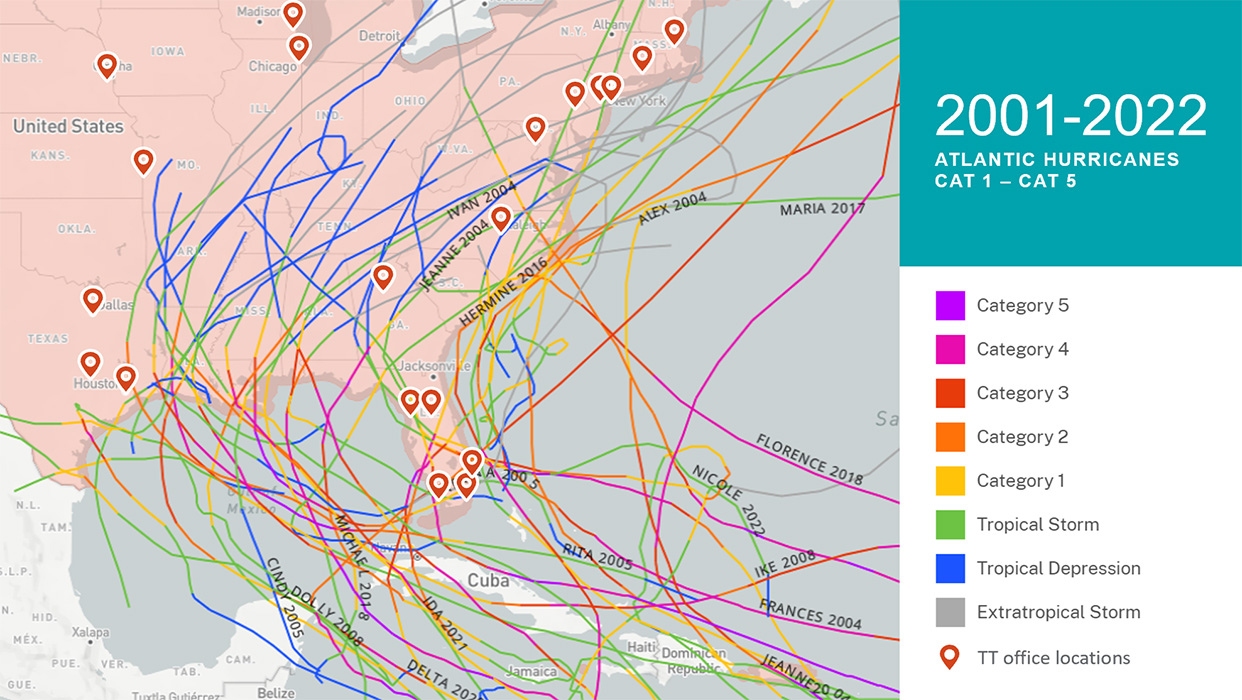 Major hurricanes from the last 20 years overlayed with Thornton Tomasetti's office/virtual forensics staff locations, showing our ability to respond quickly after a storm. Thornton Tomasetti
Swift emergency response
Thornton Tomasetti offers emergency response assistance to clients who have experienced damage resulting from a hurricane as well as other natural disasters and human-induced events. We evaluate the site when a structure is collapsed or crippled, documenting and preserving any forensic evidence, and then we provide recommendations to reduce hazards. As needed, we can provide 24/7 presence onsite to ensure ongoing safety.
While most firms who specialize in hurricane response take one to two months to arrive onsite, Thornton Tomasetti averages between one and two weeks from project engagement to site inspection.
Our structural engineers have experience assisting with rapid assessments for homeowners in municipalities that require structural integrity assessments, in response to the Surfside condominium collapse, prior to starting restoration work on their homes. For example, following Hurricane Ian, we were able to assist approximately 50 homeowners in Fort Myers Beach to quickly get to their properties and get them back on their feet. 
Once the immediate crisis is under control, Thornton Tomasetti can provide additional support in terms of investigations, documentations, claim support and expert testimony and design for repairs or replacement.
With more than 70 years of experience in disaster response, we have amassed a portfolio of more than 14,000 forensics and investigations projects in all 50 states as well as 65 countries. Hurricanes are increasing in both frequency and intensity as a result of climate change, and it's more important than ever to be prepared before disaster strikes.
Contact Us
Don't wait until a storm is predicted to strike your area. Contact Thornton Tomasetti to help you develop an emergency preparedness plan. In the event that a hurricane does damage your property, we have performed rapid assessments for a variety of clients on a range of building types across the coasts and we can help you get back to functionality as quickly as possible.