Fast Pivot: Responding to the Novel Coronavirus
As communities around the world battle the coronavirus pandemic, our engineers, scientists and programmers are lending a hand. Here are a few ways we are using our ingenuity to assist with some of the immediate challenges now facing all of us.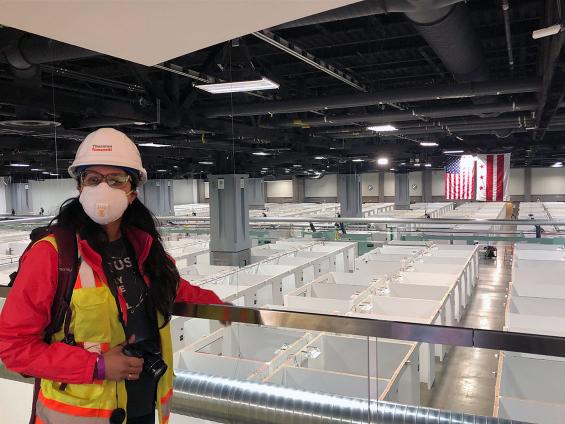 May 11, 2020 - A section of the Walter E. Washington Convention Center in Washington, D.C. is being transformed into a 443-bed alternate care facility in response to the coronavirus pandemic. The Army Corps of Engineers is leading the project team that includes Hensel Phelps Construction and Thornton Tomasetti. Under the direction of Managing Principal Mark Tamaro, we are providing a range of structural engineering services for the facility, which is being constructed to COVID standards, but will treat non-COVID, low-acuity patients. Depending on the need, the number of beds could be increased. The facility was delivered to the city last Friday.
Largest Convention Center in US Turned Into Field Hospital
April 24, 2020 - Portions of the 2.6-million-square-foot McCormick Place in Chicago, Illinois, are being converted into a field hospital. Some 500 beds have been completed and are now accepting low- to moderate-acuity COVID-19 patients. The convention center, which is the largest in the U.S., will have the capacity to treat up to 3,000 across three halls.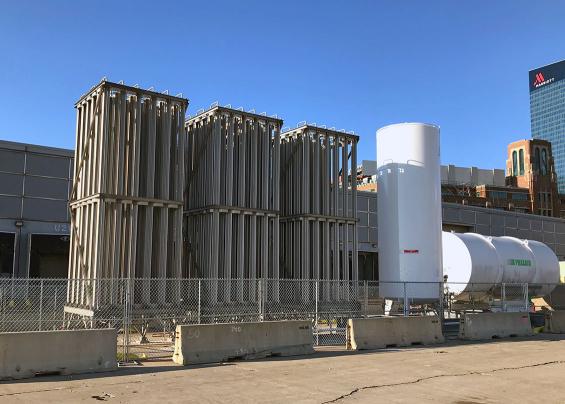 Working in collaboration with architect and client Stantec, MEP consultant Environmental Systems Design and Walsh Construction, we provided structural engineering services for the project. Our team, led by Vice President Kevin Jackson of our Renewal practice, reviewed the building's structure and designed steel framing to support two large oxygen tanks, three vaporizers and an emergency generator.
We also assisted with the development of a crane-lifting plan to facilitate the installation of the equipment on the elevated loading dock structure.
Shuttered Westlake Hospital To Reopen for COVID-19 Patients
April 24, 2020 - Closed last year, Westlake Hospital in Melrose Park, Illinois, is being transformed to support COVID-19 patients who need ICU style care.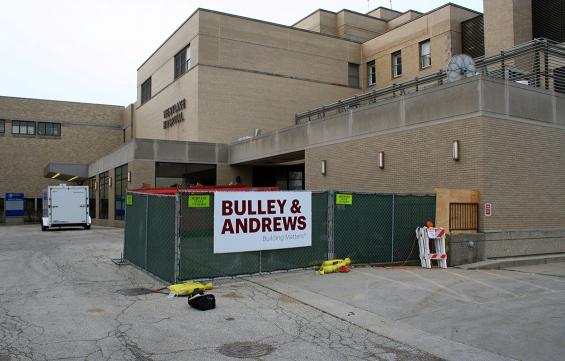 It will have the initial capacity for 230 beds with possible expansion of up to 360. Led by Senior Associate Peter Konopka of our Construction Engineering practice, our engineers are working with contractor and client Bulley & Andrews, MEP consultant Grumman Butkus and Anderson Mikos Architects to review and reinforce the hospital structure at various floors to support new medical air condensers, air handling units, temporary chillers and generators.
Conference Center in London, England, Converted into UK's Largest Hospital
April 20, 2020 - To help in the battle against COVID-19, the 4,000-bed Nightingale Hospital has been established inside the ExCeL London conference centre in the city's East End.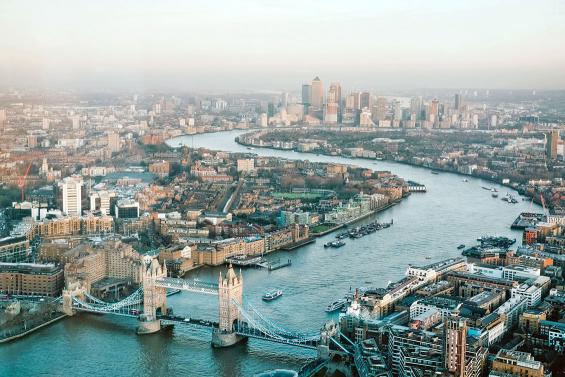 The National Health Service asked a leading industrial gas company to provide a robust oxygen supply for critical life support services to patients in what is now the largest hospital in the UK. This required the provision of several tall and heavy liquid oxygen tanks and associated vaporisers, which help convert the liquid oxygen to gas. Led by Associate Principal Andrew Morrison of our Applied Science practice, our team helped appropriately site tank locations and ensured that they are adequately supported and anchored under a range of conditions.
Using Digital Twins for Better Decision-making
April 9, 2020 – A shortage of ventilators has been a critical issue during the coronavirus pandemic. OnScale, a portfolio company of Thornton Tomasetti's technology accelerator TTWiiN, has teamed up with LEXMA to develop digital replicas of the lungs of COVID-19 patients.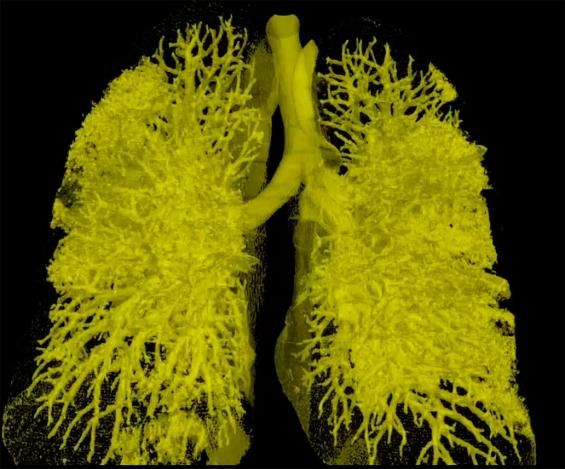 This will help medical professionals make informed decisions about ventilation and intubation, thereby leading to better patient outcomes and optimizing limited ventilator resources. Known as Project BreatheEasy, the effort focuses on the creation of a patient-specific digital twin solution based on medical imaging and simulations of lung airflow and blood flow using LEXMA MOEBIUS fluid-dynamics solver running on OnScale's Cloud Simulation platform. The data can be used by healthcare professionals to determine such things as the amount of time a patient spends on a ventilator and ventilator settings.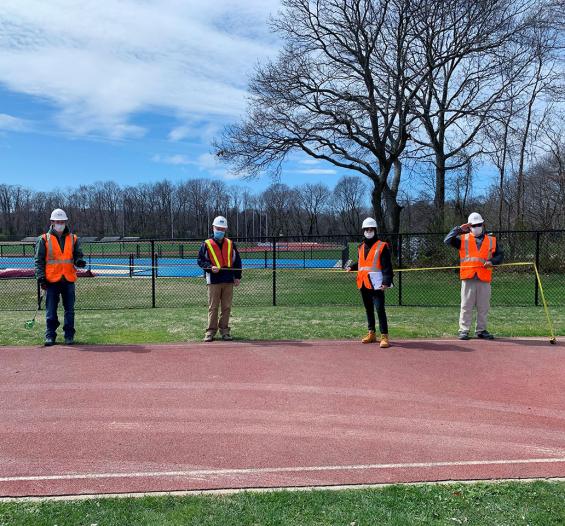 Marguerite Pinto/Thornton Tomasetti
Assisting with Alternate Care Facilities
April 9, 2020 - With the rapid rise in the number of COVID-19 patients requiring hospitalization, many locations are experiencing a shortage of beds. We are involved in the effort to develop temporary healthcare facilities to alleviate the strain on our hospitals. Working with the U.S. Army Corps of Engineers and Turner Construction, our Forensics and civil engineering teams, led by Marguerite Pinto and Jim Quinn, are supporting the build-out of an alternate care facility at Stony Brook University, The State University of New York on Long Island. We are providing structural and civil engineering reviews of existing and temporary structures as well as architectural and MEP design, where needed.
April 2, 2020 - One of the first lines of defense for hospitals facing an airborne infectious disease outbreak, such as COVID-19, is to contain affected patients in negative-pressure airborne infection isolation rooms (AIIRs). Most hospitals have a limited number of these facilities and in an epidemic or pandemic, the need is now exceeding the supply. 
Our Kansas City Forensics team, led by Senior Vice President Mike Dowdall, is involved in the effort to convert conventional patient rooms into AIIRs with the installation of high-efficiency particulate air (HEPA) filtered air systems. Designed for maximum performance, this negative-pressure HEPA filtration system can provide local pressure monitoring and remote alarm activation at the nursing station. We are collaborating with a manufacturer of fan-powered HEPA modules and a distributor to help healthcare facilities get AIIRs up and running quickly. Our team is set up to work remotely to coordinate design efforts, equipment delivery, assist with installation issues and review post-installation certification to ensure that these rooms operate efficiently, minimizing exposure to other patient populations and medical professionals.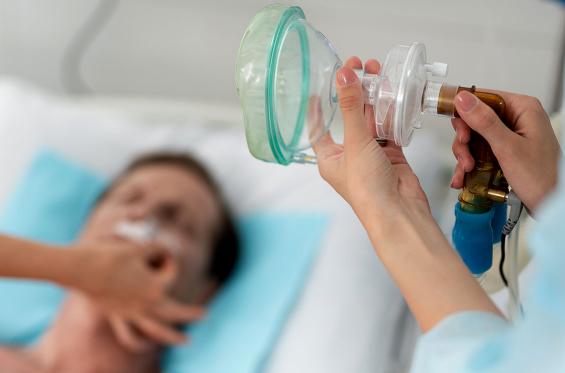 Stock Photo: iakovenko/123RF
Better Ventilators, Faster
April 2, 2020 - Our Life Sciences specialists in computational fluid dynamics, led by Vice President and Life Sciences Leader Kristian Debus, are teaming up with ventilator manufacturers and academics to validate a range of concepts, including using one ventilator for several patients simultaneously.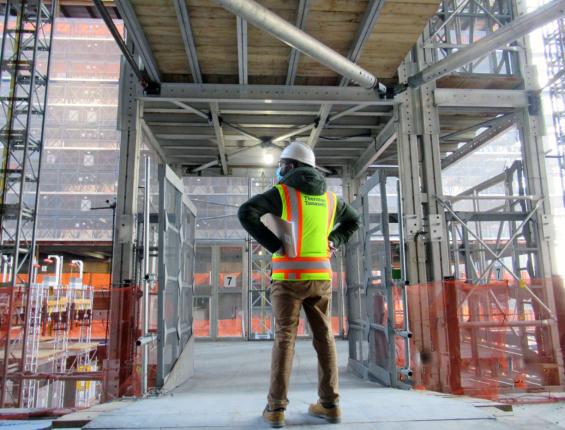 Assisting Temporary Construction Shut-Down
April 2, 2020 - In an effort to tide the spread of COVID-19, states and municipalities, such as New York and Boston, have ordered a shutdown of all non-essential construction projects.
Our Forensics team, under the direction of Senior Principal Elisabeth Malsch, is currently inspecting temporary structures and reviewing wind action plans, helping to ensure the continued safety of construction projects currently on hold.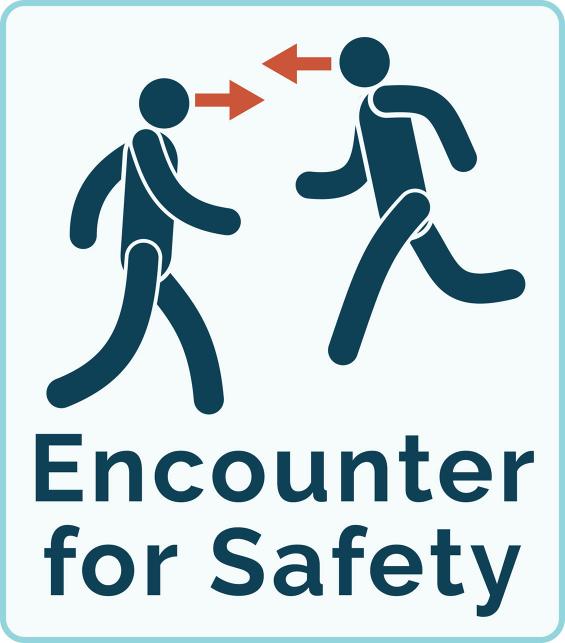 Preparing to Safely and Efficiently Re-enter the Workplace
April 2, 2020 - The COVID-19 crisis is expected to subside unevenly by geography and pace. At some point, restrictions will be lifted and we will all start to return to the office safely and productively. With this in mind, our CORE R&D team, collaborating with our HR team to ensure compliance with privacy requirements, is developing an open-design, web-based contacts-tracking app to allow our employees to quickly and safely re-enter our shared work environment. Once we beta test this inside our firm, we plan to share it with others.
If you're interested in keeping abreast of our progress, contact core@thorntontomasetti.com.