News
100 Flatbush Tops Out
February 02, 2023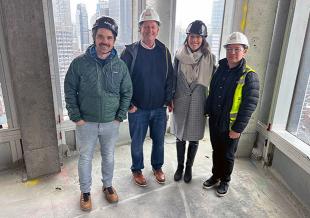 Brooklyn is a step closer to having its first all-electric residential skyscraper with the recent topping out of 100 Flatbush. The 44-story tower is part of the first phase of the five-building mixed-use Alloy Block development, which will contain residential, office, cultural and retail space as well as the city's first public school building designed to Passive House standards. We are providing sustainability services to Alloy Development for the tower and school building
All functions within 100 Flatbush will be electric and powered by local renewable energy, ensuring that the building is carbon neutral. It will have 396 market-rate and 45 affordable units and 30,000 square feet of retail space. The tower is designed to maximize energy savings with sustainable features such as an airtight envelope, efficient windows, a heat recovery system and a dedicated outdoor air supply to reduce ventilation energy consumption. 
The school building, which will hold the Khalil Gibran International Academy and a public elementary school, will feature classrooms, reading rooms, labs, libraries, playground and terraces, dining areas, and administrative and student support space. The school building features an airtight envelope, high levels of thermal insulation, exhaust air heat recovery, and highly energy efficient windows that also allow for abundant natural light in the classrooms.
On track for completion in 2024, the tower will provide much-needed housing, retail and a positive pedestrian experience along Flatbush Avenue.