News
2019 Progress Report: Sustainable Operations
July 27, 2020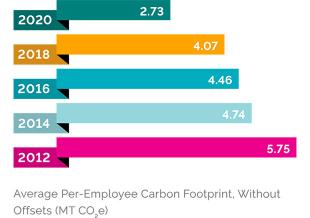 Each year, we report on several indicators that show progress toward achieving our sustainable-operations goals. The trends this reveals can indicate where we need to stay the course and where we need to make changes.
Total electricity consumption is the sum of individual offices' annual electricity consumption. For offices that are not individually metered, we estimated use by calculating the percentage of the building's total area we occupy, then using that portion of the whole building's electricity consumption.
Total carbon footprint captures our offices' carbon emissions from five areas – electricity consumption, heating and cooling, business travel by plane and train, employee commuting, and office waste. The figures shown in the chart do not account for carbon offsets. We conduct a complete carbon footprint analysis only on even-numbered years, so our 2019 numbers use 2018 data for the heating, employee-commuting and office-waste factors.
Business travel offsets and renewable energy credits (RECs) were purchased to reduce the environmental impact of our business trips and office electricity use. When possible, we source our electricity from local or regional renewable-energy suppliers.
Scope 3 emissions include CO2e emissions associated with our business travel, employee commuting and office waste. Our scope 2 emissions (see our carbon footprint update) include emissions from our office electricity use and heating fuel. Scope 1 is not applicable to our operations, as the company doesn't own office buildings or vehicles.
Average carbon footprint per employee is an important measure of our energy-conservation efforts. It's also used to determine reduction targets for our path to carbon neutrality. To calculate the average carbon footprint per employee, we divide total carbon emissions by the number of employees.
Green purchasing includes office products with recycled content and other "eco features" such as compliance with environmental certification standards like Green Seal or the Forest Stewardship Council. The percentage of eco features is reported by Staples, our largest office-product supplier; this metric does not include an assessment of supplies purchased through other suppliers.