JFK Airport, Terminal One
JFK's Terminal One will be replaced with a sustainable, future-focused facility designed to set the standard as a global gateway.
Lead Contact
Project Details
Project Partners
AECOM Tishman and Gensler
Location
New York, New York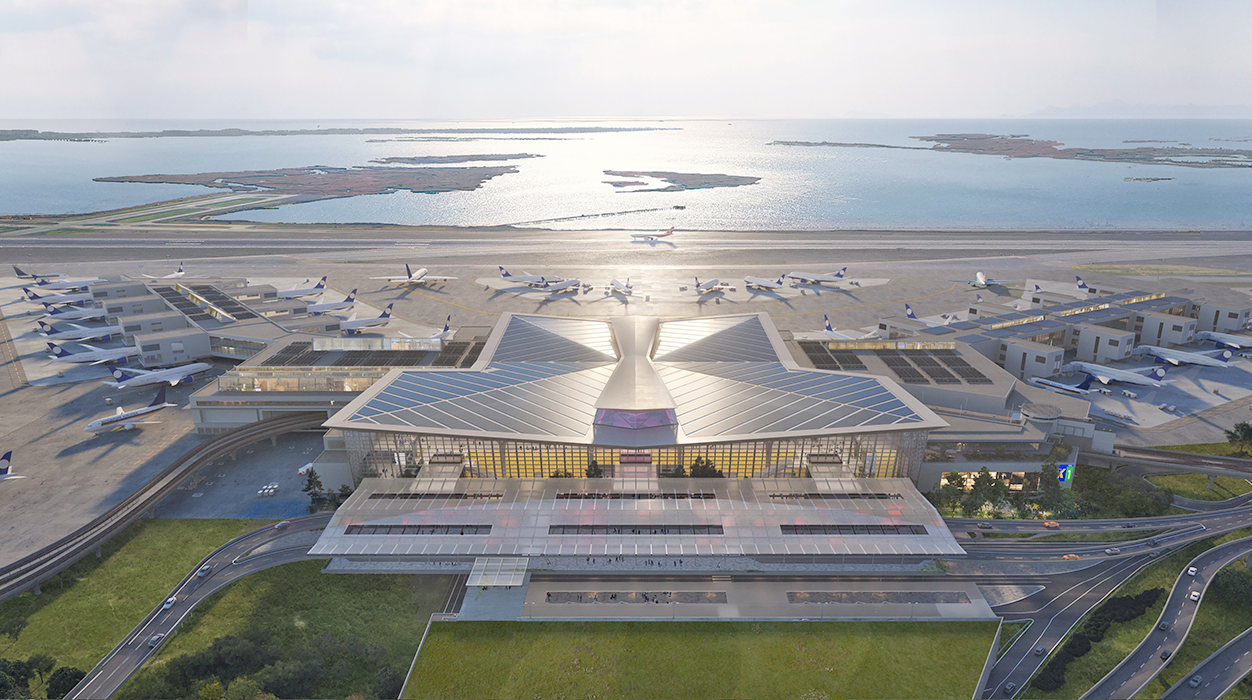 Overview
When it opened in 1998, John F. Kennedy International Airport's Terminal One served fewer than three million passengers a year. By 2019, that number had jumped to more than four million and was expected to quickly exceed the terminal's design capacity. Now it's being replaced by the New Terminal One (NTO), a sustainable, future-focused facility designed to set the standard as a global gateway.
We're providing several services for the NTO's first phase, which broke ground in August 2022. The 14-gate, 1.85-million-square-foot project is being delivered by a design-build team headed by AECOM Tishman and Gensler.
Integrated Services Streamline Design
We initially came on board for connection design and peer review services – another firm was designing the NTO structure. Later, our scope expanded to include value engineering.
After a pandemic-related pause, Gensler was named lead architect. They selected our firm as the structural engineer of record and engaged us to perform façade engineering, protective design and construction engineering as well. We worked with the design team, including several minority partners, to adjust the structure in support of the revised architectural vision.
Our protective design and applied science teams worked together to quickly tackle several challenges. One example? Developing advanced models of how the tree columns – which support the terminal's expansive roof – would behave under blast loading. This approach helped us optimize their design.
Creative use of hidden braced frames allowed us to trim the number and size of the columns, reducing construction materials and costs while also opening up the interior space. This change was especially beneficial for busy areas like the security checkpoint and circulation zones.
Collaboration between Gensler and our façade and structural engineers was critical for the updated façade design. We opted for slender perimeter columns set 30 feet on center, an approach that opened up the façade without altering the terminal's form. This also eliminated more than 10,000 tons of steel and 1,000 piles from the project, significantly reducing material costs – and embodied carbon.
The Need For Speed
To compensate for time lost during the pandemic, design had to move fast. We used several automation tools to speed our work. Another big plus came from effective collaboration – our team is concentrated in New York but spread across 13 offices, so we could leverage our capacity and draw on expertise from across the firm.
Our construction engineering specialists used our Advanced Project Delivery™ process to integrate the design and construction teams, producing complete connection design much earlier than usual and delivering a detailed Tekla model. These expedited deliverables are helping speed the overall schedule.