Woburn Public Library Renovation & Addition
Constructed circa 1880 and designed by Henry H. Richardson, the Woburn Memorial Library combines wood, masonry and stone and is listed on the National Register of Historic Places.
Lead Contact
Project Details
Project Partners
CBT Architects
Location
Woburn, Massachusetts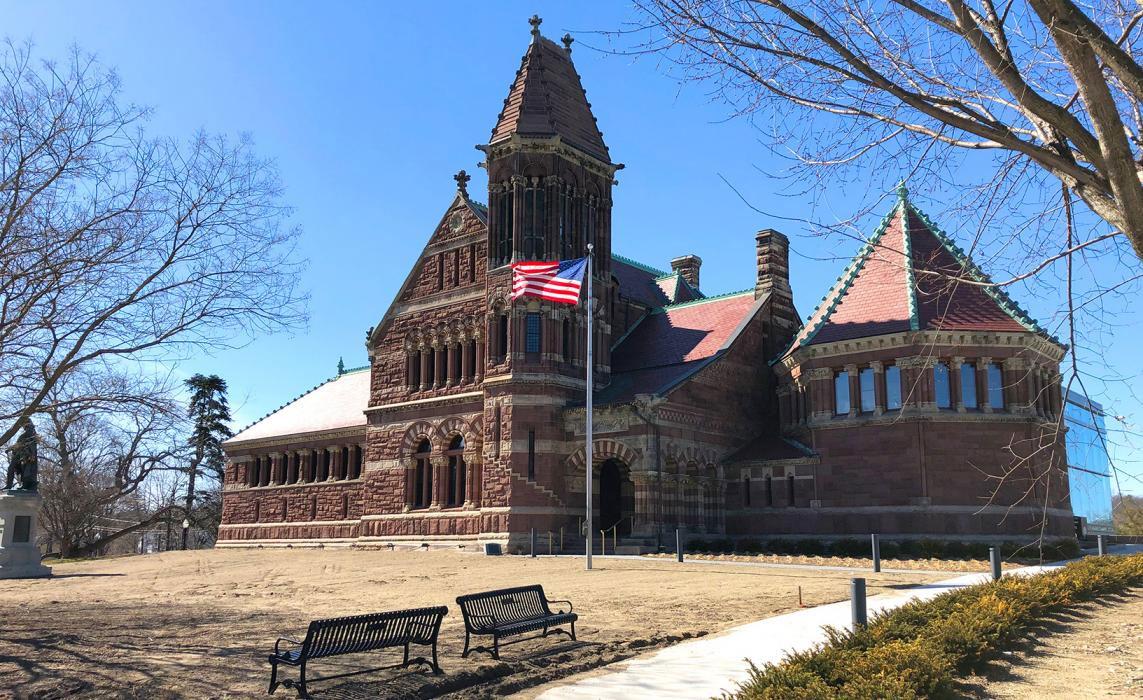 Overview
The Woburn Memorial Library, constructed circa 1880 and designed by Henry H. Richardson, combines wood, masonry and stone and is listed on the National Register of Historic Places. Its exterior is composed of red ashlar, Longmeadow and Ohio sandstone, and bands of red Westerly granite. The interior space is marked by a high-arched wood ceiling in the study hall and ornate heavy timber trusses in the adjacent reading room. The floors are made of butternut-oiled southern pine and ash, and the columns are decorated with intricate wood and floriated caps.
We provided structural design and envelope consulting services to CBT Architects for an addition and renovation is the library, which was completed in 2019.
Highlights
The addition reveals the original brick exterior of the north façade through double-height curtain walls. On the east and west façades, the glass transitions into a full-height Ohio Sandstone, with complementary red Westerly granite banding on the north façade of the addition.
The building's design entailed many challenges. The AESS steelplate canopy that cantilevers through the façade required special attention to detailing and envelope performance. Thermal break and specialty bolting were required to achieve the aesthetic intent.
Designing new portals at the buildings' interface to support the existing stone façade and multi-wythe brick backup wall was a key architectural feature and a major design challenge. The irregular stone jointing and constructability considerations required us to devise a composite masonry and steel lintel design and detailed sequence of construction as traditional shoring was not an option for the construction of the portals. The integrated structural design allowed the contractor to construct the opening without the need for extensive shoring inside and outside the building, and allowed the architect the freedom to express the existing façade without introduction of large structural elements.
The renovation of the historic building included façade cleaning and repointing, slate tile roof replacement, new openings in wood floors and masonry walls to accommodate new MEP systems and connection to the new addition. Masonry bearing walls were removed and replaced with large steel tubes to support the structure and allow the architect to expand much needed mechanical rooms in the basement of the existing building.
During construction, the team discovered the east façade on the H.H. Richardson building bulging as a result of years of water infiltration at the roof. The architect called on our team to review the condition and design the repairs. The restoration included detailed plans for the removal of the historic stone and custom stone façade details to get the brick backup wall repaired and the stone anchored and plum to the original plane of the wall.