News
2020 Year in Review: Charitable Giving
May 09, 2021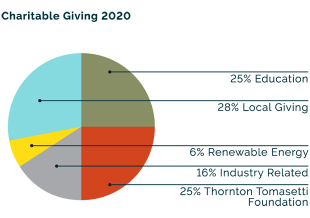 Our philanthropic giving helps educate the next generation of AEC professionals, supports organizations that aid underserved communities, and funds local charities in communities where we have offices. In 2020, the majority of our charitable donations supported the Thornton Tomasetti Foundation, scholarships and student mentorship programs, and local charities.
Our local giving – which represents 28 percent of our contributions – went to a variety of causes: food pantries; the Special Olympics; health-related organizations, like hospices; and other charities. In 2020, we donated $195,861 – an atypically low amount, as our average expenditure over the past four years was $360,000. Program postponements that affected sponsorships, along with other pandemic-related reductions in spending, lowered our 2020 levels of giving. We're looking forward to resuming normal – or higher – levels of philanthropic giving in 2021.
2020 Year In Review: Community Service
May 09, 2021
Our people are passionate about helping their communities, and the Thornton Tomasetti Gives Back program fosters that enthusiasm. Since our community-service benefit began in 2014, we have collectively donated more than 10,000 hours.