News
2021 Progress Report: Our Good Work
June 20, 2022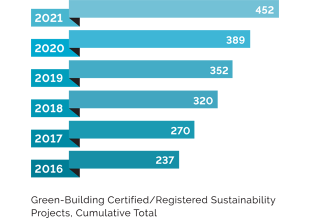 Each year, we track several indicators that show progress toward our goals for socially responsible and sustainable projects.
Average embodied carbon per square foot represents the global warming potential of the structural framing materials used in our major projects. In 2019, we introduced our Beacon tool to quantify the CO2e emissions from structural elements and now use it for our annual assessment. In 2021, we paused our annual embodied carbon count after joining the Structural Engineers 2050 Commitment (SE 2050) to develop our SE 2050 embodied carbon action plan, which is the first step in meeting the commitment. In line with SE 2050, we will report on 30 projects for 2022.
Our carbon dioxide equivalent (CO2e) reduction metric tracks the impact of sustainability improvements – like energy-efficiency measures and other strategies for reducing operating energy – that result from our sustainability consulting work. This total is the sum of individual project savings derived from energy modeling. Our goal is to have a significant impact on CO2e emissions. The large increase in emissions savings in 2021 can be attributed to a 260 percent rise in average project size and a surge in the number of building projects pursuing zero net energy and going all-electric in utility regions with greener grids.
We calculate average per-project cost savings from our sustainability consulting services using energy savings and an average fuel-unit price, so rising energy savings yield greater cost savings for our clients year after year. The significant increase in cost savings in 2021 can be attributed to the same factors that influenced emissions reductions (above).
This chart includes all our sustainability consulting projects that are registered or certified through a green-building program, such as LEED or Living Building Challenge. Each cumulative total includes all projects from previous years (note that this chart does not include Thornton Tomasetti projects for which we didn't provide sustainability consulting services). Since the launch of our Sustainability practice nine years ago, the number of green-building registered and certified projects has grown by 91 percent.
Our R&D spending includes staffing and other support for CORE studio, our virtual incubator of ideas, as well as semiannual innovation tournaments, which identify promising ideas from employees across the firm. These ideas then receive funding and support for further development. Since 2013, we've invested $11.7 million, with increases every year. Why? To help achieve our long-term goal of being the global driver of change and innovation in our industry.
Engineering News-Record's annual Top 100 Green Buildings Design Firms ranking is based on the year's design or construction revenue from projects that have been registered or certified by a third-party organization that sets standards for measuring the environmental impact of buildings.