Our Revit plug-in is revolutionizing the way engineers track and manage embodied carbon in their structural projects. (Plus, it's free and open-source!)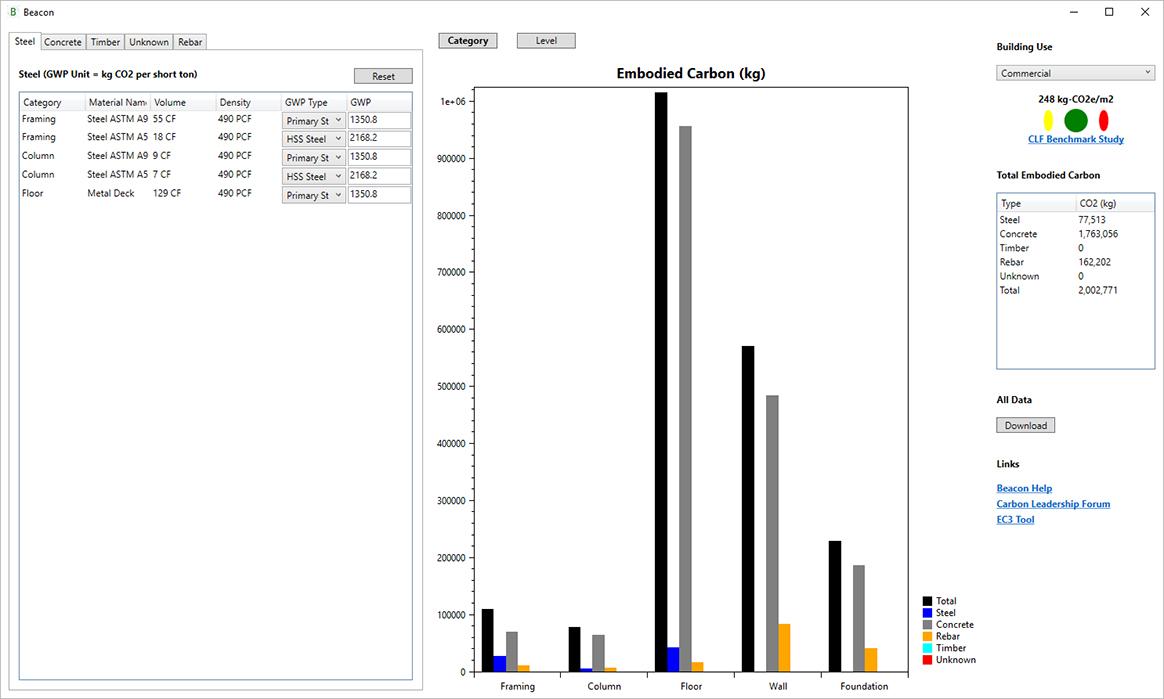 Beacon Demo
More than 40 percent of all CO2 emissions come from buildings, and a building's structure and envelope account for over half its embodied-carbon footprint. So the choices you make in structural design have global impacts. Beacon, our innovative, easy-to-use embodied-carbon measurement tool, helps you make informed design decisions that result in more sustainable and efficient structures.
Beacon gives you quick, high-level feedback and clear visualizations of a project's embodied-carbon quantities, identifying exactly where embodied carbon can be minimized.
Beacon categorizes its calculations by material type, building element and floor level.
Beacon rates each model's embodied-carbon levels against the Carbon Leadership Forum's (CLF) Embodied Carbon Benchmark Study results.
Beacon applies the most up-to-date embodied-carbon coefficients and best practices established by the CLF.
Beacon is invaluable in measuring progress toward the CLF Structural Engineers 2050 Challenge's goal of a zero-carbon built environment by 2050.
Beacon lets you share data across employees, offices and organizations.
Beacon is free to download and use.
Beacon was developed by our CORE studio. Download it now and make embodied carbon an integral part of your design process.