CORE studio is Thornton Tomasetti's incubator of ideas.
CORE studio At-A-Glance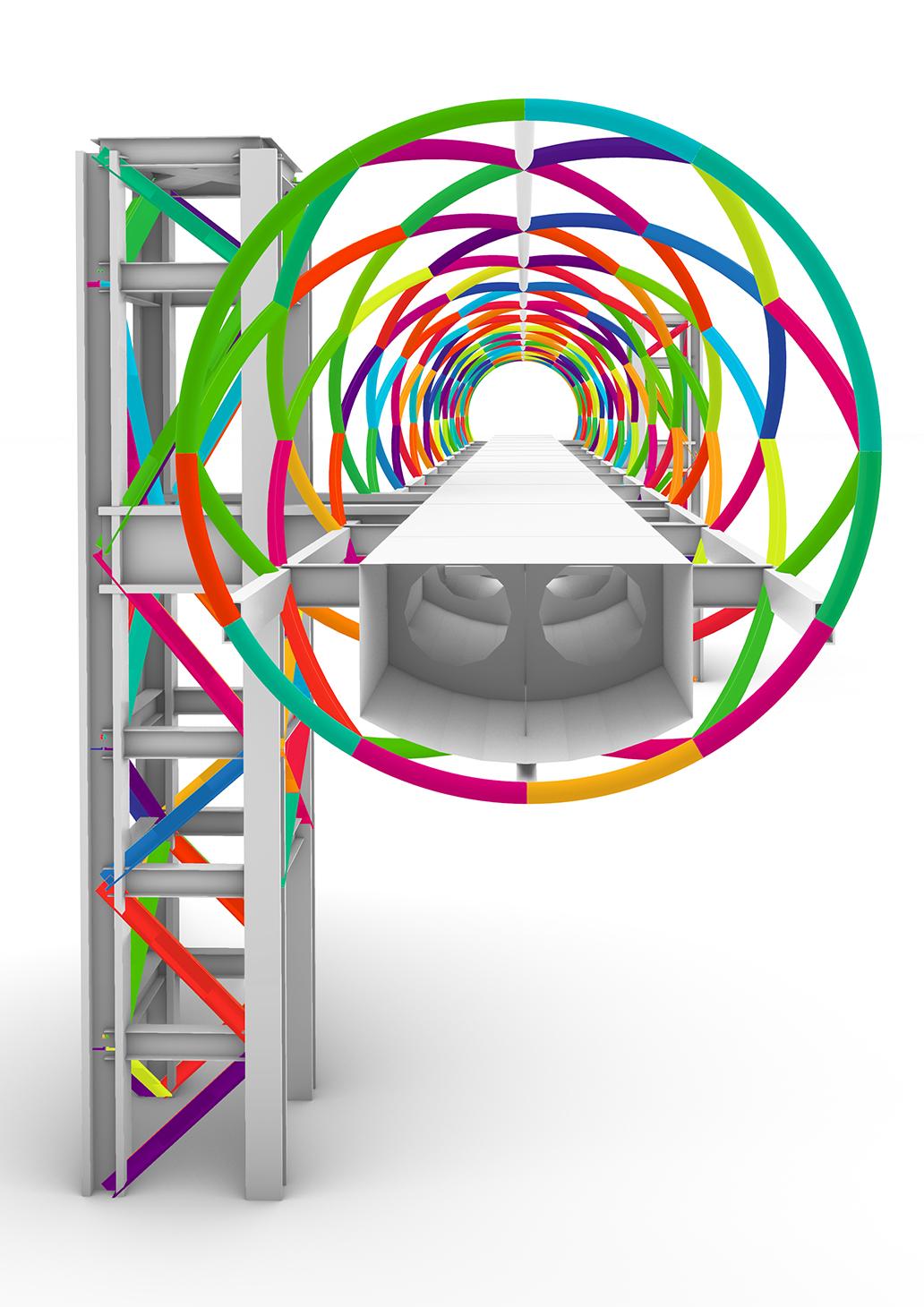 Web Applications Designed
10
Overview
CORE studio is Thornton Tomasetti's virtual incubator of ideas. Its name derives from the union of computational modeling and research and development, which are at the core of our firm's mission. Our team is a diverse assortment of specialists, with each member bringing expert knowledge and an inquisitive mind to projects of every size and scope. Our experience working across all Thornton Tomasetti practices affords us unique insight into the needs of – and solutions for – our clients and our firm.
CORE studio provides a valuable interface among design and construction teams, developing new workflows and processes that promote collaboration and enhance building design. Our analyses of today's practices allow us to envision the optimized workflows of tomorrow.
CORE studio's Application Development team builds custom software for Thornton Tomasetti and select corporate clients. We work at the intersection of design, computation, and research, and apply feedback from project teams working on world-class engineering and design problems to continuously improve our tools.
Application Development
Automation
Efficiency for our engineers is the primary goal of CORE studio's developments in Automation. Our custom tools and applications augment or replace the functionality of commercially available software. Our toolkits for BIM, parametric design, and analysis software enable faster more efficient modeling and reduce the time spent performing mundane and repetitive tasks while decreasing the likelihood of errors. These tools range from add-ins that carry out basic geometric transformations and project data manipulation to propriety modeling automation and repair. Our virtual design assistant apps are built on Thornton Tomasetti's years of engineering expertise and provide best practice solutions for early concept designs.
Tools: Spotlight, CSI Toolboxes, Tekla Toolbox, Grasshopper Toolbox, Revit Toolbox, Skipper
Interoperability
In today's diverse software landscape, projects are developed in multiple platforms simultaneously. CORE studio has spent over 10 years developing solutions for cross platform interoperability and continues to provide industry leading solutions that reduce time, minimize error, and maintain model fidelity. Our applications specialize in managing BIM, analysis, and user data from concept through documentation. And our web applications allowing collaborative, data rich, model sharing between all parts of the project team.
Our web-based 3D interoperability platform, Konstru, translates data between building design and analysis software, allowing models to be synchronized without needing to be reworked. Project teams don't have to waste valuable hours rebuilding models into their preferred software silos, but instead can focus on the value each application brings to the project.
Tools: Konstru 
Visualization
Contemporary projects create a wealth of valuable data that build over their life span from concept to post occupancy. CORE studio's lightweight visualization platforms help teams intuitively interact with project models and data discovering value previously hidden in the complexity of project information. Our platforms provide insight by offering different modes of spatial data representation, mapping techniques, flexible data visualization dashboards and interactive 3D BIM viewers. Each platform encourages project teams to securely share with clients and collaborators by creating curated interactive reports and model viewers from architects, engineers, contractors, and facility managers to developers and owners.
Tools: Thread, Design Explorer, Mirar, Skipper
Modeling
Our CORE Modeling service assists projects across all of Thornton Tomasetti's practices and at every stage of design and construction administration. Our world-class digital modeling team has four main sub-services: Computational Modeling, Geometric Rationalization, Integrated Building Analysis, Fabrication modeling and Physical Prototyping
Computational Modeling
We apply parametric modeling tools to realize design, manage drawing production and facilitate fabrication. Both complex and simple projects can benefit from the application of computational modeling approaches, workflows, and CORE studio tools. These efforts can involve building custom structural elements for Revit, clash detection and modeling, cleaning up model geometry, or simply organizing tags. We have developed tools to make workflows more efficient resulting in quicker deliverables and money saved.
Geometric Rationalization
We use 3D modeling and advanced form-finding techniques to optimize complex geometries for design intent, constructability and project-specific needs. We apply rationalization techniques to complex projects when repetition and reduction of curvature can create big savings on steel.
Integrated Building Analysis
We work with our sustainability and structural engineering staff and software developers to find better ways to analyze designs and prioritize solutions. We have proven in practice, on many varying project types, that most analysis models can be built more efficiently in a parametric platform like Grasshopper 3D, Rhino, or Revit. Projects we have delivered using this workflow provide faster responses, more rationalized solutions, and cost less to deliver to clients which is what makes it a huge benefit to our firm.
Fabrication Modeling and Physical Prototyping
We help transform digital models into reality, convey design intent and facilitate the production of deliverables to fabricate and assemble systems. We build fabrication-based restraints directly into our parametric models, making them smart enough to understand real-world constraints whilst still giving the flexibility of digital processes.
Artificial Intelligence
For years, CORE studio has been developing artificial intelligence and machine learning technologies with a focus on AEC applications. Beginning with our early work in machine learning, CORE applied Thornton Tomasetti's 70 years of structural engineering expertise to a predictive modeling service utilized by a variety of applications from basic bay design in Skipper to full building structural optioneering in Asterisk. Our work in computer vision takes images and video feed from structural inspections to automatically detect visible damage and defects. Now, with a new CORE lab R&D project and freshly allocated resources, we've consolidated our efforts into a new initiative: CORE.AI.
T2D2
How do you simplify the detection of material damage? You teach a computer to do it. T2D2 automatically detects visible damage – such as cracks, spalls, corrosion and more – in concrete, steel, masonry and timber structures. It uses recent advances in artificial intelligence to detect damage and defects by analyzing inspection images and video.
T2D2 was trained on annotated data sets consisting of thousands of images taken during manual structural and façade inspections. Its geolocalization module maps detected damage to corresponding locations on the structure.
T2D2 Mobile runs on smartphones and tablets and can capture images and detect damage – along with detailed GPS locations – as the inspector moves around a site.
T2D2 Web provides an online inference service that processes camera images and returns metadata describing the detected damage. It can also be used with drones for large-scale image capture or for reaching previously inaccessible spaces without scaffolding or other special equipment.
T2D2 expedites condition assessments for a variety of structures, including buildings, bridges, tunnels, nuclear reactors and petrochemical facilities. It saves time and money, which enables more frequent and thorough inspections.
AEC Tech
Every year, CORE studio produces and hosts a calendar of events and outreach activities for the AEC community.
Each year, Thornton Tomasetti hosts New York City's AEC Tech, welcoming technology professionals from the architecture, engineering and construction industry and beyond. Since its creation in 2013, it has evolved from a two-day conference into a four-day experience featuring professional development workshops, speakers, presentations and a 24-to-30-hour hackathon. We strive to offer the most enriching workshops in the latest technologies, engage industry leaders and provide a forum for project growth, development, and networking. By serving as a space where creative minds can devise new technologies, acquire skills and make new connections, AEC Tech is helping build an open community of knowledge sharing to promote industry progression and enhance collaboration and communication.