News
Dezeen: World's Tallest Timber Tower Replaced by Forest Growth "In Less Than 25 Minutes"
April 03, 2023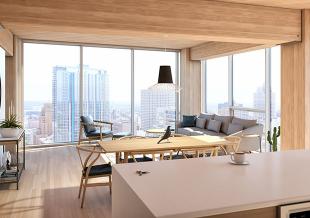 Courtesy Korb + Associates Architects
Move over steel and concrete. Mass timber is increasingly becoming a sustainable option to traditional building materials. As part of a series on the potential of wood in the built environment, Dezeen looks at Milwaukee's Ascent, which holds the world record as the tallest mass-timber building. Associate Alejandro Fernandez Alvarez De Buergo talks about how our structural engineering team worked with the design team and the USDA's Forest Products Laboratory to complete the world's first three-hour column fire testing program for the tower's glulam columns.