News
2021 Corporate Responsibility Targets
June 20, 2022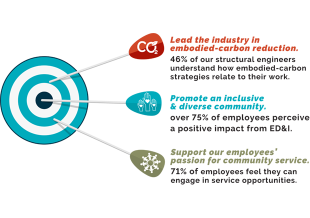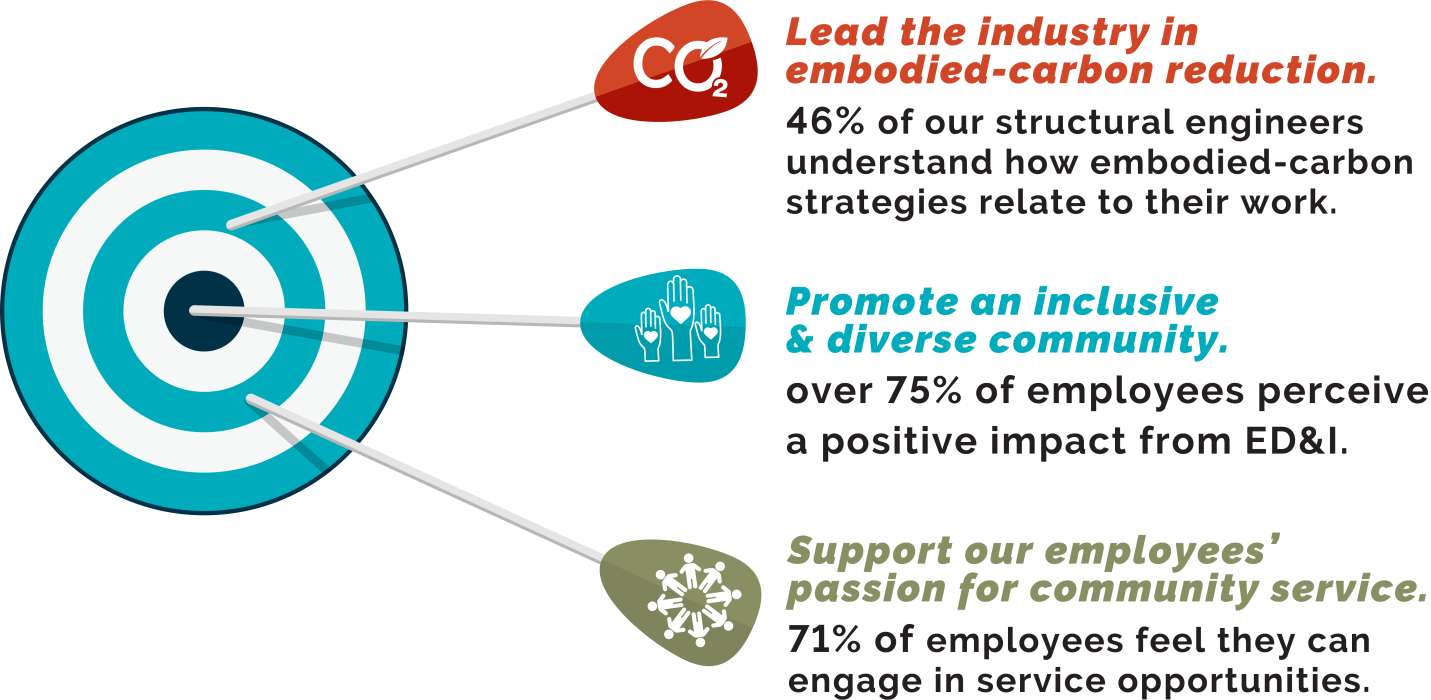 To gauge our progress toward our seven corporate responsibility goals, we create measurable short- and longer-term targets. The short-term targets for 2021 that we reported in last year's corporate responsibility report supported our overall corporate responsibility goals in three areas:
100% of Our Structural Engineers Will Understand How to Deploy Embodied-Carbon Reduction Strategies on Projects
Thornton Tomasetti is an inaugural member of the Structural Engineers 2050 Commitment (SE 2050), launched in 2020, which calls on engineers to achieve net-zero embodied carbon in their structural projects by 2050. Our SE 2050 Embodied-Carbon Action Plan (ECAP) states, "By the end of 2022, 100 percent of our structural engineers will know what embodied-carbon capabilities we have and will understand how to deliver them to clients and deploy them on their projects."
To understand our progress toward this target, we surveyed our structural engineers in October 2021. We found that 46 percent of them felt they had a moderate understanding of what embodied carbon is and how it relates to their work – and were confident they could clearly explain it to someone else. About half were aware of the services we offer to clients to reduce embodied carbon on projects. What did we learn? While we've made great strides toward improved understanding, we need to continue educating our structural engineers about embodied-carbon reduction methods and sharing information across the firm on embodied-carbon projects.
Through our 120-member embodied-carbon community of practice (CoP), we're working to educate our people and ensure that our engineers have access to the methods and tools they need to do the work of embodied-carbon reduction. In 2021, we made progress toward our target of 100 percent of our structural engineers understanding how to deploy embodied-carbon reduction strategies on projects in the following ways:
Developing embodied-carbon specifications to include in our design standards
Hosting an internal embodied-carbon summit
Offering continuing education through a regular embodied-carbon seminar series
Writing an embodied-carbon assessments manual for our technical staff
Building an embodied-carbon resource library on our company-wide intranet
Launching our first SE 2050 submission – our Embodied-Carbon Action Plan
In 2022, we identified embodied carbon as a priority for Thornton Tomasetti practices. In addition to our ongoing efforts through the CoP, we've increased our investment in direct training programs for technical staff. We anticipate that by the end of the year, 100 percent of our structural engineers will be fully aware of our embodied-carbon capabilities. The best source of knowledge for delivery of these services is practice – working with our clients and partners, we see growing opportunities for our engineers to contribute to projects with carbon-reduction goals.
75% of Employees Will Be Actively Involved in Our Equity, Diversity & Inclusion Initiative
In the last few years, we've seen firm-wide engagement in our Equity, Diversity & Inclusion (ED&I) initiative, with the highest participation recorded in 2020: 98 percent of the 624 survey participants said they were involved in ED&I activities. We had established a lower target (75 percent) for 2021 because 2020 had been atypical due to a sharp increase in remote work, programs being administered virtually, and heightened awareness of racial and social justice issues resulting from high-profile news events. Because of this, we expected 2021 to be more "normal" and were pleased that our high participation rate continued, with 80 percent out of 1,108 survey participants noting their involvement.
Survey respondents said that they had been involved in one or several 2021 ED&I activities, which included a three-part antiracism course paired with discussion groups; celebrations of historic events and holidays, including Martin Luther King Jr. Day; local office ED&I activities; and participation in our employee network groups, Mosaic (multicultural), Spectrum (LGBTQIA+) and Women@TT. Our 2021 employee survey indicated that almost all (91 percent) of our employees are familiar with the ED&I initiative and 81 percent believe that their managers promote the initiative. Since awareness and support from managers pave the path for participation, we anticipate that participation in ED&I will remain high.
100% of Employees Will Feel They Are Given Opportunities to Offer Their Skills for Community Service
Our Thornton Tomasetti Gives Back program offers employees opportunities during the workday to volunteer their time and skills to aid people in need. A recent survey showed that 71 percent of our employees feel they are given opportunities to offer their skills for community service. But while this is a majority of our staff, it still doesn't meet our target of 100 percent. Not all employees are able to take advantage of this opportunity for reasons that include not being aware of the program offerings or lack of time. Some survey participants are seasonal staff (such as interns) and are not eligible to be paid for community service. Decreased community service hours during the pandemic may also have resulted in reduced awareness of the program.
Despite the challenges posed by COVID-19, we still aspire for all eligible employees to recognize and embrace the opportunities for community service. Here's how we're working to achieve 100 percent participation:
Our local corporate responsibility champions are encouraged to plan two community service activities each year for their offices, and this action is prioritized for 2022.
Our corporate responsibility grants program supports some of the costs of community service events, including sponsorship fees, reducing barriers to entry.
As we honor national and global events like Earth Day, International Women's Day and Martin Luther King Day of Service, we find related opportunities for community service.
Now that we are back in our offices most of the time, more employees can engage with their co-workers in group activities and avenues for community service, once closed earlier in the pandemic, are now open.
---
Looking to the year ahead, we are working to achieve measurable short-term progress toward our corporate responsibility goals in these three areas (and more!) by the end of 2022.