News
Looking Ahead: 2021 Corporate Responsibility Targets
May 09, 2021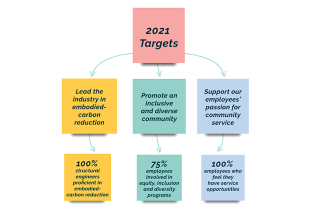 Looking ahead to the rest of 2021, we're working to achieve measurable short-term progress toward our corporate responsibility goals in these areas:
100% of Our Structural Engineers Will Understand How to Deploy Embodied-Carbon Reduction Strategies on Projects
Although we've been involved in embodied-carbon R&D and industry initiatives for 10 years, embodied-carbon reduction as a design strategy has not been a priority in the structural engineering profession until recently. For many engineers – including our own – it's an emerging topic that calls for education and training. Fortunately, we have in-house expertise we can share with our technical staff. Our goal is for all our structural engineers to understand how to use embodied-carbon reduction strategies on their projects by the end of the year. 
Structural design has a key role in reducing embodied carbon, so it's crucial that engineers learn to use their sustainability "superpowers" on every project. 
Our Embodied-Carbon Action Plan (part of our SE 2050 Commitment) calls for the completion of resources – including an embodied-carbon manual for engineers – to be used in conjunction with seminars led by in-house subject-matter experts.
75% of Employees Will Be Actively Involved in Our Equity, Diversity & Inclusion (ED&I) Initiative
A recent survey asked our people if they had participated in our ED&I (Equity, Diversity & Inclusion) initiative in 2020. Of the 624 respondents, 98 percent said they had participated in at least one program or event. In 2020, the opportunities for involvement included discussions about unconscious bias; large forums held around specific events; book clubs; social media conversations; and meetings of our employee network groups, Women@TT, Mosaic and Spectrum.
We plan to continue many of these successful programs throughout 2021, with a participation target of 75 percent. Why are we setting a target that's lower than the prior year's participation rate? Because 2020 was an atypical year, with programs conducted virtually to accommodate pandemic-related remote working. And heightened worldwide awareness of racial and social justice issues, spurred by difficult news events, inspired record participation in our inclusion and diversity discussions. So we're targeting 75 percent as a realistic goal for 2021, but we aspire to 100 percent participation and target 100 percent awareness.
100% of Employees Will Feel They Are Given Opportunities to Offer Their Skills for Community Service
Our people have unique capabilities that can add value to their communities. Our TT Gives Back program gives employees opportunities to volunteer their time and skills to aid others in need. The program offers two company-paid days each year for service with a local charity and provides on-the-clock hours for mentoring schoolchildren through the ACE Mentor Program. It also supports participation in service projects with Bridges to Prosperity to help people in isolated villages.
A 2020 survey showed that 71 percent of our people feel they are given opportunities to offer their skills for community service – but we want this to be 100 percent of staff that are eligible for community service benefits. As we emerge from the COVID-19 pandemic, we expect to see more volunteerism in local communities. And we're working to improve communication with managers and their staff so all our people understand the TT Gives Back program and feel they can take advantage of opportunities to provide service.
Corporate Responsibility Goals
May 09, 2021
At the end of 2019, Thornton Tomasetti's corporate responsibility steering committee began a strategic planning process for the next five years. We committed to seven big goals.
2020 Corporate Responsibility Targets
May 09, 2021
In last year's report, we announced measurable short-term targets for 2020 that support our overall corporate responsibility goals in three areas. Here's our progress.