News
AEC Tech Influencers
January 15, 2021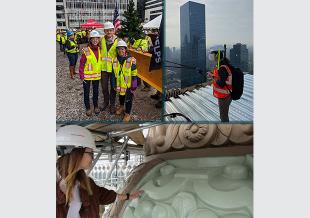 New technologies continue to reshape the architecture, engineering and construction business. Since 2014, Constructech magazine has been honoring the women behind the digital transformation of the industry and who through their success are creating opportunities for those who will follow them. Thornton Tomasetti's Katarzyna Burzynska, Amy Douglass and Reyhaneh Abbasi are among the recent recipients of Constructech's 2020 Women in Construction award.
While the women named to the annual list have varied professional backgrounds, "Their commitment to overcoming adversity in the face of a male-dominated construction industry is the same," Laura Black, editor-at-large at Constructech magazine, said in a statement. "They seek to continually push the standards in the industry to make the world a better place for future generations."
The award recipients were honored at a virtual gala in late fall, closing out the annual opening day of the Technology Days conference.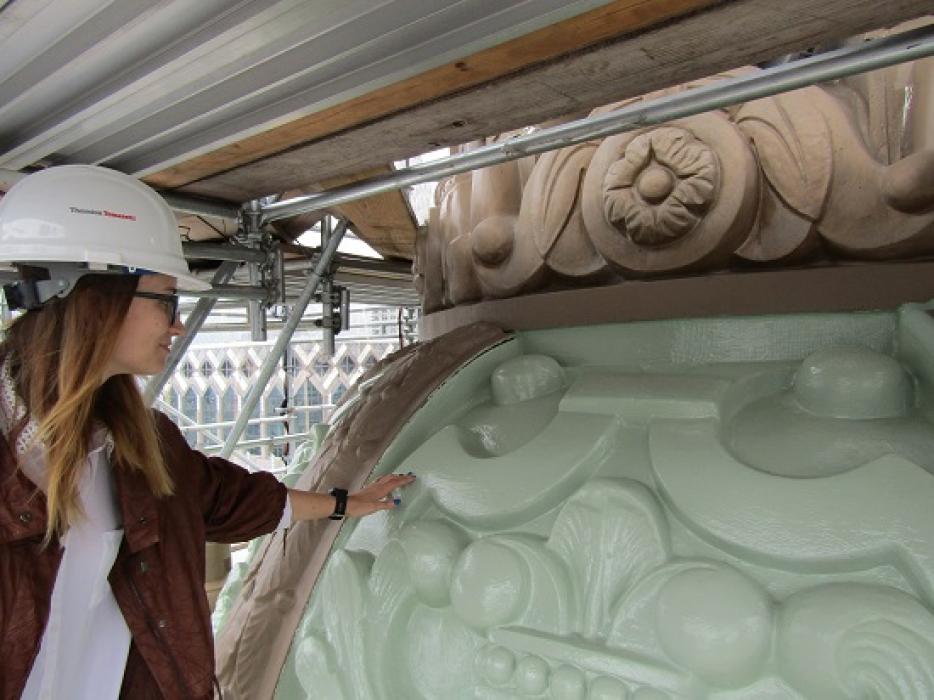 A senior designer in Thornton Tomasetti's Renewal practice, Katarzyna Burzynska, who is also known as Kasia, is involved in the investigation, analysis and repair of façade deficiencies in buildings. She is also a member of the firm's Performance Innovation and Development Committee, which focuses on the research, development and implementation of innovative technologies for use in several of its practices.
"Kasia is an outstanding professional and a champion of innovation," Renewal Principal Robert Kornfeld said. "She is always taking on new challenges and is an asset to any team."
Kasia is involved in the creation of two new applications for T2D2, an artificial intelligence-based tool developed by Thornton Tomasetti's idea incubator CORE studio. T2D2 uses images or video feeds from building envelope inspections to automatically detect visible damage and defects. Kasia is leading the efforts to expand the tool's capabilities to include an automated façade damage detector app and one that will enable in-suit assessments of the performance of the building envelope using thermographic images.
"These apps facilitate façade condition assessments from close-up or remote observation, and the monitoring of fragile or hazardous structures," Kasia said. "They have the potential to automate the inspection process, improve public safety by increasing the frequency and accuracy of inspections to detect hazardous conditions and help increase the building envelope performance to reduce greenhouse gas emissions from existing buildings."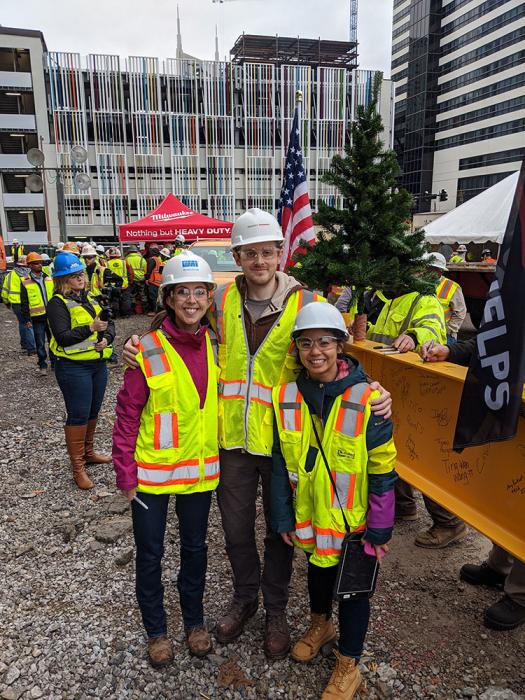 Amy is also a strong advocate for the use of new technologies in engineering. A project engineer in the firm's Protective Design and Security practice, she focuses on developing strategies for making buildings safer. Her work includes blast protection, anti-ram barriers, ballistic and forced entry construction, and site planning.
One of the ways she leverages technology is by utilizing 3D modeling to distill complex data and make informed project decisions. "An example of this is a recent anti-ram project where the barriers were being installed at a street corner that had a maze of utilities all coming together at the same location," she said. "Our goal was to fit the heavy foundations needed for anti-ram barriers within the existing conditions without significant changes to the infrastructure, but space was extremely limited. The team received field data consisting of 2D measurements and photos, which was difficult to use on its own due to the complexity of the conditions. By translating this data into a 3D model, the team was able to determine where the conflicts would occur and design the barriers around these conditions, resulting in minimal disturbance to the city's services."
Based in our Washington, DC Office, Amy serves as the local representative of CORE studio and is involved in the development of new R&D initiatives, such as interoperability and automation tools for the firm's in-house blast analysis programs. "I'm so glad to see Amy recognized for this award, which celebrates the unique contributions she has made to dozens of projects." Senior Principal Peggy Van Eepoel said. "She couples her strong engineering background with a passion for creativity and innovation, which results in projects that are well executed, efficient and pushing the envelope on what is possible."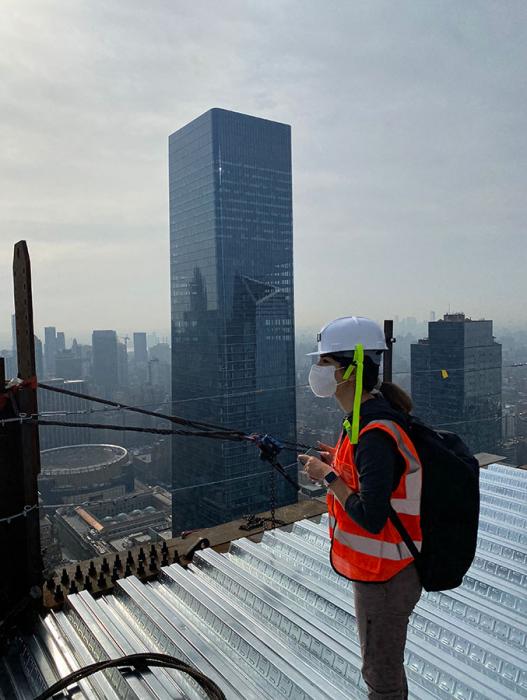 Reyhaneh is a project director in our Forensics practice. She has a background in the development of nondestructive test methods for materials and structures and is currently focused on ultrasonic testing of steel structures. Her work spans from hands-on field investigations to complex numerical simulations. She is also involved in several of the firm's research and development initiatives.
"Reyhaneh has been a big part of growing our structural health monitoring capabilities within Thornton Tomasetti," Principal Marguerite Pinto, who is a 2017 Constructech Women in Construction winner, said. "She has a deep understanding of ultrasonic and monitoring technology and is able to identify what tools are best suited to solve our client's specific challenges. Reyhaneh is methodical and persistent in her work and willing to climb stadium steel or fly to a remote job site to get the work done."
Since joining the firm, Reyhaneh has implemented and further developed nondestructive building and structure evaluations. She and her team create new applications and improve upon existing technologies. Reyhaneh has instituted the firm-wide use of ground penetrating radar, which can detect the location of concrete rebar as well as cracks and other defects.
Reyhaneh is also leading the development of an in-house training program on non-destructive testing. The program includes classroom instruction and hands-on training with large-scale test specimens that she helped design. "This will help spread the use of innovative technologies in the AEC industry, and also give us several new tools to provide even better service to clients," she said.
---
While the gender gap in the construction industry is shrinking, there is still a good deal of work to be done. Women make up only 10.3 percent of the construction workforce in the U.S., according to a recent study by BigRentz. And just 16 percent of the nation's 100 largest contracting firms have women in top leadership roles.
"We are beginning to have some real progress in the number of women in the construction industry," Peggy Smedley, editorial director of Constructech magazine and president of Specialty Publishing Media, said. "It has been a tough uphill battle, but we are finally making a bit of progress. Congratulations to this year's Women in Construction winners for all the hard work and commitment to others that they have already demonstrated."
- Lyla King, assistant communications specialist