News
Renovated Concourse Opens at Memphis Airport
February 16, 2022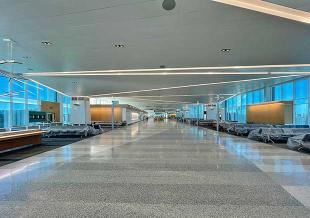 Passengers got their first look this week at the newly renovated Concourse B at Memphis International Airport in Tennessee. The extensive modernization project focused on creating larger energy efficient spaces that enhance the passenger experience and making some necessary seismic upgrades to the 350,000-square-foot facility. Thornton Tomasetti provided structural design, façade engineering and sustainability services for the new concourse, which was designed by Alliiance in association with UrbanARCH Associates.
To improve passenger flow and increase natural light, column-free corridors with higher ceilings replaced the roof and supporting columns of an existing two-story concrete frame. This was made possible with the use of long-span steel trusses across the entire width of the concourse level. The remaining single-story concrete frame was buttressed with an innovative 2,000-ton structural-steel framing system, which uses dual concentrically braced frames and special cantilever columns to resist seismic forces from the nearby New Madrid Fault Line.
Owned by the Memphis-Shelby County Airport Authority, the Memphis International Airport serves about 140,000 passengers each month.