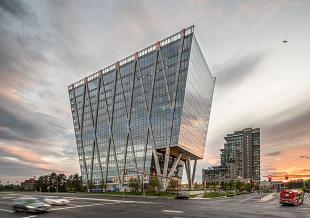 Rainer Viertlboeck | Photographer, JAHN | Architect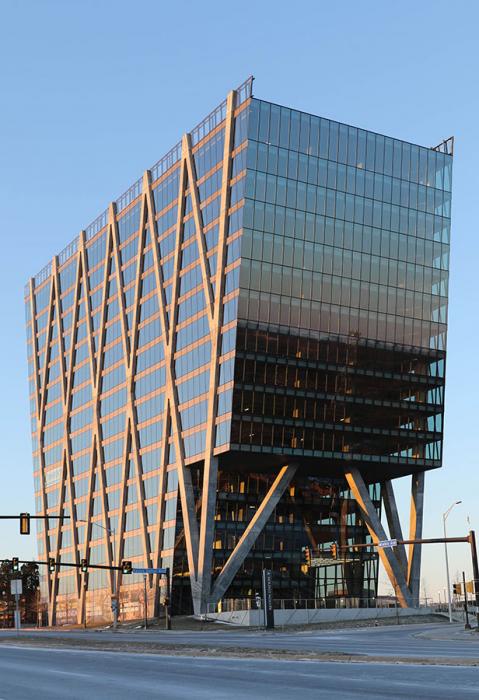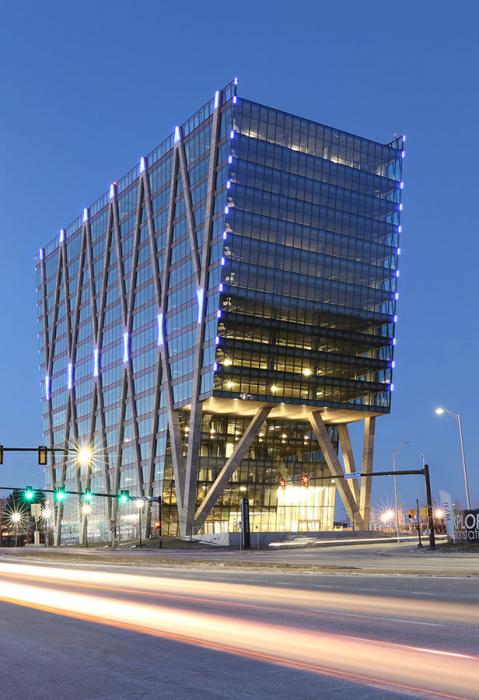 Thornton Tomasetti, the international engineering firm, announces that Managing Principal Mark J. Tamaro, P.E., LEED AP, and Senior Engineer Jennifer Greenawalt, P.E., S.E., of the firm's Washington, D.C. office and Principal Zachary D. Kates, P.E., LEED AP BD+C of its Austin office have received the American Concrete Institute (ACI) Design Award for their technical paper, "Naked Concrete," about the innovative structural system of 1900 Reston Metro Plaza in Reston, Virginia.
The ACI Design Award recognizes advanced concepts and techniques applied to a specific design project, and is given to the paper's authors and engineer/engineering firm responsible for the design.
Published in 2018 in Concrete International, "Naked Concrete" details Thornton Tomasetti's structural design for the 16-story trophy office building formerly known as Reston Station OB1. Developed by Comstock Partners and designed by JAHN, the 371,000-SF tower near the Wiehle-Reston East Metro station is a recognizable fixture in the Dulles Corridor. The design award marks the second time ACI has recognized the project. It took top honors in ACI's 2018 Excellence in Concrete Construction Awards in the high-rise building category.
Completed in 2017, 1900 Reston Metro Plaza showcases a unique lateral system with a diagonalized, exposed concrete exoskeleton. The tower's floors are constructed of two-way, post-tensioned, 10-inch-thick concrete slabs with 6-inch drop panels. The exoskeleton columns are constructed of 10,000 psi strength concrete and slope at 11 degrees from vertical matching the building's north and south edges.
A five-story, open air plaza on the north side of the building is surrounded by "tree columns" that splay out from the base to support the 11 levels above the plaza. The building also features an outdoor roof terrace and eight levels of below-grade parking.
This marks the second consecutive ACI Design Award for Thornton Tomasetti. In 2019, Tamaro and Vice President Chris Crilly, P.E., LEED AP, received the award for their technical article "Concrete Pushes Mexico to New Heights," on the seismic design of Mexico's tallest building, Torre KOI. Tamaro and Crilly co-authored the article with Roberto Stark, principal of Stark+ Ortiz, which served as the local engineer for the project.
About Thornton Tomasetti
Thornton Tomasetti applies engineering and scientific principles to solve the world's challenges – starting with yours. An independent organization of creative thinkers and innovative doers collaborating from offices worldwide, our mission is to bring our clients' ideas to life and, in the process, lay the groundwork for a better, more resilient future. For more information visit www.ThorntonTomasetti.com or connect with us on LinkedIn, Twitter, Instagram, Facebook, Vimeo or YouTube.
Contact
Great Ink Communications - Eric Gerard / Lindsay Church / Francisco Miranda – 212-741-2977
Thornton Tomasetti - James Kent - 917.661.7800