2019 Corporate Responsibility Report
Corporate responsibility is about recognizing that we can be a major participant in addressing some of the biggest social issues we face.
---
In the spring of 2020, just as this report went into production, a novel coronavirus began spreading throughout the world, disrupting lives in ways that we never before could have imagined. Many of our people asked, "How can I help?" and began looking for ways to apply scientific and engineering principles to meet the challenges of the pandemic.
Overview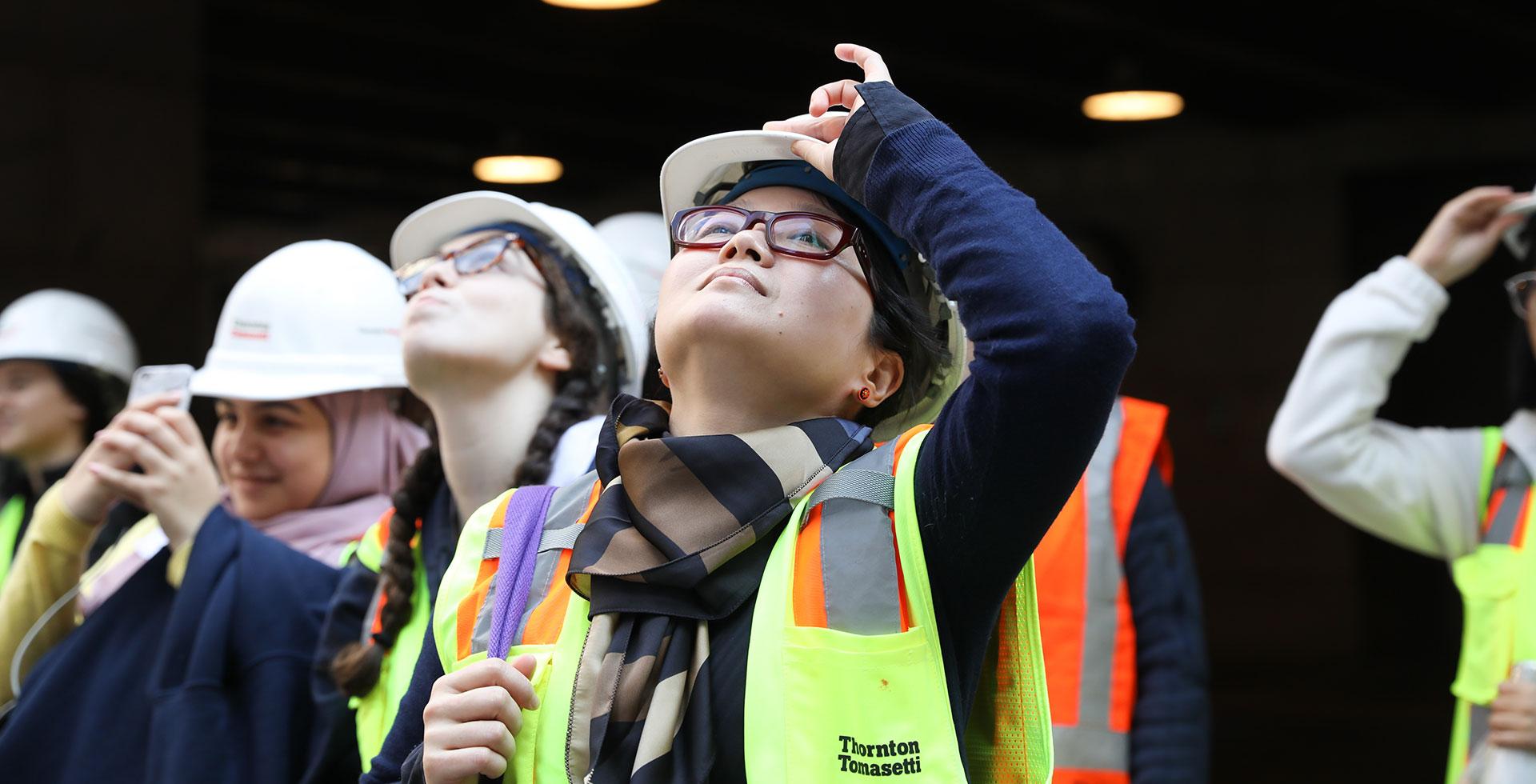 Thornton Tomasetti
Overview
At Thornton Tomasetti, we apply scientific and engineering principles to address some of the world's most difficult challenges. The social-responsibility challenges all of us currently face are among the most long-standing and difficult issues of our generation. The challenges are daunting: climate change, racial and social inequity, developing thriving communities, and providing a path for our present and future employees to grow. What comes next?
Click here if you're interested in a PDF version of this report.
Our Corporate Responsibility Approach
May 09, 2021
A responsible business operates and grows in ways that are environmentally friendly, socially accountable and financially sustainable. At Thornton Tomasetti, we follow this triple bottom line by focusing on our people, planet and profit.
Continuous Improvement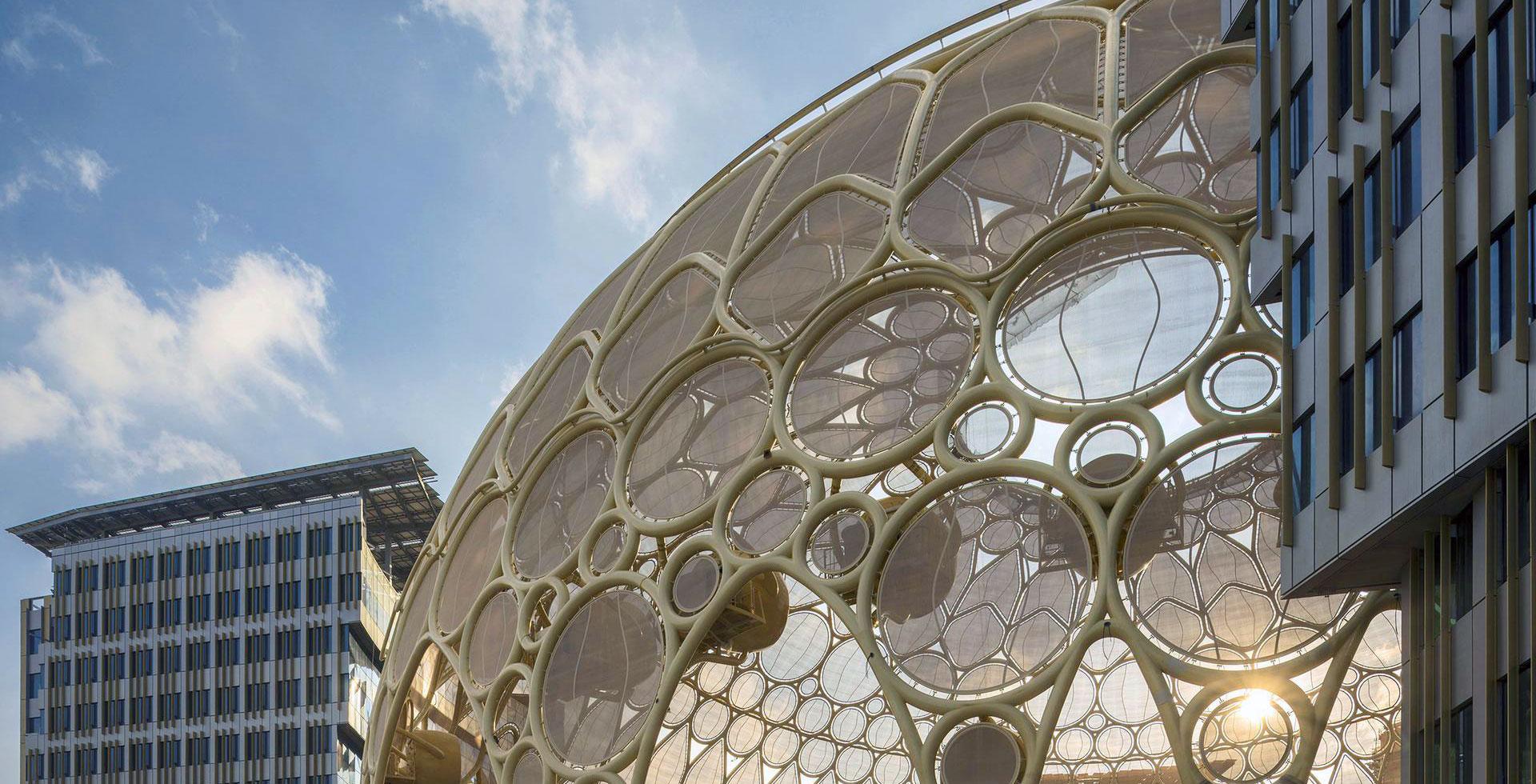 Courtesy Expo 2020 Dubai
Continuous Improvement
How do you change the world? By making steady progress toward ambitious goals.
To track this progress, we report our performance on annual objectives and long-range goals and we announce new targets for the coming year. An essential part of our corporate responsibility plan, this reporting highlights our successes – and shows us where we need to do better.
As part of the firm's five-year planning process, we recently reexamined our corporate responsibility goals. Our ambitious new targets look ahead, not just to 2025 but to 2050 and beyond.
2019 Corporate Responsibility Goals
July 27, 2020
Our corporate responsibility steering committee began a strategic planning process for the next five years and committed to seven big goals.
2019 Corporate Responsibility Targets
July 27, 2020
In last year's report, we announced measurable short-term targets for 2019 that support our overall corporate responsibility goals in three areas.
Our Good Work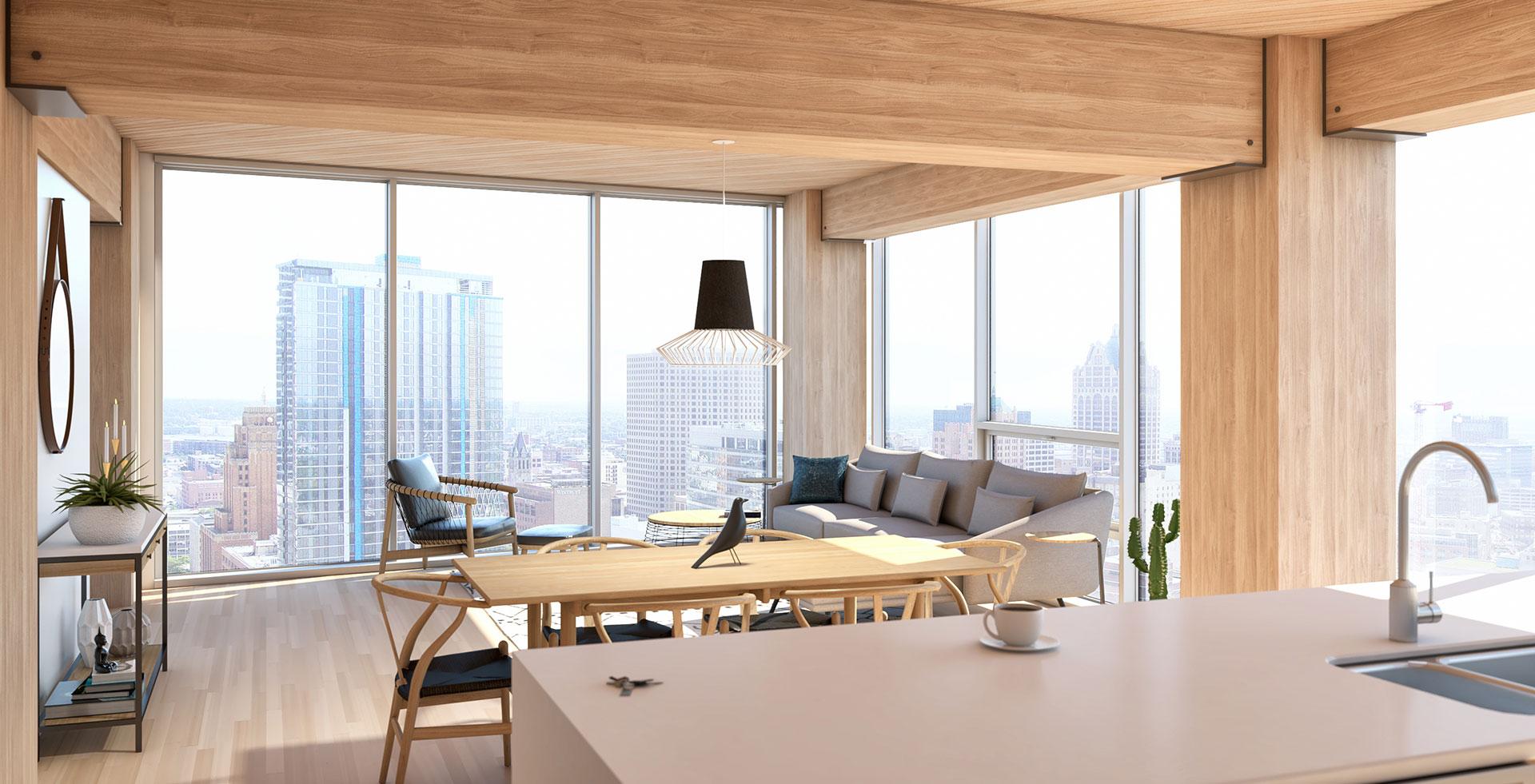 © Korb + Associates Architects
Our Good Work
We aspire to be one of the most sustainable firms in our industry, in our operations and our work. Around the globe, projects large and small grant us abundant opportunities to lead by example – and to create a better world.
Because the building sector contributes up to 40 percent of all carbon dioxide emissions, at Thornton Tomasetti, we feel a responsibility to be part of the solution to this dire problem. Our 2019 showcase projects demonstrate a few of the many ways we are tackling climate change by applying expertise from across our many in-house disciplines in creative ways to make a positive impact.
Thornton Tomasetti continues to hold a strong position in Engineering News-Record's annual "Top Green Building Design Firms" ranking. Now 18th out of 100 firms, we have held a spot in the top 20 for the past six years. In 2019, our sustainability consulting work achieved a reduction of 10,825 tons of carbon dioxide – the equivalent to that produced by 1,443 average U.S. households in a year. This reduction, our largest ever, reflects strong growth in the number, diversity and scope of our projects. Since we began reporting in 2014, we've helped 352 projects seek or achieve a green building certification through our sustainability consulting services.
Our role in combating climate change also goes beyond sustainability consulting. For example, our structural engineers are calculating and reducing embodied carbon – the carbon footprint of building materials – in the buildings we design. We've been researching embodied carbon for nearly a decade and have developed tools that help our engineers make significant cuts to embodied carbon in building structures.
Our work on embodied carbon is just one facet of Thornton Tomasetti's R&D program, which continued to grow in 2019. Now at $2 million per year, our investment in R&D has increased by 94 percent since 2014.
Sustainable Operations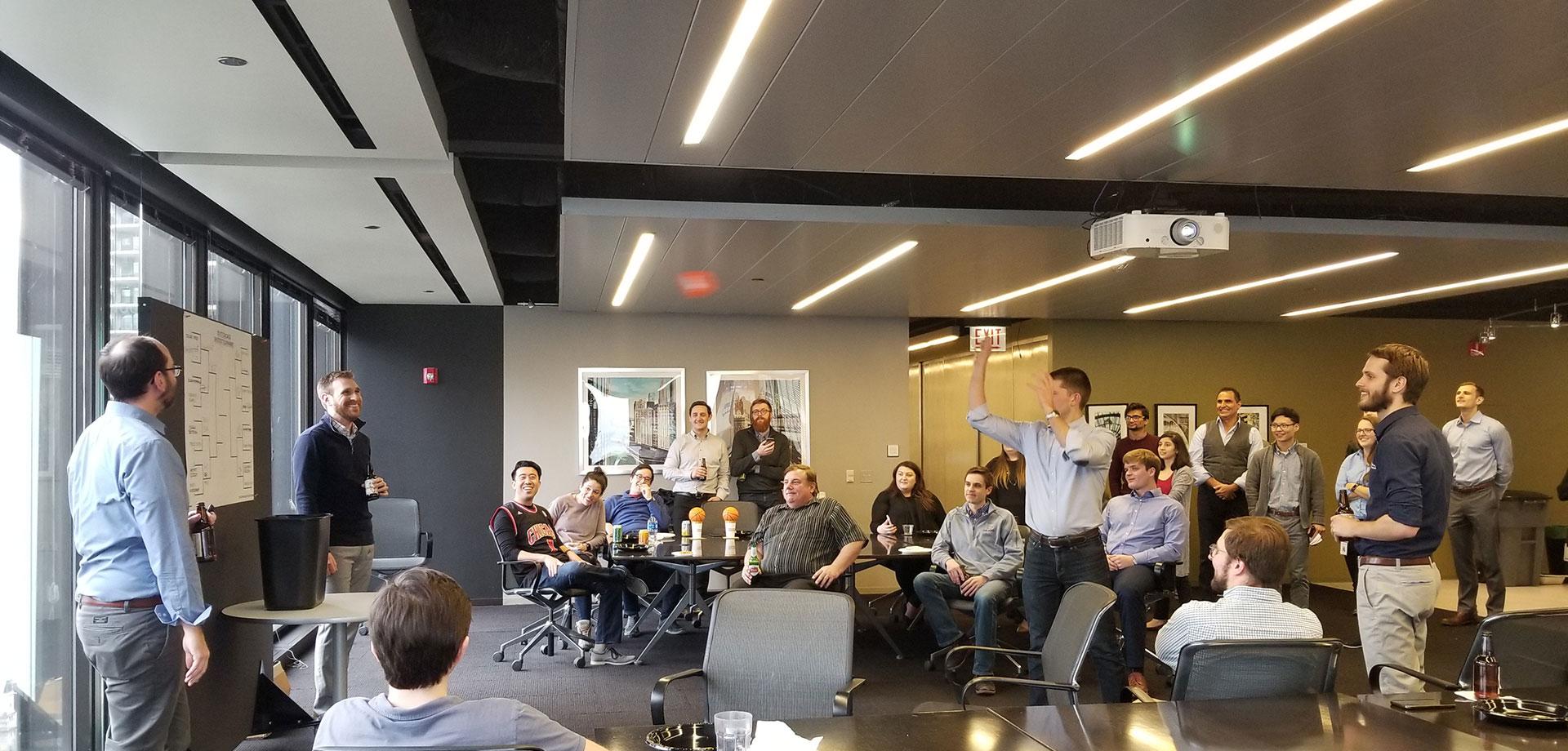 Sustainable Operations
While our employee numbers nearly doubled between 2012 and 2019, our carbon footprint (not counting carbon offsets) rose by only 40 percent over that same period. The total carbon footprint of our operations after accounting for our purchase of carbon offsets and renewable energy certificates (RECs) is now less than our carbon footprint was in 2012, when the firm was significantly smaller. The largest reduction is in our average carbon footprint per employee, which was 5.37 metric tons of CO2e per person in 2012, when we started conducting biennial carbon footprint analyses, and now measures 2.79 metric tons of CO2e per person.
Our approach to meeting the goal of carbon-neutral business operations by 2030 is to first lower energy use where we can, and to offset only in areas where we can't make reductions. Employee commuting and business travel make up the largest portion of our carbon footprint, but we purchase carbon offsets for all air and train travel, effectively bringing these emissions to zero in our carbon accounting. As a member of the U.S. Environmental Protection Agency's Green Power Partnership, we continue to meet our threshold, purchasing RECs to offset 25 percent of our total U.S. electricity use.
Our green champions – employees around the world who help implement corporate responsibility goals – continue their efforts to reduce the carbon footprints of their local offices by purchasing greener office products, reducing waste, minimizing water use and initiating other environmental improvements. Our sustainable-offices policy stipulates that new office fit-outs must achieve LEED Gold certification or the equivalent. Ten of our offices are registered with or certified by a green building certification program, and 26 percent of our employees work in one of these high-performance offices.
Helping Our Communities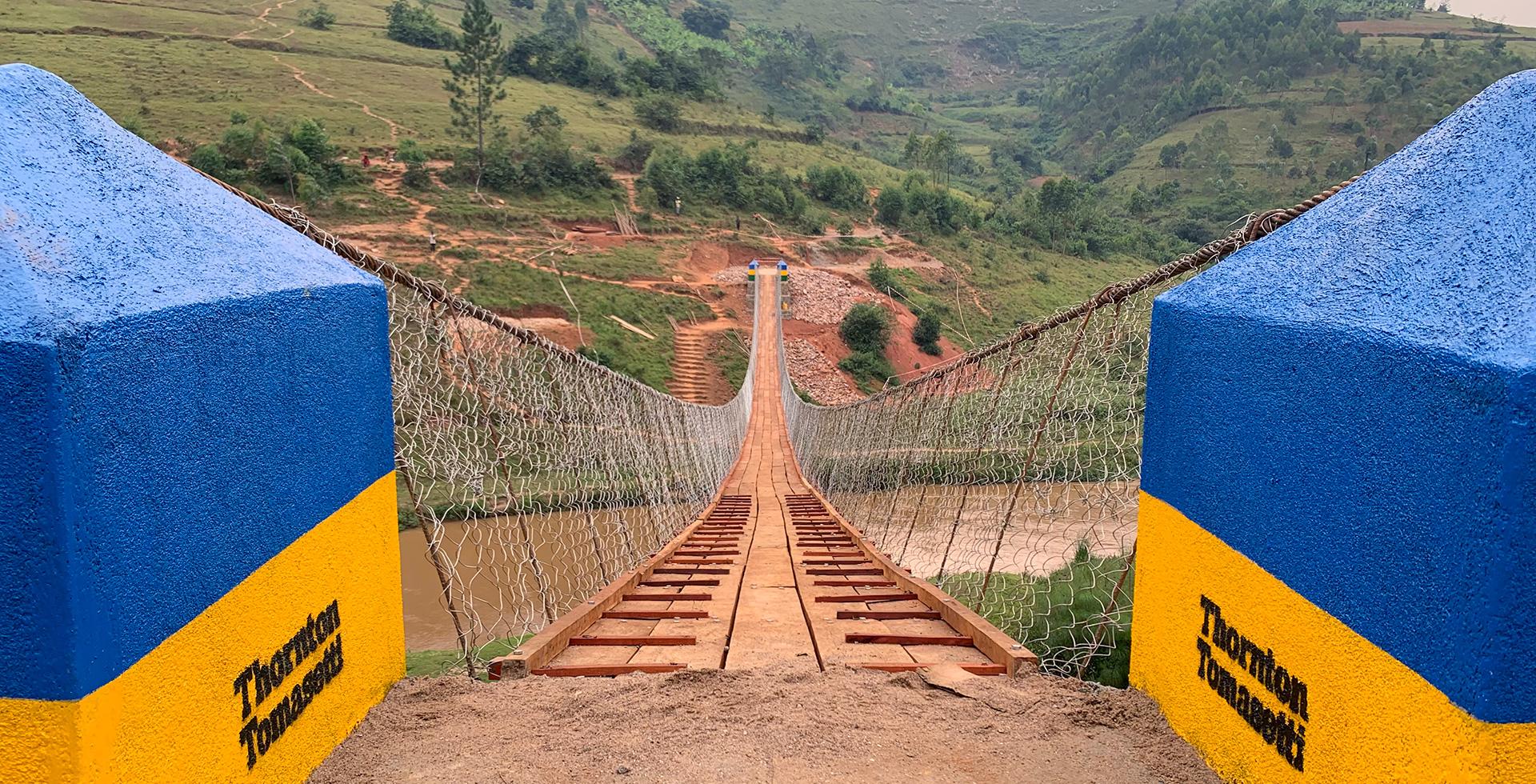 Thornton Tomasetti
Helping Our Communities
We started tracking hours of employee volunteerism on company time five years ago. Since then, we've seen volunteer hours – logged by 238 employees in 2019 – more than double. Our TT Gives Back program lets our people use time "on the clock" to volunteer in their local communities. And it offers additional hours for mentoring high school students through the ACE Mentor Program. We also partner with Bridges to Prosperity to construct footbridges in isolated communities. So far, our service has benefited more than 5,000 people in disadvantaged communities in Panama and Rwanda.
Volunteerism and charitable giving trends often correlate with our employee numbers. With a steady head count from 2018 to 2019, we don't show a significant change in these areas since our last report.
The big picture? We've donated more than $1.5 million to charities since our first report in 2013 and have seen a 29 percent increase in volunteer hours since starting the TT Gives Back program in 2017.
Building Great Workplaces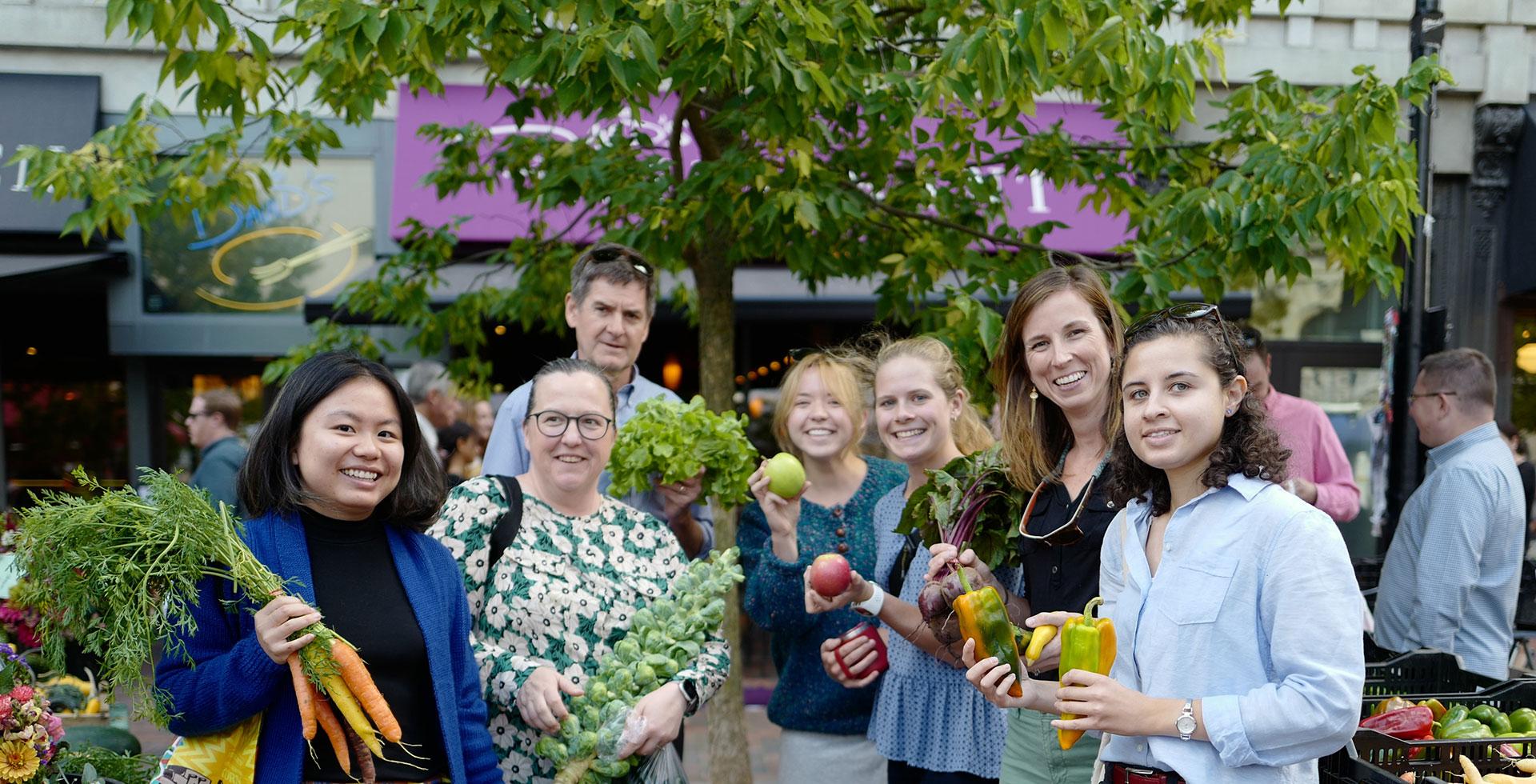 Thornton Tomasetti
Building Great Workplaces
Our inclusion and diversity initiative has shown us where we need to improve, and we have established strong foundations for future growth and success. Like many engineering-services firms, we employ relatively small numbers of women, and just 13 percent of those are in senior leadership positions. Yet in the last year, we've seen welcome signs of change, with more women in associate positions and an increasing percentage of new hires being women, nonwhite or both. New lifestyle-friendly benefits and expanded mentorship programs support these outcomes, as do our investments in career development and learning.