We combine world-class engineering with an appreciation for placemaking to forge new connections and revitalize cities.
Overview
With undeveloped land in urban cores in short supply, many cities are looking to make new space by building over rail yards and other infrastructure. This can also be a way to revitalize adjacent – often historically neglected – neighborhoods. Well-planned overbuild developments can create physical and economic links to the rest of the city, making these communities more resilient and prosperous.
At Thornton Tomasetti, we understand the intricacies and logistics of building over complex sites on challenging schedules. And we know that overbuild platforms need to be tailored to what will be built on top to set a development up for success. So we ask the important questions up front. The answers guide our work, enabling us to best support the short- and long-term goals of project stakeholders.
Your Partner for the Long Haul
Capturing underutilized space within the urban fabric and creating better, denser communities doesn't happen in a day – or even a decade. These projects often take years and involve many stakeholders, public and private, with differing constituencies and priorities. We believe that robust collaboration is vital to navigating potential conflicts and resolving challenges.
Integrated Disciplines for Efficient Solutions
With a portfolio that includes some of the world's biggest projects, we're experts at managing complexity without sacrificing the details – or your design vision. And our diverse suite of disciplines and services allow us to offer integrated expertise that can simplify design and construction.
From Conception to Construction – And Beyond
Our multidisciplinary master planning teams work with multiple stakeholders to define needs and common goals, then identify strategies to meet them. We also offer comprehensive consulting for protective design and security, resilience and sustainability. These elements – all critical to the success of overbuild developments – are best considered from the first. Early integration provides maximum effectiveness at lower cost than when they are addressed later in the process.
With expertise in structural, vibration and construction engineering, we can help in planning and design to ensure platforms – and the structures built atop them – are comfortable, durable, efficient and constructable. Knowledge gained from experience and expert application of cutting-edge technological tools enable us to deliver designs that can be built without interrupting the critical infrastructure services. And down the road? Our multidisciplinary team can support the development as it evolves over time, assisting with master-plan changes, renovations and additions. We also offer forensics, adaptive reuse and renewal services for existing overbuild developments.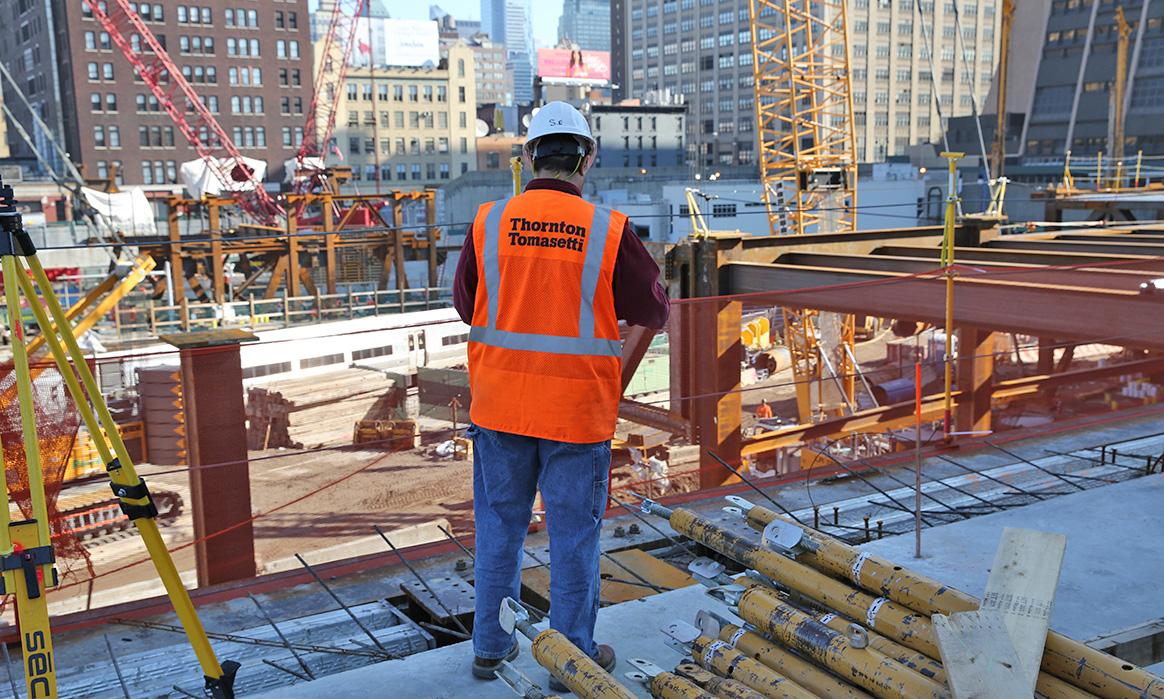 Hudson Yards Platform (Courtesy Related)